Embracing Change and Working Together to Save the Planet
From fighting climate change to adapting to the fourth industrial revolution, it will take more than government action to make progress.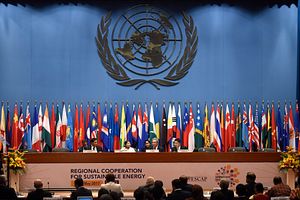 Climate change is "the defining issue of our time – and we are at a defining moment."
The quote by UN Secretary-General Antonio Guterres in a recent speech serves as a universal warning and call to action for us all.
There is no time to waste. There is no time to wait. This is not a time to look for leaders, but to look within ourselves. The future of our planet is in peril, and we need to work together to bring about momentous change. That requires all of us to change, because if we don't act now, we will face an almost insurmountable task, in the years to come.
The risks linked to climate change are affecting people across the world. Nowhere is that more evident than in Asia and the Pacific. A region prone to natural disasters, it now faces even more risks from events linked to climate change. Last year extreme weather events, such as floods, typhoons, and landslides, were reported to be responsible for displacing almost 19 million people, across the world, according to data from the Internal Displacement Monitoring Center. About half of the people displaced were in Asia and the Pacific.
While the region has been the engine of the world's economy, a hub of innovation, and home to a booming youth population that represents a rich demographic dividend, it still contends with myriad challenges. Growing inequality, rising unemployment, shrinking civil space, and rapid and unplanned urban sprawl is stretching public services and contributing to entrenched poverty.
According to the UN Conference on Trade and Development, achieving the Sustainable Development Goals (SDGs) – a plan to bring prosperity to all people and protect the planet — will cost $5 trillion to $7 trillion globally, every year. Developing countries need $3.9 trillion of that money, annually. While governments in the region are pouring more money toward development than ever before, they are still falling way short, by about $2.5 trillion each year.
In the Asia-Pacific region, financing for development has grown rapidly, from $4 trillion in 2005 to $8.9 trillion in 2014, according an analytical report by UNDP. Domestic public and private finance combined more than doubled between 2005 and 2014. And a key statistic, growth in government revenue almost tripled between 2005 and 2014.
Despite that increase in financing for development, we cannot only lean on governments to do the job. And so the question of the hour is what each one of us can do to make a positive impact, because we are running out of time.
At the UN Development Program (UNDP), we have taken up the challenge of changing to fit the times, now and for the future. It has not been easy.
For the past five years, our offices across Asia and the Pacific have been reorganizing: cutting down to reduce costs and moving staff from New York to our regional centers; reskilling staff, molding careers to fit an everchanging job market and to gear up for industry 4.0; and channeling innovation to reform the organization on the inside so that we can have the desired impact outside.
The fourth industrial revolution — artificial intelligence and high technology — presents both opportunities such as new jobs, enhanced productivity, and greater connectivity and challenges: certain types of jobs that could be affected by automation, a need for robust cybersecurity, and potential for rising inequality.
UNDP is preparing to meet these challenges and changing times head-on. Our goal is to be nimble, to prototype new ideas, pilot them fast, and if they succeed, bring them to scale. This will require adopting new business models to keep up with a fast-evolving development landscape, models that advance working hand-in-hand with governments and other stakeholders.
The ambitious nature of the goals calls for such collaboration, for cultivating new and unusual partnerships. One doesn't need to crunch the numbers to realize that the SDGs can only be achieved with such partnerships, especially with the private sector. With its wide reach and ability to swiftly adapt and innovate, the private sector is well-positioned to deliver new solutions to achieve the SDGs. In addition, the SDGs present significant incentives for the private sector; new market opportunities to attract new private investments in sustainable development, by leveraging companies' core competencies, expertise, and resources.
A recent report by the Business & Sustainable Development Commission estimates that achieving the SDGs could open up $12 trillion worth of market opportunities in cities, food and agriculture, energy and materials, and health and well-being, as well as create 380 million new jobs by 2030. But how we get there, and how fast, is the quintessential question facing all of us.
If we get it right — if we rise to the challenge and meet the targets of the SDGs, achieve all 17 goals — the world will be transformed and us along with it.
Haoliang Xu is the UN Assistant Secretary-General and Director of the UN Development Program's Regional Bureau for Asia and the Pacific