Naval Visit Spotlights Indonesia-Philippines Maritime Ties
A recent interaction highlighted the ongoing activity in this aspect of the relationship.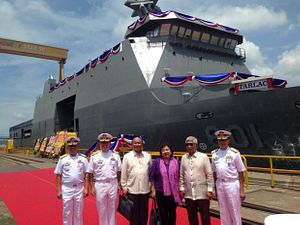 On October 22, an Indonesian Navy vessel arrived for a scheduled goodwill visit to the Philippines. While the interaction was just one of many within the wider relationship, it nonetheless spotlighted the ongoing activity among both Southeast Asian states in the maritime realm.
As I have noted before in these pages, Indonesia and the Philippines, both founding members of the Association of Southeast Asian Nations (ASEAN) and situated in maritime Southeast Asia, have long sought collaboration on common security challenges, from terrorism to piracy.
One of the aspects of security collaboration is in the maritime realm. Maritime collaboration includes not only exchanges, visits, and patrols between the two sides designed to tackle shared challenges, including trilateral patrols in the Sulu-Sulawesi Sea, but also equipment transfer as Indonesia looks for export markets for its domestic defense industry and the Philippines looks to boost its military capabilities.
On October 22, in another manifestation of this aspect of the bilateral relationship, an Indonesian Navy vessel arrived for a port visit in the Philippines. The vessel, the KRI Bima Suci, arrived at Pier 15, Manila South Harbor on Monday for a three-day goodwill visit. The visit came following other notable recent visits that the vessel had made as well, including to Russia and China in September.
Ahead of the visit, Philippine Navy spokesman Jonathan Zata said the ship, classified as a training vessel, would arrive followed by a series of engagements, including a welcome ceremony, a port briefing for personnel on board, meetings between the two sides, and other cultural activities during the visit as well that are usually held.
No further specifics were publicly disclosed regarding the interactions during the visit or agenda items to be discussed. But as wider bilateral and regional developments take place, Philippine-Indonesia maritime ties will continue to be an interesting space to watch.