Taiwan Is Retaking the Initiative With Its New Southbound Policy
Forget Beijing: Taiwan is rolling out its "warm power" to win friends across Southeast and South Asia.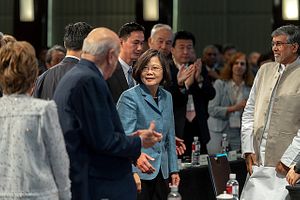 When Taiwan's President Tsai Ing-wen announced the New Southbound Policy aimed at reinvigorating and expanding ties with Southeast Asia and South Asia in 2016, some domestic audiences saw this as no more than "old wine in a new bottle," a mere replica of previous administrations' "Go South" policies. However, after two years in action, the New Southbound Policy has now proved itself to be, in CSIS China Power Project Director Bonnie Glaser's words, "more strategic and comprehensive" than any previous Taiwanese policies toward Asia.
Taipei's Newborn Diplomatic Activeness
When a senior former U.S. diplomat visited Taiwan earlier this year, he noted privately to the Taiwanese that in contrast with the island's "self-pitying" in the 1990s, Taiwan's diplomacy has become much more active now with the New Southbound Policy. Taiwan is now vigorously using its strengths as a technological innovation powerhouse and progressive liberal democracy to present an alternative Asian developmental experience toward its neighboring countries, many whom have gradually become cautious of the potential downsides of the "Chinese Model."
Taiwan is well positioned to contribute economically. The island has recently been ranked by World Economic Forum (WEF)'s Global Competitiveness Report 2018 as the fourth best performer on global competitiveness in the Asia-Pacific and 13th worldwide, ranking ahead of Australia (14th), South Korea (15th), New Zealand (18th), and China (28th). It also ranks fourth globally in innovation capability, and was listed as one of only four "super innovators" along Western countries Germany, the United States, and Switzerland. These outstanding ranking performances validate Taiwan's often underestimated importance as the world's 22nd largest economy, while Taiwan also controls the fifth largest holding of foreign exchange reserves globally.
Against China's increasing aggressiveness in the Asia-Pacific region, Taiwan is finally retaking the initiative to actively counteract Beijing's moves with its own strengths and most importantly, its own socially progressive regional vision.
The master plan of this regional vision, the New Southbound Policy, encompasses fields as diverse as talent training, public health, agriculture, technology, culture and arts, trade, and nontraditional security, seeking to produce mutually beneficial cooperation between Taiwan and Southeast Asia, South Asia, Australia, and New Zealand. Cooperation, not competitiveness, stands at the core of the New Southbound Policy. The policy also stresses "people-centered" as its most important principle, seeking to dialogue with ASEAN, which has long-stated similar beliefs. The idea is to strengthen Taiwan's indispensability in the region, while also embedding and finding Taiwan's niche within regional socioeconomic trends.
Traditional indicators have continually shown encouraging progress made by the New Southbound Policy. In the international trade front, from January to August in 2018, trade between Taiwan and the 18 countries targeted by the New Southbound Policy rose 5.5 percent from a year earlier, to $77.07 billion. According to the Executive Yuan Office of Trade Negotiations, Taiwan has also secured 17 public projects in the targeted nations with a combined bidding price of $25.2 billion, and won 20 projects with a total bidding price of $25 billion this year.
Not only are ties warming between regional countries and Taiwan, the policy's "people-centered" element has also materialized into substantial statistical improvement. According to a recent speech by Tsai, Taiwan has welcomed more than 41,000 students from New Southbound countries in the first half of 2018, while the number of Taiwanese students studying in neighboring countries has also increased by near 20 percent. Over 4 million tourists from Southeast Asia, South Asia, Australia, and New Zealand have also come to visit Taiwan in the past two years.
Responding to Regional Dynamics
As geopolitical dynamics evolve in the region, like-minded countries such as the United States and Japan are now not shying away from showing their support for Tsai. In the recent Yushan Forum held in Taipei, Japanese parliamentary heavyweight Rep. Keiji Furuya stated his strong support for Taiwan's participation in the Comprehensive and Progressive Agreement for Trans-Pacific Partnership (CPTPP) and Interpol, and reiterated Japan's dedication toward cooperation with Taiwan. His remarks shared that Japan will not hesitate to extend utmost cooperation and assistance to Taiwan. Senior U.S. officials from Washington, D.C. also publicly reiterated the United States' support for Taiwan during the two-day forum.
Both the United States and Japan have expressed support for Taiwan's New Southbound Policy, especially the United States, while private policy conversations held in Taipei, Washington, and beyond have also seen how the breadth and depth of Taiwan's New Southbound Policy has continued to interest foreign experts and policymakers. And boosted by the Taiwan Travel Act signed by President Donald Trump in March 2018, U.S. State Department Deputy Assistant Secretary Scott Busby also came to Taiwan to speak on October 18 at a democracy-themed two-day workshop. The workshop was held under the Taiwan-U.S. Global Cooperation and Training Framework (GCTF), which represents strong U.S. interests in expanding U.S.-Taiwan cooperation.
Despite the increasing discussions between Taipei and Washington or Tokyo on regional cooperation, Taiwan is not relying solely on the United States and Japan to move things forward. While scholars like Graham T. Allison continue to focus on U.S.-China great power competition, Taipei has noted correctly how players such as India and Indonesia will be geopolitical forces to reckon with in the coming decades. Taiwan is not only diversifying trade from China, it is also adapting to foreseeable regional and global transformations. According to PricewaterhouseCoopers' The World in 2050 report, while China is projected to be the world's largest economy in 2050, India and Indonesia will also rank second and fourth, respectively. Taiwan's New Southbound Policy is a response to this plural, not dichotomous estimation of the region's geopolitical future, and Taiwan is vigorously building ties with Southeast Asia and South Asia through its own channels too.
Taiwan's Niche in Regional Socioeconomic Development
Improved recognition of regional dynamics since Tsai's inauguration has also prompted Taiwan to present daring new initiatives with its southward engagement. Take the Yushan Forum, a Taiwan-initiated regional platform hosted by the Taiwan-Asia Exchange Foundation, for example: The 2018 Yushan Forum hosted more than 1,000 participants from Taiwan and neighboring countries, while also featuring 51 representatives from 17 countries, including international leaders such as Nobel Peace Prize laureates Frederik Willem de Klerk and Kailash Satyarthi. Among regional stakeholders, the Yushan Forum is gradually but positively establishing its reputation.
Strongly supported by Tsai as one of the New Southbound Policy's flagship projects, the Yushan Forum has positioned itself as an Asian platform for social connectivity and progress since its inauguration forum in 2017. This branding has enabled the Yushan Forum to fill in a previously unoccupied niche in the region, as most international forums in the region tend to focus highly on security and geopolitics, with famous examples such as the Shangri-La Dialogue, the Asia-Pacific Roundtable, and the Raisina Dialogue.
Taiwan's emphasis on regional socioeconomic development has been more than strategic. An international campaign launched by Taiwan's Ministry of Foreign Affairs (MOFA) this year emphasized Taiwan's ability to help global partners achieve UN Sustainable Development Goals (SDGs). MOFA organized panels, seminars, and workshops on the sidelines of the 73rd UN General Assembly in New York to highlight Taiwan's roles and contributions toward global sustainable development. Taiwan Vice President Chen Chien-jen has also recently voiced that helping to achieve UN SDGs is a top priority for the island state. While Taiwan may not be able to provide ostentatious infrastructural aid like China's Belt and Road Initiative, Taiwan is more than capable of providing quality assistance to neighbors, with the genuine objective of helping regional counterparts.
Taiwan's Foreign Minister Joseph Wu and Digital Minister Audrey Tang have both recently articulated a term for Taiwan's new diplomatic rationale: "warm power." In contrast with China's "sharp power", warm power emphasizes "bidirectional sharing" and "equal partnership." Taiwan's warm power seeks to recognize both regional and national socioeconomic needs on their own terms, and share Taiwan's resources and experience in facilitating these goals as a responsible stakeholder of the international community. Warm power views other countries as sustainable development partners, not subordinate targets ripe for economic exploitation.
And as Tsai stated in her 2018 Yushan Forum opening speech, "Taiwan can help Asia, and Asia can help Taiwan." Taiwan is genuine with its cooperation-first, people-centered approach toward the region. It seeks mutually beneficially relationships that emphasize mutual assistance. By providing sincere and accurate contributions on an equal footing to other countries and their localities, warm power will shape long-term positive local perception of Taiwan that will not be easily prone to China's economic inducements.
Taiwan is an answer to regional socioeconomic challenges, and more importantly, an honest and capable partner for countries and people in need. Warm power is the spirit of the New Southbound Policy, and also the agenda of democratic Taiwan's new global outreach. While China's aggression remains ahead, Taiwan has now finally retaken the initiative to find a path out of this Cross-Strait quagmire, to rediscover its role as an Asian and also global player.
Dr. Alan Hao Yang is Executive Director of Taiwan-Asia Exchange Foundation (TAEF), a policy-oriented think tank in Taiwan founded in 2018 with a focus on Southeast Asian and South Asian affairs.. He also serves as Deputy Director of the Institute of International Relations (IIR) and Executive Director of the Center for Southeast Asian Studies (CSEAS) at National Chengchi University, Taiwan.
Jeremy Huai-Che Chiang serves as research assistant at TAEF.