UK-Singapore Defense Ties in Focus With Air Force Chief Introductory Visit
A recent engagement spotlighted the relations between the two sides in the security realm.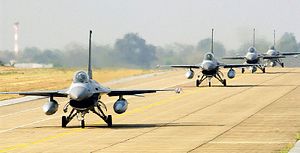 Earlier this week, the British air force chief made his introductory visit to Singapore. While the trip was just one of several interactions within the U..K-Singapore defense relationship, it nonetheless put the spotlight on its ongoing evolution amid broader regional and global developments.
As I have noted before in these pages, even following the end of Britain's era as a colonial power and Singapore's independence, Singapore and the United Kingdom have continued to develop a robust defense relationship across several fields over the years, including exercises, dialogues, visits, and education and training within the bilateral relationship as well as collaboration through other multilateral institutions, such as the Five Power Defense Arrangements (FPDA).
That has continued on into 2018. Indeed, on the sidelines of the recent iteration of the Shangri-La Dialogue (SLD) in Singapore back in June, Singapore Defense Minister Ng Eng Hen and U.K. Secretary of State for Defense Gavin Williamson had signed a renewed Singapore-U.K. Defense Cooperation Memorandum of Understanding (DCMOU), which is the foundational document for defense ties. The MOU included existing areas of collaboration such as joint research and technology development and testing of defense-related technologies as well as greater cooperation in some priority areas such as logistics management, maritime autonomy, and counterterrorism.
This week, the relationship was in the headlines again with the introductory visit of the chief of the air staff of the Royal Air Force, Air Chief Marshal Stephen Hillier. Hillier, who had assumed his post back in July 2016, was on a trip to Singapore that lasted from October 7 to October 9.
Hillier's visit consisted of a series of engagements. These included meetings with Singapore officials such as Defense Minister Ng Eng Hen, Chief of Defense Force Melvyn Ong, and Chief of Air Force Mervyn Tan. According to Singapore's defense ministry (MINDEF), during Hillier's meeting with Ng, both sides reaffirmed their longstanding bilateral ties and also discussed ways to further enhance cooperation.
Hillier also visited several Singapore facilities during his trip. According to MINDEF, this included the Singapore Air Force's Air Combat Command and Air Power Generation Command at Paya Lebar Air Base (PLAB), where he also viewed a static display of the F-15SG at PLAB.
Following the visit, Hillier tweeted that the visit had been "very successful," providing both countries with an opportunity to remember their shared history and to strengthen their relationship. How exactly they go about doing that will become clearer in the months that follow.