US-Singapore Defense Ties in Focus with Military Exercise
A recent engagement reinforced the ongoing security relationship between the two countries.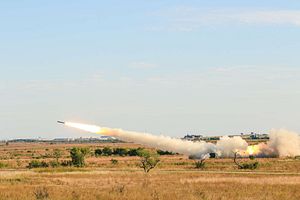 This month, the United States and Singapore held the most recent iteration of a military exercise. While the event was one of several held by both sides, it nonetheless reinforced the defense relationship between the two longtime strategic partners.
As I have noted before in these pages, the United States and Singapore have long viewed each other as vital strategic partners, and that extends to the security realm as well (See: "Strengthening the U.S.-Singapore Strategic Partnership"). The United States is a key supplier of defense technology and facilities for military training for Singapore, while the city-state is a valuable regional partner that across a range of issues from counterterrorism to maritime security while also hosting a U.S. Navy logistics command unit that coordinates regional operations.
The defense relationship has continued to advance under U.S. President Donald Trump as well, amid the mix of opportunities and challenges for bilateral ties. Today, the two counties continue to interact regularly through a string of exchanges, exercises, and training opportunities. And one of the exercises conducted by the two sides is Exercise Daring Warrior (XDW), which was first conducted back in 2010.
From October 8 to 25, in another development that reaffirmed the importance of the bilateral relationship, the seventh iteration of Exercise Daring Warrior, was held. The exercise was conducted at Fort Sill, Oklahoma, in the United States.
Per Singapore's defense ministry (MINDEF), the exercise involved approximately 150 SAF personnel and 70 personnel from the U.S. Army. The highlight of the exercise, MINDEF said, was a combined live-firing by the U.S. and Singaporean armies, where the High Mobility Artillery Rocket Systems (HIMARS) from the 23rd Battalion, Singapore Artillery (23 SA) and the Multiple Launch Rocket Systems (MLRS) from the 2nd Battalion, 18th Field Artillery Regiment, U.S. Army, simultaneously fired at a distant target.
The exercise also saw the visit of Singapore Senior Minister of State for Defense Mohamad Maliki bin Osman to witness the SAF's artillery live-firing, where he also interacted with some of the personnel there as well. After he witnessed the exercise, he noted that the exercise represented an activity that deepened ties between the two armies and helped strengthen the operational readiness of Singapore's servicemen.
Exercise Daring Warrior will be followed by other defense-related developments in the bilateral relationship across various realms and at different levels between the two sides. But its execution this month has once again spotlighted the activity underway between the United States and one of its key security partners.