What's Next for India-Indonesia Defense Ties?
Both sides continue to attempt to make progress in this aspect of security ties despite the challenges that remain.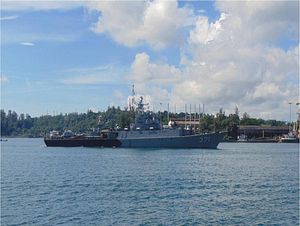 Last week, the defense ministers of India and Indonesia met in Jakarta for their second meeting this year. The consultation once again put the focus on the evolving security ties between two key Asian powers, which continue to be advanced despite the challenges that remain.
As I have noted before, though India and Indonesia have a long historical relationship, strategic alignment has been a more recent development and has not been without its challenges as well. That said, both countries have been trying to strengthen their defense relationship through varying means, including upgrading dialogues and revising their defense cooperation agreement first inked back in 2001 (See: "The Future of India-Indonesia Defense Ties").
Last week, in another notable development within the defense relationship, Indian Defense Minister Nirmala Sitharaman made a visit to Indonesia, which was a reciprocal visit following Indonesian Defense Minister Ryamizard Ryacudu to India in January. Sitharaman's engagements included a meeting with Ryacudu to discuss the state of the defense relationship as well as broader issues of interest.
Though not much in the way of specifics was provided about the content of the discussions, there was a focus on defense industry cooperation that was emphasized on both sides. Some of that was agreement to make progress on already existing collaboration, with a case in point being the memorandum of understanding between Indian firm Bharat Electronic Ltd and Indonesian company PT Len. Both sides have expressed hope that it will conclude soon, hopefully by year's end.
There was also some emphasis on future areas of cooperation as well. Indonesia's defense ministry in particular mentioned that there was hope that collaboration would be followed up on such as on component supply chains in radar and sonar production, and that Jakarta continued to express "its appreciation" for the technological advantages India possesses in areas such as long-range missiles.
Details on how both countries are going to move forward on areas of cooperation were unsurprisingly not publicly made available. But the Indian defense ministry's statement on the meeting noted that both ministers had agreed to set up working groups to "progress the mutually agreed areas of bilateral defense engagement," and that the ministers desired the working groups meet "at the earliest opportunity in India."
The wording of the statement suggested that the two sides may want to make headway on this at the next defense meeting held in New Delhi. How exactly this plays out, however, remains to be seen and will be important to watch within the broader context of the bilateral defense relationship.