What's Next for Timor-Leste's Economy?
The country's state budget has spotlighted how it is dealing with some of the opportunities and challenges in its economic development.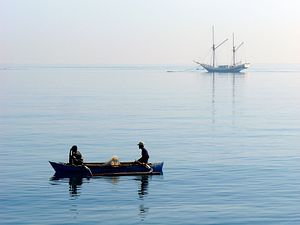 After more than a year of political uncertainty – which included two general elections in the space of eleven months, one failed minority government, impeachment threats against the president and still some ministries without ministers – Timor-Leste's governing class looks close to agreeing budgetary matters.
Because of political uncertainty, the state budget for 2018 – which came to $1.2 billion – was only issued on September 27, after months of back and forth in parliament over the costs. Much of this money was paid straight away for state salaries and debts, including a $9.3 million debt to the country's largest telecoms operation, Timor Telecom, that weren't paid throughout the year because of the stalemate. If passing the 2018 budget proved a protracted process, trying to decide the state budget for next year has been even more tiresome.
Between September 12 and 18, the Ministry of Finance held a budgetary workshop at which political and non-governmental voices were invited to speak. Days later, the Ministry proposed three options to the Council of Ministers, of which the new Change for Progress Alliance (AMP) coalition government selected by far the costliest: it set the budget ceiling for 2019 at $1.44 billion. A Policy Review Committee was then established, led by Prime Minister Taur Matan Ruak and several ministries, which met twice in October. It is thought that the final budget proposal will be delivered to parliament on November 8 – we will then see if parliament accepts it or if, like the 2018 budget, it goes through a protracted negotiation process.
Earlier this month, however, vice-minister of Finance Sara Lobo Brites said that the 2019 budget will be more than the first planned – it is thought this means more than the $1.44 billion, which includes government borrowing, laid out in at the end of September. How much more, however, isn't yet known. La'o Hamutuk, a local NGO, reports this could include more money set aside for education and healthcare spending (which could be the imposition of Ruak) and $350 million needed to purchase shares from a petroleum firm part of the Greater Sunrise project.
Starting with the latter: In late September, Timor-Leste's government agreed to purchase U.S. energy giant ConocoPhillips' 30 percent share in the Greater Sunrise gas consortium. The syndicate, led by Woodside Petroleum, which holds a 33.4 percent share, has for years been playing tap a large oil and gas field south of Timor-Leste. But it has long been delayed because sections of Timor-Leste's political class (especially former Prime Minister Xanana Gusmao, whose National Congress for Timorese Reconstruction (CNRT) is the largest party in the ruling AMP coalition) wants the gas to be transported by pipeline to an on-shore processing site in southern Timor-Leste.
The government has already spent roughly $250 million on the Tasi Mane project, most of which has gone to building the Suai airport and the Suai-Fatukai highway. It is thought that Prime Minister Ruak has now set aside another $5 billion from the Petroleum Fund for further investments in the projects. However, most of the foreign partners (though ConocoPhillips was thought to be the most forceful) argued that on-shore processing would be too expensive, unfeasible and cause considerable delays – a "pipe dream," if you will. Instead, they argued that processing should be done off-shore on a floating platform or in Australia.
But ConocoPhillips owns the gas-processing plant in Darwin, in northern Australia, where they wanted to process the extracted gas, so Timor-Leste's purchasing of its shares changes the picture somewhat. Moreover, if the deal goes through, then as well as the revenue Timor-Leste will collect for its part-ownership of the oil fields, along with Australia, its national oil company, TimorGap, will control a 30 percent stake in the consortium and, therefore, a 30 percent stake in the profits. However, a very important part which is often overlooked is that as well as the $350 million for ConocoPhillips's shares, Timor-Leste will have to contribute 30 PERCENT percent of capital costs to the whole development, which is likely to cost several billion dollars and will have to paid upfront, either be taken from the Petroleum Fund or from loans.
Earlier this year, Timor-Leste signed a key maritime border treaty with Australia, part of which included the offer that Timor-Leste could keep more of the proceeds from the gas extraction if it agrees to off-shore processing. It would be 70:30 to Timor-Leste if done on-shore, or 80:20 if offshore or in Australia. Dili doesn't seem to have taken the bait of what many thought to be a great deal for the country, most likely because of Gusmao, who continues to pull the political strings of the country. For years, Gusmao and other political leaders have argued that on-shore processing would be something of a silver bullet; not only would Timor-Leste receive billions from gas extraction, the Tasi Mane project would also create untold numbers of new jobs, well-needed in a country where unemployment is rife, and create whole new industries.
His critics, including Ruak before he became prime minister, argued it is just a vanity project that will drain the country's sovereign wealth fund, saddle Timor-Leste with bad debts and, in the end, not really provide anything useful economically. These critics, moreover, say that the money should instead be spent on education, healthcare, and diversifying the country away from oil revenue, which some analysts say has brought to Timor-Leste the "resource curse."
Indeed, the Bayu-Undan reserves, the country's main source of oil and gas revenue, are set to run out by 2022. The Petroleum Fund, unless greatly replenished, could be exhausted by 2030 at the latest. About $17.1 billion is left in the fund, but it contributes almost 90 percent of the state budget, which now rarely drop below $1.3 billion (and could be considerably higher from now on), while governments haven't been shy of taking substantial lump-sums from the fund, such as the billions that will now mostly likely have to go towards paying for the Greater Sunrise project, now that TimorGAP is part of the consortium.
Going into this year's election, some analysts thought that Timor-Leste's infrastructure-led development policy, which has been the previous two administration's focus, would be replaced. Fretlin and the CNRT ran an "informal coalition" between 2015 and 2017, and stuck hard to this policy. Fretilin, which won the election last year but failed to push through its policy as a "minority government," forcing a fresh election, looked set to continue it. But a political backlash began in 2016, starting chiefly when then-President Ruak began to openly question the infrastructure-led policy. The following year he helped create the People's Liberation Party (PLP), which campaigned to increase social spending and curb vanity projects. Its drive now seems to have waned as Ruak became Prime Minster and the PLP entered a coalition government, albeit one in which it's only the second-largest party.
Rather than move towards a more welfarist policy, that puts at center-stage Timor-Leste's underfunded and underperforming education and healthcare system, as well as its agriculture sector that must be radically improved if the economy is to become sustainable (and not reliant on expensive imports that could be produced locally), the new government has opted for the status-quo. Indeed, La'o Hamutuk notes that the $350 payment for ConocoPhillips' shares is "more than twice as much as Timor-Leste spends each year to educate our children."