Army Exercise Puts Indonesia-Singapore Defense Ties in Focus
A recent exercise highlighted ongoing efforts by both sides to boost the level of activity in the defense realm.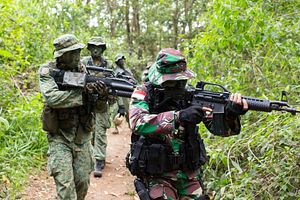 Earlier this month, Indonesia and Singapore held this year's iteration of their bilateral army exercise. Though the holding of the drills itself was routine, the development put the spotlight on some of the ongoing activity within the relationship and was testament to the continued emphasis on developing ties within this aspect of ties in 2018 and beyond
As I have noted before in these pages, while the security relationship between Indonesia, Southeast Asia's largest state, and Singapore, the region's smallest, has tended to be prickly historically speaking, the two countries have nonetheless maintained a cordial defense relationship that includes the usual components, including visits, exchanges, and exercises. Indeed, this year has seen not only the continuation of certain elements of the defense relationship, but also some selective expansion, with the incorporation of a maritime counterterrorism serial into their bilateral naval exercise Eagle Indopura held in April being a case in point in a reflection of the increased threat perceived from terrorism and violent extremism in the region in recent years (See: "ASEAN's Islamic State Conundrum").
One of the interactions between the two sides is Exercise Safkar Indopura, the flagship annual exercise between infantries from both armies first held back in 1989. Last year's iteration of the exercise, held from November 13 to November 24 as both countries commemorated the 50th anniversary of their relationship, saw the continuation of the usual range of activities but also a notable first in the joint operation of the Leopard 2SG Main Battle Tank by soldiers from both armies.
Earlier this month, the defense aspect of the relationship was in the headlines again with the holding of the 30th iteration of Exercise Safkar Indopura. The exercise took place from November 12 to November 19 and it was hosted by Indonesia this year in consonance with the alternating of locations that regularly occurs between the two countries.
As has been the case with previous iterations of the exercise, the drills consisted of a range of activities that both sides had worked out in advance in planning meetings – in this case, including professional exchanges, live-firing, tactical drills, and battalion field training exercises – designed for both armies to enhance cooperation, interoperability, and understanding.
According to Singapore's defense ministry (MINDEF), this year's exercise involved 460 personnel, comprising troops from Headquarters 3rd Singapore Infantry Brigade, 2nd Battalion, Singapore Infantry Regiment, and 48th Battalion, Singapore Armored Regiment, from the Singapore Army, as well as troops from the 16th Mechanized Brigade, the 512th and 516th Mechanized Battalions, and the 8th Cavalry Battalion from the TNI-AD.