Coast Guards' Role in the South China Sea
Far from being a source of conflict, coast guards can help bolster cooperation between states.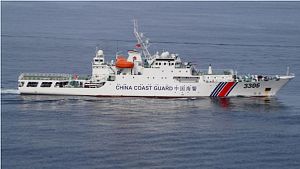 In June 2018, Malaysian Prime Minister Mahathir Mohamad emphasized that there is an impending danger if naval vessels – gray hulls — are continuously deployed in the contested waters of the South China Sea. Mahathir argued that in the event of dangerous and miscalculated maneuvers, navy ships are more likely to trigger an armed conflict that may eventually lead to war. He has recognized that contested maritime space is better left for maritime law enforcement ships – white hulls — to patrol.
While some maritime security analysts would agree, others contend that since the Code for Unplanned Encounters at Sea (CUES) does not cover these white hulls, there is a high possibility that future skirmishes between coast guards may sooner or later spark a war. In countering such claim, it is necessary to emphasize that the International Regulations for Preventing Collisions at Sea, 1972 (COLREGS) govern these vessels and all of the South China Sea claimant states are signatories to this convention. In fact, as part of the complaint filed by the Philippine government the arbitral tribunal of 2016 denounced the dangerous maneuvers of the China Coast Guard by referring to the provisions of this convention.  Thus, even without CUES, white hulls are still governed and regulated to prevent dangerous maneuvers that could lead to a collision.
Of course, as long as coast guard vessels are maneuvering dangerously to the point of ramming fishing vessels and white hull counterparts, the risk of confrontation remains. But it's important to keep in mind that not all of the white hulls in the region are carrying out such risky tactics at sea.
The coast guard arms race in East Asia that some security analysts are highlighting discounts the fact that these vessels are generally not large or heavily armed enough to jeopardize their safety by carrying out risky maneuvers (with two exceptions discussed below). For example, the 10 vessels that Philippine Coast Guard received from Japan recently are only 44 meters in length. The Vietnam Coast Guard (VCG) only received its first large vessel this January,  one of the recently retired USCG Hamilton class. In the case of Malaysia, even though the Malaysian Maritime Enforcement Agency received some of its floating assets from the Royal Malaysian Navy when it was activated, its first offshore patrol vessel was only given by Japan in 2016. Indonesia's Maritime Security Agency, Bakamla, just launched its largest 110-meter offshore patrol vessel in November 2017.
There are only two countries in East Asia – China and Japan — with white hull fleets that can be considered more potent than some of the navies in the region. However, even their tussle around the disputed Senkaku/Diaoyu Islands has never been hostile enough to anticipate military escalation. In fact, this provides a useful example of how coast guards can help avoid escalation of a territorial conflict. Since the start of intrusion of Chinese government ships in the contested waters in the East China Sea in 2009, Japan has been reliant on its white hulls to respond. Although Chinese government ships, coast guard vessels, and its fishing militia have been persistent in encroaching into the contested area in the past years, Japan managed to respond peacefully without provoking Beijing to send its navy, while at the same time not conceding its territorial claims.
Furthermore, looking at coast guards, especially in Southeast Asia, solely as an instrument to address territorial claims is a shortsighted assessment. There are other coast guard functions that enable these countries to have maritime cooperation in addressing nontraditional security threats. It is through coast guard cooperation that the Regional Cooperation Agreement on Combating Piracy and Armed Robbery against Ships in Asia (ReCAAP) was created to address criminal activity in the waters of Malacca Strait.
Coast guards also have a role in responding to oil spills; for example, the biennial Maritime Pollution Exercise (MARPOLEX) involves the Philippines, Japan, and Indonesia. These coast guard organizations also have a crucial role in ensuring navigational safety; such duties fall within respective territorial seas, which also serve as sea lanes for international shipping.  Moreover, white hulls have a vital role in conducting search and rescue operations. Such a humanitarian role has paved the way for some ASEAN members to execute a multilateral and bilateral agreement with each other and even with China. Just recently, Japan and China had inked a maritime search and rescue agreement with the objective of responding to sea mishaps adjacent to their waters.
It is an oversimplification to see the emergence of coast guards in the region as an impetus for possible war simply because coast guard vessels are not subject to CUES. The recent incident involving the USS Decatur and a Chinese destroyer was a visible indication of the limitation of CUES in preventing navy ships from carrying out unsafe and unprofessional maneuvers. The 2012 Scarborough Shoal standoff between the Philippines and China is also evidence of the perils of using gray hulls to fill s coast guard's maritime law enforcement role.
Instead of seeing the coast guard as the probable cause of future instability in the region, it is time to recognize its essential role in strengthening cooperation between countries to ensure a safe, clean, secure, and peaceful sea. It has to be emphasized that a coast guard primary purpose is not to assert a state's territorial claim, but rather to serve as a medium for the regional maritime order.
Jay Tristan Tarriela is a commissioned officer of the Philippine Coast Guard with the rank of Lieutenant Commander and is currently a Ph.D. candidate and a Japan International Cooperation Agency (JICA) scholar at the National Graduate Institute for Policy Studies (GRIPS) under the GRIPS Global Governance (G-cube) Program in Tokyo, Japan. He is also a Young Leader with Pacific Forum CSIS, Honolulu.