Is North Korea's MiG-29 Fleet Growing?
License production contracts with Russia and technical assistance deals may be strengthening North Korea's air force.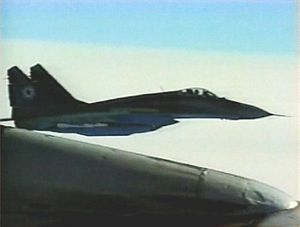 North Korea's armed forces learned during the Korean War the potentially devastating consequences of losing air superiority in a conflict with the United States, and air defense has ever since been a key priority in the country's military doctrine. The Soviet Union emerged as a key supplier of arms for this purpose, expanding the small Korean War-era fighter fleet throughout the 1950s and granting generous military aid alongside reconstruction assistance. North Korea was the only foreign client for the Soviet S-25 surface-to-air missile system, a high-end platform tasked with the defense of Moscow itself, and Pyongyang would continue to upgrade its air defense network and fighter fleet throughout the Cold War.
With the collapse of the USSR in 1991, it was widely believed that North Korea would be unable to acquire modern military hardware for high end aerial warfare, or even parts to maintain and modernize existing systems, giving the United States and its allies an overwhelming advantage in the case of a future war on the Korean Peninsula. However, an analysis of the developments in the North Korean defense sector since the late 1980s and the potential for continued Russian assistance to its East Asian neighbor, help explain why the country's ability to wage a war in the skies has remained strong despite all expectations.
In the wake of North Korean leader Kim Il Sung's visit to the Soviet Union in October 1986, Moscow agreed to supply the country with its first MiG-29 Fulcrum fighter jets — an elite combat platform that had entered service in the Soviet Air Force only the previous year. With the heavier Su-27 Flanker struggling in its early days and being produced in very limited numbers, the MiG-29 was the most capable fully operational fighter in the USSR at the time. Pyongyang had gone to great lengths to strengthen its defense partnership with the neighboring superpower since 1984. Alongside a boom in trade and considerable Soviet investments in high-end industries in the aftermath of the leader's visit, the USSR also helped to modernize North Korean aerial warfare capabilities. This included the provision of MiG-23 fighters, Su-25 attack jets, a Tin Shield early warning radar system, and S-200 air defense batteries, among other advanced armaments.
While North Korea is thought to have received approximately two dozen MiG-29 jets from the USSR, the country's Air Force would go on to enlarge its fleet considerably by acquiring a permit and technological assistance from the Soviet Union to manufacture the elite fourth generation jets under license. The permit was given in 1987, and North Korea opened a small production line and manufactured two to three fighters per year. The Fulcrums were manufactured in Kwagsan and Taechun in North Pyongan province in the country's northwest. By the end of the 1990s 15 fighters had reportedly been manufactured — a modest number compared to the Soviet production lines, which produced dozens of aircraft per year, but nevertheless a considerable addition to the North Korean fleet.
The first of the North Korean-built MiG-29 jets flew on April 15, 1993, and the performance was comparable to those built by the Soviet Union and Russia themselves — more sophisticated than the export variants marketed to clients such as Iraq and Iran. Nevertheless, a number of key components were required from Russia to maintain production. In 1997, North Korea signed a contract with Russian state-run arms dealer Rosvooruzhenye for military cooperation, which included continuing assistance for the manufacture of MiG-29 jets in North Korea. While the country's Fulcrum fleet is estimated to have numbered around 35 jets at the time, extending indigenous production would see it grow considerably larger.
Russia today continues to maintain close defense ties to North Korea particularly in the field of air defense, having signed a number of military agreements including an agreement in 2015, declared their "Year of Friendship," specifically facilitating close cooperation in air defense and intelligence. Visits to Moscow by high ranking delegations from the North Korean Air Force remain frequent, and according to U.S. sources Russia has continued to supply its East Asian neighbor with components key to maintaining its fighter fleet. It has repeatedly been pointed out that if the 2006 UN arms embargo against North Korea had been fully enforced, the majority of the North Korean fleet would today be unflyable – indicting that acquisitions of Russian parts has continued. A number of analysts have also speculated that Russia played a role in aiding North Korean in developing its KN-06 long range surface-to-air missile system, which entered mass production in 2017 as an analogue to the S-300 and may well use a number of Russian-made components.
A capable North Korean air defense network remains strongly in Russia's interests to protect the country's vulnerable Far East in the event of war with the United States, as well as to deter military action on the Korean Peninsula by Washington. With North Korea retaining the facilities needed to produce MiG-29 fighters of its own with a few minor inputs of Russian components, it remains likely that Moscow has continued to supply these inputs to keep production lines active. Without providing the country with a new class of fighter entirely, Russia can quietly assist its neighbor to expand its Fulcrum fleet and thus strengthen its aerial warfare capabilities. With no one entirely sure how many Fulcrums the North Korean Air Force actually fields, and many of the country's airbases located underground, it is extremely difficult to prove any violations on Moscow's part. Key components crossing the border are far easier to disguise than fighter airframes, and can therefore continue to be supplied inconspicuously without providing evidence to the United States to substantiate its accusations that Russia has violated the U.S. drafted UN sanctions regime against North Korea.
With Russia having reportedly already provided North Korea with advanced variants of the R-77 and R-27 long range air-to-air missiles, it is also a significant possibility that Moscow has also lent assistance in modernizing the MiG-29 jets in production by providing more advanced components for sensors and avionics. With North Korea having indicating its willingness to acquire cutting edge Su-35 air superiority fighters, an acquisition which would have cost approximately $1 billion for even a small contingent of just a dozen fighters, Pyongyang is well within its budgetary limits to afford modernization and a continuous manufacture of the MiG-29 — a lighter aircraft that comes at a fraction of the cost of the heavier Su-35. The fact that the country's armed forces had some hope for a potential acquisition of the Su-35, Russia's most capable fighter, indicates that a basis of high-level cooperation already exists in the field of aerial warfare.
The continued growth and modernization of the North Korean MiG-29 fleet remains a potent and cost-effective means of keeping the country's air force viable against the threats posed by its leading potential adversaries. Continued cooperation to facilitate such growth is likely to continue be perceived by both Pyongyang and Moscow as strongly in their interests.
Abraham Ait is a military analyst and expert on Asia-Pacific security. He is the founder of Military Watch Magazine.