Japan's Foreign Policy in the Mekong Region
Geoeconomics in action in Southeast Asia.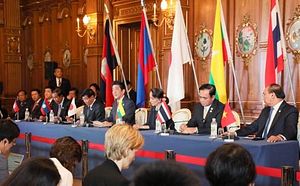 The tenth Japan-Mekong Summit was held on October 9 in Tokyo. Prime Minister Shinzo Abe received Cambodian Prime Minister Hun Sen, Laotian Prime Minister Thongloun Sisoulith, Myanmar's civilian leader Aung San Suu Kyi, Thai Prime Minister Prayut Chan-o-cha, and Vietnamese Prime Minister Nguyen Xuan Phuc at the Akasaka State Guest House. Held annually since 2009, the Summit represents Japan's increasingly proactive foreign policy toward Southeast Asia in general, and the five countries along the Mekong River in particular.
Although Japan has a complex history with the region, it has also carved out a role for itself as a prominent actor in development aid and foreign investment. Japan's engagement has nevertheless to a certain extent been overshadowed by China's presence. This year's Summit highlighted Abe's foreign policy strategy in the region, and may be seen as an attempt to pose an alternative to China's development strategy.
As many commentators have argued, China's engagement in Southeast Asia and, in particular, the Mekong, has become increasingly prevalent. Yet it is important to note that China, as the upper riparian along the 4,900 kilometers long Mekong river, has engaged with the region for more than just the past decade. China is a member, for instance, of the Greater Mekong Subregion created in 1992 with support from the Asian Development Bank (as are the southwestern province of Yunnan and Guangxi Zhuang Autonomous Region), and has promoted the utilization of the region's hydropower potential to satiate its own demand for low-carbon energy for several years.
The Lancang-Mekong Cooperation (LMC) platform serves as a lucid example of Beijing's neighborhood diplomacy, namely cooperation based on mutual economic interests and regional integration. It was unveiled by Premier Li Keqiang in 2014, and the first leaders' meeting was held in Hainan, China in March 2016. Alongside promoting cooperation on nontraditional security issues such as flood control and controlling transboundary infectious diseases, China "promised 10 billion RMB ($1.6 billion) in preferential loans and $10 billion in credit to the five Mekong countries." The initiative includes all six riparian countries (as opposed to the Mekong River Commission, which only includes Cambodia, Laos, Thailand, and Vietnam). Chinese Foreign Ministry spokesperson Geng Shuang, at a press conference in March 2017, confirmed that the LMC "is an important platform for the Belt & Road Initiative."
The Mekong region is home to roughly 236 million people, and excluding Thailand, all countries experienced annual GDP growth rates exceeding 6 percent in 2017. The interest of neighboring countries is therefore understandable. But whereas China has arguably focused on economic development in order to fulfill ambitions regarding regional connectivity and infrastructure development, the Mekong seems to serve a different purpose for Abe's diplomacy, underpinned by the "free and open Indo-Pacific strategy" (FOIP) announced in 2016.
This strategy has three core pillars. FOIP firstly aims to augment connectivity between Asia, the Middle East, and Africa, but also to secondly realize the Sustainable Development Goals, and thirdly support "quality growth" in developing countries through its economic diplomacy. According to the policy document released by the Japanese Ministry of Foreign Affairs, quality growth implies an export of the country's small- and medium-sized enterprises' expertise in areas such as water and sewage treatment facilities, and simultaneously making the region more conducive to foreign direct investment.
The conclusion of the Japan-Mekong Summit in October buttressed Abe's foreign policy, but furthermore signaled a growing rift between China and Japan's approaches to the region. Indeed, at the Summit the leaders agreed to enhance the partnership to become "strategic," centered on the three pillars of "vibrant and effective connectivity, people-centered society, and realization of a green Mekong." These pillars constitute the core of the new Tokyo 2018 Strategy for Mekong-Japan Cooperation, deepening the engagement of Japan with the region. At the Summit, Japan further signaled a willingness to support the Ayeyawady-Chao Phraya-Mekong Economic Cooperation Strategy (ACMECS), a regional economic cooperation mechanism that consists of the five Southeast Asian countries.
Additionally, the joint statement iterated the importance of a rules-based international order in the South China Sea, and emphasized the importance of a "complete, verifiable, and irreversible dismantlement of the nuclear weapons and ballistic missiles" in North Korea. The joint statement, along with the Tokyo 2018 Strategy, suggests that Japan is indeed seeking to engage more thoroughly in Asia and not merely be perceived as a reticent power in the Asia-Pacific. Abe held bilateral meetings with each of the five Southeast Asian leaders as well, and stated to Aung San Suu Kyi Japan's continued support for "Myanmar's democratization process, peace, and national reconciliation process." Abe's approach in the region therefore not only concentrates on infrastructure and connectivity projects, but includes a focus on civil society and political values.
The tenth Summit in Tokyo thus suggests that Japan is gearing up to provide an alternative future of the international order in the region. What will determine the efficacy of Japan's foreign policy ambitions in the Mekong region does not solely depend on its economic statecraft nor on China's development initiatives. Arguably, one must also take into account in which direction the five Mekong governments decide to take their countries in the future and how they subsequently engage with their neighboring countries.
Carl Lentz holds an MSc in Global Governance and Diplomacy from the University of Oxford and is currently a trainee at the European Commission. All views expressed are his own and do not represent those of the European Union.