Murder is the highest form of censorship. As the world reels from the brutality and impunity of the murder of Washington Post columnist Jamal Khashoggi, the Committee to Protect Journalists (CPJ), a press freedom watchdog, released its annual 2018 Global Impunity Index ranking "states with the worst records of prosecuting the killers of journalists."
In the Global Impunity Index, the CPJ defines murder as "a deliberate attack against a specific journalist in relation to the victim's work." It excludes cases where the journalists were killed in combat or on dangerous assignments. In 2018, the CPJ highlighted 14 states where impunity is entrenched and the lack of justice creates a "climate of censorship."
"In the past decade, at least 324 journalists have been silenced through murder worldwide and in 85 percent of these cases no perpetrators have been convicted. It is an emboldening message to those who seek to censor and control the media through violence," writes the CPJ.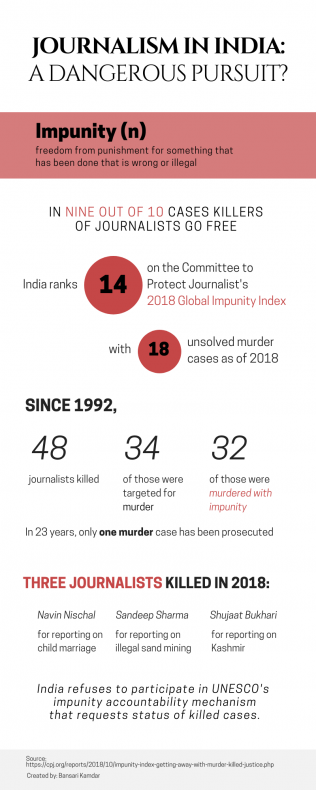 The Global Impunity Index: India and Other Contenders
India ranked 14th on the list with 18 murders of journalists with impunity from 2008 to 2018. India has been listed on the Index 11 times. Other nations on the Index include Afghanistan, Bangladesh, Brazil, Colombia, Iraq, Mexico, Nigeria, Pakistan, the Philippines, Russia, Somalia, South Sudan, and Syria. According to the CPJ, 82 percent of the 324 journalist murder cases happened in the 14 countries listed in the index.
Somalia topped the Index for the fourth year in a row with 25 unsolved journalist murder cases. Afghanistan and Columbia reappeared on the index this year after falling off in recent years as violence waned. However, the recent suicide attack in Kabul killing nine journalists in April and the kidnapping and murder of an Ecuadorian news crew by alleged Colombian drug traffickers have brought both back on the index, at sixth and eighth respectively.
The Impunity Index is published annually by the CPJ to mark the International Day to End Impunity for Crimes against Journalists on November 2. It analyzes journalist murders in every country over a 10-year period, as a percentage of the country's population.
The CPJ also lists which states participated in UNESCO's impunity accountability mechanism as a way to measure the political will of a state to address impunity. The UNESCO mechanism requests information on the status of investigations into the killed journalists. India has refused to participate in the impunity accountability mechanism.
The Rising Cost of Free Press in India
Reporters Without Borders (RSF) listed India at 138th on its World Press Freedom Index in 2018, adding that it fears that journalists are "increasingly the targets of online smear campaigns by the most radical nationalists, who vilify them and even threaten physical reprisals."
Since 1992, 48 journalists in India have been killed and 34 were targeted for murder. Of the 34 murders, 32 were murdered with "complete impunity," according to the CPJ database. In 23 years, only one journalist's murder, that of Midday's Jyotirmoy Dey, has been prosecuted and the murderers sentenced, according to NDTV reports.
In 2017, India ranked 12th on the Global Impunity Index with 13 journalists killed with "complete impunity" from 2007 to 2017. Most of the journalists were targeted for their reporting local corruption, crime, and politics outside main urban areas.
Among the murders was the shooting of Gauri Lankesh, veteran journalist and editor, who was shot and killed in Bangalore on September 5, 2017, by three unidentified assailants, reported the Hindustan Times. Her murder led to a national outcry over the safety of journalists. Lankesh was renowned for her criticism of right-wing extremism and communal violence in Gauri Lankesh Patrike, her Kannada-language weekly tabloid.
The CPJ observes that conditions have "worsened" in India in 2018. In 2018, three journalists were murdered for their work: Navin Nischal of Dainik Bhaskar, Sandeep Sharma of News World, and Shujaat Bukhari of Rising Kashmir.
In Arrah on March 25, Navin Nischal and another reporter, Vijay Singh, were run over by an SUV, reportedly driven by the village's head, Mohammad Harshu. Nischal's crime: reporting on child marriage.
Both journalists died on the scene.
On March 26, the very next day, Sandeep Sharma was killed when a truck ran his motorcycle over. The News World's bureau chief, Vikas Purohit, said that Sharma had received threats earlier for publishing stories on illegal sand mining and police corruption and had been beaten up earlier. Shujaat Bukhari, a senior journalist and editor, was shot and killed on June 14, along with two police officers assigned to him for protection, for his reporting on the situation in Kashmir.
These ruthless murders are symptomatic of a larger problem of silencing journalists. In addition to outright murders, journalists are increasingly being attacked. According to The Hoot's "India Freedom Report: Media Freedom and Freedom of Expression in 2017" report, 11 journalists were murdered, 46 were attacked and 27 cases of police action were filed in 2017.
When not hit with violence or murder, journalists are being slapped with hefty civil defamation suits, like the recent US$1.35 billion claim by the Reliance Group against Indian news channel NDTV for its reporting on the lack of transparency in the Rafale jet deal between Reliance and their French counterpart. This tactic is often employed to intimidate reporters and harass them through legal fees.
Media is being heavily censored by the government and their access to official events restricted. Furthermore, there is a significant rise in internet shutdowns across the country, increasing to 77 in 2017 against 31 in 2016.
In India, when the story can't be killed, the storyteller is silenced.
Jamal Khashoggi, in his final, posthumous column argued that what the Arab world most needs is free expression. His words ring true also for India and every other nation where reporters are being silenced, often times violently, for their courage and audacity to speak the truth.  
Bansari Kamdar is a freelance journalist and researcher based in Boston. She writes on South Asian political economy, gender, and security issues. Bansari has an MA from Boston University in International Relations and International Communication, along with graduate certificates in Asian Studies and Women's, Gender, & Sexuality Studies.