Okinawa's New Governor Faces First Test: Renewed US Military Base Construction
Okinawa Governor Denny Tamaki's honeymoon period ended abruptly as the central government restarted work on a new U.S. base.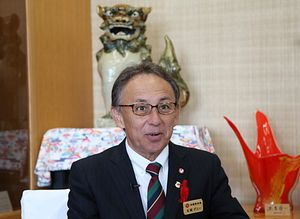 Outspoken U.S. base critic and newly elected Okinawa Governor Denny Tamaki is preparing to fight the central government over revoking Okinawa prefecture's suspension of a long-pending U.S. military base relocation within the island.
The Ministry of Land defended the intervention as being in line with government policy to alleviate the burden of the existing U.S. Marine Corps Air Station Futenma — currently located in a busy neighborhood — by building a new base in a less densely populated coastal area. Despite strong local opposition, the Ministry of Defense emphasized the government's commitment to preventing noise pollution and the risks of military accidents while pointing out the economic losses caused by the suspension of work on the new base.
Tamaki and his supporters also want Futenma Air Station closed, but do not want the base relocated within Okinawa. Last week, Tamaki said he would fight the decision that "lacks neutrality and fairness" and plans to submit an appeal to a regional dispute handling committee specializing in conflicts between central and local governments. If Okinawa fails to secure a favorable ruling, Tamaki pledged to bring the fight to the high court.
Since construction recommenced on Thursday, landfill work is expected to continue until a binding decision is made — which could take weeks, if not months. If construction continues uninterrupted it could be completed before the end of the year. All eyes are on Tamaki's countermove as Okinawan relations with mainland Japan continues to nose dive.
The central government decision overrules former Governor Takeshi Onaga's move to suspend construction of the new U.S. military base by revoking his predecessor's earlier approval for landfill work. Before Onaga's sudden death from pancreatic cancer in August, he successfully halted construction that was underway on the grounds that his predecessor had failed to take sufficient measures to protect the environment. The mission to keep base construction at bay was inherited by Tamaki, the son of a U.S. serviceman, after his historic win.
Tamaki has been celebrating his election win since the beginning of October. But now time is running out and the stakes are high. As a first-time governor, Tamaki's leadership skills will be put under the test to deliver his key election promise of preventing the relocation. Tamaki served as a member of the Japanese House of Representatives from 2009 until his election to the governor's office.
Relations between the ruling central government and Okinawa prefecture quickly soured last week. Tokyo's move was seen as a stab in the back and an attack on democracy by the majority of Okinawans who voted not only against the transfer but for the eventual removal of the U.S. military from the island. Tamaki fiercely criticized the central government's handling of the issue, saying it was "absolutely unforgivable" to speed up construction without any discussion with the Okinawa Prefecture or environmental consultation.
Prime Minister Shinzo Abe's primary concern is to maintain the Japan-U.S. alliance and he shows no signs of backing down. Speaking at the budget committee meeting on Friday, Abe said he will continue to strive for local understanding while emphasizing the idea of fully relocating Futenma Air Station to its new location at the earliest possible date. Tamaki accused Abe of trampling on popular public opinion recently shown in the governor's election and repeatedly called for urgent dialogue with Abe and Chief Cabinet Secretary Yoshihide Suga to rectify the situation. In response, Abe expressed his intention to listen to local opinion and agreed to meet with Tamaki next week if his "schedule permits."
Tamaki also threw shade at the politicians forcing Japan as a whole to carry the weight of the Japan-U.S. security alliance and propagating an understanding that ordinary citizens carry the same promise and responsibilities. In a series of media interviews last week, Tamaki said he hopes to pay a visit to the United States in an attempt to garner wider support and draw attention to Okinawan public opinion through grassroots dialogue.