Russia and the Rest: Putin's East Asia Summit Visit
What does Russia have to offer Asia?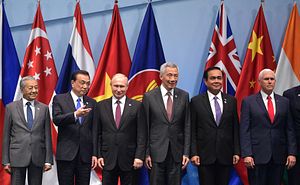 Facing rising sanctions risks and a bearish oil market, Russian President Vladimir Putin attended last week's East Asia Summit – a regional gathering anchored by the ASEAN + 6 grouping – looking to cut deals and deepen ties with Asian states that aren't China. For all the pomp and pleasantries exchanged between Putin and Chinese President Xi Jinping during other visits and forums, no one in Moscow is under the illusion that Russia is best served subordinating its economic and political interests to its much larger neighbor.
Word that Putin would make his first-ever state visit to Singapore for the summit — juxtaposed with U.S. President Donald Trump's absence — lent the impression of a Russia more actively engaged in Asia, in some respects, than the United States. But there's little evidence that Russia has shifted from its dominantly bilateral, reactive approach to East and Southeast Asia and Russia lacks clear personnel and organizational structure to its regional efforts. Russia's boxed in by its own institutional limitations and sanctions pressures.
The Tokyo File
Talks between Moscow and Tokyo over the status of the Kuril Islands – otherwise known as the Northern Territories – have been stuck over problems dating back to the 1956 Joint Declaration that restored diplomatic relations between the Soviet Union and Japan. Historically, Japan has refused to a sign a formal peace treaty ending hostilities from World War II without addressing the islands' sovereignty, a condition Russia has refused to accept. Nevertheless, Abe has done his best to at least rhetorically shift his position to achieve progress, going so far as to promise Russia that the United States would not be able to build military installations on the islands.
The Russian press noted that Putin and Abe had switched from informal to formal addresses in their respective languages, a sign of Russia's disinterest in making any kind of concession on the matter. The two leaders agreed to "accelerate" talks to satisfy domestic political blocs and show progress externally. "Accelerating" a moribund negotiating process dating back to 1956 doesn't mean much.
Japanese businesses remain uninterested in striking significant deals, whether due to concern about U.S. sanctions risks or Russia's refusal to budge on its negotiating stances. Putin and Abe's exchange encapsulates the problem: The two countries may see their relationship in this specific area growing more formal by necessity, but colder.
Lend Me a Hanoi
Following up on Putin's appearance in Singapore, Russian Prime Minister Dmitry Medvedev was dispatched to Hanoi over the weekend to carry out further talks with the Vietnamese. Vietnam was the only ASEAN state to receive that level of attention, and the prime cause is U.S. sanctions pressure.
The expansion of energy sanctions on joint projects with Russian participation abroad have threatened Vietnam's attempts to develop its own offshore oil and gas reserves, an important step in strengthening its claims in the South China Sea. The Kremlin clearly felt it important to project international confidence since Putin stated in Singapore that sanctions hampered not just Russia but its partners as well. Unstated by both parties, however, is the role of Chinese complaints about the development of reserves in a region it also claims. Moscow has to stand up to the United States without acknowledging how its interests diverge from those of Beijing.
Both Russia and Vietnam remain publicly committed to increasing mutual trade turnover from roughly $3.55 billion as of 2017 to $10 billion by 2020. Vietnam has an operating trade agreement with the Eurasian Economic Union (EAEU), which covers 90 percent of all goods and services. This year has shown a 38 percent year-on-year growth for trade over last year, aided by rising tourism flows. But Moscow is well aware that selling more wheat and other low-cost goods while stagnant economic growth limits import opportunities means its target can only be achieved by state-led deals.
The reality is that the arms deals likely needed to reach the $10 billion figure won't proceed. Sanctions have squeezed the participation of Power Machines – a Russian firm owned by Aleksei Mordashov – from providing necessary equipment for the Long Phu 1 plant, a coal power project. That's telling on how far the U.S. Treasury and State Departments are willing to go.
A U.S. Senate proposal to sanction Vietnam on human rights grounds went nowhere last fall, likely linked to a broader consensus that waivers for arms imports from Russia should be offered. But waivers pertain to imports of equipment needed to maintain existing weapons systems, not acquire new ones. Russia is unlikely to strike large, new deals, especially with the House Democrats in Washington prepared to further scrutinize the Trump administration and, by extension, anything pertaining to Russia. They are joined by a hawkish consensus among Republicans and Democrats on sanctions in the Senate.
How Do You Solve a Problem Like Korea?
Putin took care at the summit to note that Russia and South Korea were expanding cooperation, namely in reference to North Korea's nuclear capabilities. There's been shared interest in expanding cooperation on liquefied natural gas (LNG) projects, exemplified most by Russian exporter Novatek's interest in working with Korean firms. But coordinating the de-escalation of sanctions on North Korea in the event of evidence of denuclearization reportedly took up most of Putin's time with President Moon Jae-in.
Moscow received little despite talking about softening sanctions in the future. Seoul committed to creating an investment fund to support joint Russian-South Korean projects by 2022 with a lowly capitalization of $100 million. But Moon didn't waste the opportunity to promote the idea of an APEC fund for digital innovation, an idea linked to a South Korea-Japan backed proposal for Russian firm "Transneft Telekom," via funds from the Russian Direct Investment Fund, to build telecommunications infrastructure – cables – linking Europe and Asia.
In the end, South Korea's fund proposal and the Transneft deal are small potatoes and largely symbolic. There are individual cases of firms expressing investment interest or seeking to register as residents in Russia's Far East to gain bidding rights on agricultural land, but the lack of a landmark announcement suggests no major effort is forthcoming. The investment climate in Russia is simply unattractive, and the political benefits of a closer relationship remain limited for Seoul.
Moscow has staked out a role for itself in resolving the challenge posed by North Korea's nuclear and ballistic capabilities. However, this has not translated into larger investment flows, particularly as the United States retains the ability to structure the economic options South Korea and Japan have in dealing with Russia via sanctions, security commitments, and other inducements.
The Elephant in the Room
U.S. Vice President Mike Pence's presence at the summit and U.S. diplomatic pressure likely pushed states to avoid large business announcements with Russia. Pence arrived playing the role of enforcer, openly criticizing China for threatening the sovereignty of other states by militarizing the South China Sea. Russia escaped comment, but Pence reiterated that the scale of U.S. investments in the region dwarfs those of competitors. Russia just isn't a big source of capital in Asia.
Reports indicate that U.S. National Security Advisor John Bolton did most of the talking in a sideline chat with Putin at the summit. Though the talk reportedly focused on the upcoming G-20 Summit, the broader context of U.S. policy aims, particularly concerning Iran, can't be ignored. Just yesterday, the U.S. Treasury Department accused a firm linked to Russia's Energy Ministry of facilitating Iranian oil exports to Syria in violation of sanctions.
Russia, therefore, is walking a fine line regarding policy blowback from any U.S. action on Iran, whether that be military, economic, or political. An attempt to undermine sanctions on Iran will invite further scrutiny elsewhere based on the steadily increasing pressure Washington is seeking to apply.
The largest ASEAN states and U.S. regional partners were unlikely to announce anything significant in this climate, preferring instead to slow-roll projects already under negotiation and drip-feed press releases later on to minimize political risks. U.S.-China tensions are much more significant than pulling small amounts of capital out of Russia for investment, or else making risky investments in Russia itself.
Swapping Chairs
Staffing issues and policy priorities lie at the confluence of all of these factors. In May, former First Deputy Prime Minister Igor Shuvalov left his government post to run Vneshkonombank (VEB), a leading development institution and vehicle to distribute state money to elite interests in Russia. Shuvalov ran the policy portfolio for the EAEU, including leading talks with Singapore for a free trade agreement.
Trade talks in general have largely stalled, but Shuvalov's departure has thrown off any sense of a timeline for their continuation. Finance Minister and First Deputy Prime Minister Anton Siluanov is now running the EAEU file. It ranks significantly lower on his priority list, particularly as Russia completes a series of domestic tax, spending, and regulatory maneuvers to insulate its budget from further oil market volatility and sanctions.
Though the first ASEAN-EAEU business format was held at this year's St. Petersburg International Economic Forum, the personnel shift in Moscow has put the EAEU on the backburner. Putin's visit yielded a memorandum of understanding between the EAEU and ASEAN to expand cooperation on customs procedures and deepen ties, reiterating previous statements and agreements that mean little in practice.
There was more visible momentum on Russian trade and diplomatic outreach among ASEAN states in 2016-2017, but this was largely a result of Shuvalov's efforts and the external environment. The U.S. Congress ratcheted up sanctions pressure starting mid-summer last year, and Russia has largely been on the back foot ever since.
Policy Headwinds
It was already a hard sell to deepen investment links in Russia's Far East – the primary motivation to diversify economic and political ties in the Asia-Pacific. Sanctions risks and U.S. trade policy have made that even less attractive. There are other players to consider, not just Japan, Vietnam, and South Korea, but most business deals reached with Singapore and other regional states are small and marginal. Russia's interest in ASEAN is ultimately secondary to its interest in expanding ties with South Korea and Japan.
Putin did not come to Singapore with a coherent vision for how Russia or the EAEU could work multilaterally in Southeast Asia. After all, trade agreements would undermine key industrial constituencies in Russia that can't compete with lower production costs elsewhere. Access to offshore financial centers is much more important.
Instead, Putin sought to make bilateral progress with Vietnam, and South Korea and Japan, two non-ASEAN members. In so doing, Putin has exposed the growing challenge of Russian policy in the Asia-Pacific: it cannot both creep closer to China and entrench itself in a standoff with the United States simultaneously and expect to offer much to the region. Russia's pivot hasn't been a failure, but it's stuck in a holding pattern until it commits adequate institutional resources and political headwinds change.
Nicholas Trickett is editor-in-chief of the Foreign Policy Research Institute's Bear Market Brief and currently studying International Political Economy at the London School of Economics and Political Science. He holds an M.A. in Eurasian studies through the European University at St. Petersburg with a focus on energy security and Russian foreign policy.