Saudi Arabian Relations Under Strain in Southeast Asia
Saudi Arabia's relations with Malaysia and Indonesia, in particular, are worth watching for signs of cooling enthusiasm.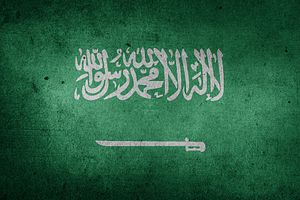 Saudi Arabia's foreign relationships, particularly in the West, are coming under intense pressure in the wake of the murder of journalist Jamal Khashoggi. Malaysia and Indonesia's responses have been relatively muted in comparison to those of some Western countries, but this does not mean continuing good relations between Saudi Arabia and Southeast Asia should be taken for granted. A result of domestic changes and Saudi actions, there are other tensions in Saudi Arabia's relations with Southeast Asian countries that are causing some degree of disruption.
Malaysia and Saudi Arabia
Under former Prime Minister Najib Razak in Malaysia, Saudi relations saw a massive expansion. Malaysia extravagantly welcomed a visit from King Salman, and this was reciprocated by a high-profile trip to Saudi Arabia by Najib. Their close relations drew attention when Najib claimed money suspected to be from 1MDB was deposited as a donation by the Saudi royal family. While this is increasingly acknowledged as being false, at the time Saudi governmental figures corroborated Najib's claims, demonstrating how close the relationship had become. As the relationship grew, so too did the "Arabization" of Malaysian Islam, with concerns over Wahhabism becoming more prominent in Malaysia and influencing its governance.
This closer relationship translated into growing cooperation between the two states. In the economic sphere, for example, Saudi ties became increasingly important, especially with regard to Saudi investment in Petronas and the development in refineries. The political and security spheres also saw an increase in cooperation. The biggest symbol of this was the joint anti-terrorism center, the King Salman Center for International Peace (KSCIP), for which Saudi Arabia provided the funding and the city of Putrajaya a massive plot of land. At the time, then-Defense Minister Datuk Seri Hishammuddin Hussein said it was an essential development in countering extreme ideologies, particularly Islamic State. In other security developments, Malaysia joined a Saudi-led coalition in joint operations from Riyadh, seen by some as a military bloc against Iran and supporting Saudi intervention in Yemen.
Today, however, the relationship shows signs of decline. While Malaysia has stated that the relationship is still strong, and has shown mixed but relatively muted reactions to the murder of Khashoggi, there are other sources of tension. New Prime Minister Mahathir Mohamad seems wary of the closeness his predecessor had with Saudi Arabia, and the amount of support they offered him. It was Mahathir who was most critical of the murder of Khashoggi.
Key figures in the new government, such as Defense Minister Mat Sabu, have also been critical of Saudi policies in the past, arguing that following the Saudi line so closely had undermined their neutrality. This has been translated into tangible changes in the relationship, and cooperation is on the decline. One of Mat Sabu's first actions as defense minister was to cancel the King Salman Center for International Peace. Malaysian troops are also being withdrawn from Saudi Arabia in a signal that the new government is not comfortable with Malaysia's overt involvement against Iran, as well as wary of being seen as involved in the increasingly criticized Saudi-led intervention in Yemen.
Indonesia-Saudi Relations
In Indonesia, the dynamics have been similar — even though the potential for change has been more muted. There had been a growing closeness between the two countries. Indonesia signed a defense cooperation agreement with Saudi Arabia under the Susilo Bambang Yudhoyono (SBY) administration. With Indonesia attempting to advance its indigenous defense production capabilities, this was seen as particularly important in the agreement. The defense cooperation agreement was ratified only last month. In 2017, King Salman also visited Indonesia with a delegation of 800 people, bringing the promise of closer ties and an increase in investment.
However, President Joko "Jokowi" Widodo seemed disappointed facing the fact that Saudi decided to invest 10 times more in China –$65 billion compared with just $6.7 billion in Indonesia — an amount much lower than thought during the preparations for the visit. He called upon King Salman to increase investment, especially after they sought to give the king an extravagant welcome.
The relationship between two countries also faces other issues with the potential to invite skepticism. The treatment of domestic workers in the Kingdom has increasingly come under fire, especially since the execution of Indonesian worker Tuti Tursilawati. Protests at both a public and official level have broken out after she was executed without an advanced informing of any Indonesian official. This is putting pressure on Jokowi's administration to stand up to Saudi Arabia and ensure they return Indonesian attempts to show respect. It has also led to questioning from the wider population on the Indonesian-Saudi ties, and may limit political will to continue a high profile increase in relations.
Saudi Arabia's Response
It is clear that Saudi Arabia is concerned with advancing its influence in the face of these issues. In Malaysia, there were personal meetings between Saudi Foreign Minister Adel al-Jubeir and Mahathir. They sought to reassure Mahathir that the funds to Najib did not come from the Saudi government or royal family, seen as an attempt to appease Malaysian sensitivities. Saudi Arabia has also offered its willingness to cooperate with the 1MDB investigation, and extended an invitation to Mahathir to visit the Kingdom. Adel also visited Indonesia, where the question of protecting 600,000 Indonesian workers was high on the agenda – especially as 15 remain on death row. This was prior to the Tuti  execution, however, and there has been silence from Saudi Arabia since.
It is unclear as to the extent to which relationships will transform, but it is clear that there has already been some diplomatic distancing from Malaysia at least, with the potential of this occurring in Indonesia due to issues arising over the execution case. Khashoggi's murder, furthermore, shows an increasing difference in direction. Malaysia and Indonesia are seemingly consolidating democracy at a time when Saudi repression is on the rise.
Malaysia is instead focusing its efforts on neutrality and realigning with the wider Islamic world, not wanting to be seen as exclusively following the Saudi line. This means potential opportunities, for example, of increasing ties with Iran, especially with the upcoming D-8 meeting including the foreign ministers of Malaysia, Indonesia, and Iran, among others. Iran has already expressed an interest in Malaysia taking a greater role in international and regional roles at a meeting between Iranian President Hassan Rouhani and Mahathir at the UN.
This will be concerning for Saudi Arabia, especially considering their actions are creating issues in the relationships with Malaysia and Indonesia, opening up the potential for further diplomatic distance. The growing links with Indonesia were said to be triggered by Saudi attempts to isolate Iran diplomatically, in the face of the Iranian "Look East" policy, which attempts to find support for its foreign policy. It seems to be no coincidence that King Salman's visit occurred just three months after Jokowi and Ayatollah Khamenei met in Tehran, and Saudi Arabian economic influence only increased after Iran investment in Indonesia reached $14.3 million compared to just $900,000 from Saudi Arabia in 2017.
In light of this, there will be questions of the extent to which Saudi Arabia be able to continue to overshadow Iranian influence and create stronger ties as it has been doing, as its action and domestic changes in the Southeast Asian states may limit the potential for this. The relationship is increasingly questioned, as recent events, of which Khashoggi's murder is just one, have demonstrated.
Scott Edwards is a doctoral researcher at the University of Birmingham with a research background in the international relations of Southeast Asia
Asmiati Malik is a political economic analyst based in London, UK.