Thailand's ASEAN Chair Challenge in 2019
While Thailand has been among the grouping's biggest champions historically, it will have a lot on its plate when it takes the helm next year.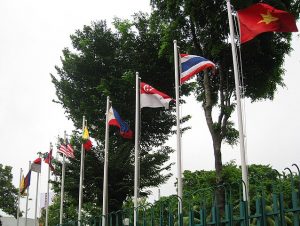 On November 15 at the recent ASEAN Summit in Singapore, the symbolic gavel of the rotating ASEAN chairmanship was handed from Singapore to Thailand ahead of the official start as ASEAN chair in 2019. While Bangkok is no stranger to chairing ASEAN as one of the grouping's founding members and key supporters, it is also inheriting the position at a time when it has to confront a mix of domestic, foreign, and wider regional and global challenges.
At the outset, it is important to note that one ought not to exaggerate the importance of the annual rotation of the ASEAN chair. The transition between ASEAN chairmanships is an ongoing and incremental process, rather than a sudden handoff between countries reinventing the wheel. Though the headlines tend to focus on occasional developments such as the failure to issue communiques at certain meetings, most of the work is meticulously planned in advance and progress when it occurs works its way – sometimes glacially – up various levels.
Thailand itself is also no stranger to chairing ASEAN. Not only is the country among the founding members, but the ASEAN Declaration that founded ASEAN was in fact signed in Thailand (hence referred to interchangeably as the Bangkok Declaration) and Bangkok has been among the biggest supporters of the regional organization. And with previous ASEAN chairs, Thailand has already been previewing its priorities for 2019 through 2018, and Prime Minister Prayut Chan-o-cha reiterated some of those in his remarks at the ASEAN Summit under the theme of "Advancing Partnership for Sustainability" – including initiatives around digital technology, connectivity, and the green economy.
Yet it is also true that Thailand's 2019 chairmanship will put the spotlight on the Southeast Asian state at a time when it has a lot on its plate. Put simply, the mix of manifold challenges it faces – with its domestic politics, its foreign policy, and wider regional and global issues – will increase the pressure on Thailand just as it occupies an important role in stewarding ASEAN-centered regionalism through next year.
The most obvious aspect of the challenge is domestic. Domestically, 2019 promises to be a busy year in Thai politics even as it chairs ASEAN. With Thailand's ruling junta saying that repeatedly-postponed elections will likely be held next year to return the country to democratic rule, scrutiny will be placed on ongoing developments more so than otherwise, whether it be the gradual easing of political restrictions or the consolidation of power of the new king.
Fears about an exact repeat of when Thailand last chaired ASEAN in 2009, when meetings were interrupted by political protests, are probably overstated. Nonetheless, stewarding the grouping amid these domestic challenges will not be an easy feat, and will likely see an even greater linkage between Thailand's domestic and national priorities with those it advances regionally, along with more caution exercised regarding issues where potential sensitivities could arise.
But to that domestic aspect is added a foreign policy element as well. While Thailand has historically been seen by some as being masterful at balancing major powers, that has become more difficult to do given shifts in its domestic politics as well as in the wider world. In particular, Thailand's ties with Western countries were complicated by the coup, while Bangkok's efforts to push for closer ties with various countries, including not just Japan and India but also China and Russia, have been met with their limits and challenges as well. U.S.-Thailand relations will be especially notable to watch in 2019 in this context: while aspects of ties between the two treaty allies have progressed well, Bangkok's transition to democracy will continue to be a variable in how far both sides can further boost ties, including with a potential Trump visit to Thailand during the next round of ASEAN summitry (See: "Managing the US-Thailand Alliance in the Trump Era").
Yet, beyond major powers, it is also important to note in this context that shifts in Thai domestic politics and foreign policy approach will also impact Bangkok's ties with its neighbors in Southeast Asia — particularly those in mainland Southeast Asia such as Myanmar, Cambodia, and Vietnam — which have their own mix of regimes and are undergoing significant domestic political changes and realignments. As a major player in mainland Southeast Asia and the Mekong, Thailand's choices will affect the subregional context as well.
Compounding all of this is a range of broader regional and global challenges. Barring some unprecedented changes, Thailand will begin its ASEAN chairmanship at a time when the outlook on issues like the South China Sea remains uncertain and when there are grave doubts about ASEAN's own centrality and unity amid wider global trends, including growing populism and protectionism as evidenced by the U.S.-China trade war and Brexit.
While Thailand has tried its best to make the most out of this environment, there is also no escaping the reality that it is a challenging one nonetheless, and that it complicates the forecasts for Thailand's economy as well as its wider security. Though some of these important issues may not be entirely resolved during Bangkok's chairmanship — be it the conclusion of a code of conduct on the South China Sea or the finalization of a Regional Comprehensive Economic Partnership (RCEP) agreement — that will not stop observers from scrutinizing developments on these high-profile issues for an indicator of how Thailand is performing (See: "Will an ASEAN-China South China Sea Code of Conduct Really Matter?").
Of course, this does not necessarily mean that Thailand will be unable to overcome or manage these challenges, or that it will not succeed in advancing a few key agenda items as well. As a founding member of ASEAN that has alternated between military and civilian governments, Thailand is no stranger to times of change and challenge either for itself or for the grouping. And some of the initiatives Bangkok has flagged, such as on sustainable development, culture, and people-to-people ties, touch on important issues that the region needs to tackle as a whole and also build on Thailand's strengths within ASEAN as well as in its own national agenda – a  reminder that linkages between the domestic, bilateral, regional, and global realms can be reinforcing synergies as much as they can be overlapping challenges. How exactly this plays out will be the essence of Thailand's ASEAN chair challenge in 2019.