Thailand's Festival of Lights
Celebrating Loi Krathong in Sukhothai in northern Thailand.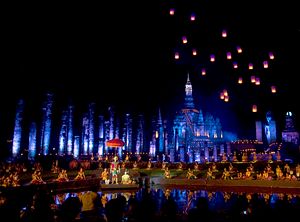 Loi Krathong is one of Thailand's biggest annual festivals, held every full moon of the 12th lunar month, which generally falls in November. This year, the festival is taking place from November 19 to 23.
From its origins in Sukhothai in northern Thailand, Loi Krathong spread throughout Thailand and even to Laos and Myanmar. The old town of Sukhothai, which means "Dawn of Happiness" and dates back to the 13th century, hosts the festival in the ancient temple complex, which is a UNESCO World Heritage site.
Colorful parades, long firework displays, and magnificent son-et-lumiere shows recounting the history of Sukhothai amid the ancient monuments and Buddhist shrines make the five-day long festival into a visual extravaganza. Travelers mix with locals to set krathongs (lighted paper floats) into rivers and moats and release khom loi (paper lanterns) into the night sky with a whisper of a prayer.
Sugato Mukherjee is a photographer and writer based in Calcutta and his works have appeared in The Globe and Mail, Al Jazeera, National Geographic Traveler, Harper Collins and Yale University Journal. His coffee table book on Ladakh has been published from Delhi in 2013. Some of his visuals and stories can be found at sugatomukherjee.zenfolio.com