US-Mongolia 'Third Neighbor Trade Act' On The Way
If passed, the act has great potential to expand economic relations between the U.S. and Mongolia.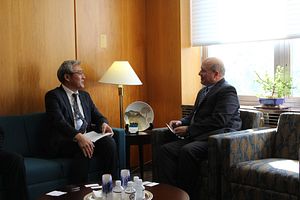 Mongolia is utilizing its third-neighbor foreign policy to its highest potential by expanding bilateral economic relations with countries around the world without provoking too much conflict with the two giant geopolitical powers, and the country's only neighbors, Russia and China.
In 2017, Mongolia and the United States celebrated the 30th anniversary of diplomatic relations. Over the past 31 years, since 1987, the two countries have expanded ties from the economy to culture to the military, and are now working toward a bilateral trade act that may present a win-win situation for both the United States and Mongolia.
On July 26, 2018, Representative Ted Yoho and nine other members of the U.S. House of Representatives introduced a trade bill between the United States and Mongolia. The proposed Mongolia Third Neighbor Trade Act seeks to promote Mongolia-U.S. trade by authorizing duty-free treatment for certain imports, like cashmere and textile materials. The Mongolia Third Neighbor Trade Act would play a crucial role in Mongolia's overall economic development, increasing exports-led businesses as well as diversifying its markets. Following the legislative proposal, on July 30, 2018, Mongolian President Khaltmaa Battulga expressed his full support for the trade act and gratitude to the sponsors.
One notable example of how the act could help Mongolia's economy is in regards to exporting high-end cashmere and other final textile products. Mongolia is the second largest producer of cashmere behind China. While China is Mongolia's main purchaser of cashmere and textiles, the final product on the global market is labeled as made in China. "In 2017, only 1,100 tons out of total of 9,400 tons raw cashmere, which is almost 50 percent of world cashmere, is processed within the country while the rest of 8,300 tons is exported mainly to China in raw [form] without adding value," Battulga said. The act, if passed, would allow Mongolia to produce a final product and export it to the United States duty-free, skipping the Chinese middleman.
Relatedly, the act could boost economic trilateralism between Mongolia, the United States, and Japan, with which Mongolia signed an economic strategic partnership agreement in 2015.
The proposed Mongolia Third Neighbor Trade Act is viewed as an opportunity and a positive shift in bilateral relations for both the United States and Mongolia. As the act moves through the U.S. legislative process, it has garnered 12 additional supporters in the House.
On October 23, 2018, Mongolian National Security Council Secretary Gansukh Amarjargal visited the U.S. State Department East Asian and Pacific Affairs Bureau (EAP) to discuss deeper cooperation between the two countries on "leveraging our shared democratic values to further strengthen economic and political ties." Following the high-level meeting, the U.S. State Department EAP Bureau tweeted, "Mongolia is a key Indo-Pacific partner."
From a geopolitical standpoint, the United States is strengthening its Asia-Pacific presence and is seeking democratic countries with which to expand cooperation. Mongolia's active position in the region is timely, efficient, and economically beneficial; it allows the implementation of Mongolia's foreign policy objectives at a grander scale. Gansukh has said that the government of Mongolia is very hopeful for the Mongolia Third Neighbor Trade Act.
During a discussion with former U.S. Ambassador to Mongolia Dr. Jonathan Addleton, he told The Diplomat that, "In my view, the approval of this act would be a positive step, both for Mongolia and the United States. Appropriately focused on animal fiber products, it involves duty-free access for an item that does not compete directly with any U.S. products while also contributing significantly towards the diversification of Mongolia's economy and exports."
If this act were to be passed, it would help solve Mongolia's export dilemma, address the U.S.-China trade deficit, and expand Mongolia's economic positioning in the region as well as globally.
Bolor Lkhaajav has an M.A. in Asia-Pacific Studies at the University of San Francisco.