Vietnam-Thailand Military Ties in the Headlines With Air Force Chief Visit
A recent interaction spotlighted the defense aspect of ties between both sides.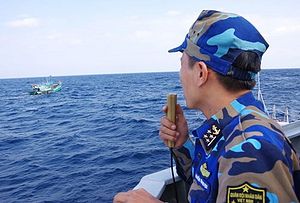 This week, Thailand's air force chief paid a visit to Vietnam in yet another official exchange between the two Southeast Asian states. The interaction highlighted the ongoing activity on the defense side of the strategic partnership that both sides have forged over the years.
As I have noted before in these pages, the security realm has long factored into wider cooperation between Vietnam and Thailand. Their relationship, though characterized by animosity for much of the Cold War, has been warming somewhat in recent years, with ties officially elevated to the level of a strategic partnership back in 2013.
The security aspect of ties has covered various areas, be it opportunities for collaboration between the services or addressing challenges such as transnational crimes or the regulation of fishermen in maritime boundaries. Both sides have also been looking to further boost their defense collaboration, whether in terms of holding dialogues and setting up hotlines, stepping up visits and training between the various services, or increasing the sharing of experiences in areas like UN peacekeeping operations and humanitarian mine action.
That has continued on into 2018 as well. For instance, back in August, both sides held the second iteration of their new Defense Policy Dialogue in Thailand hosted by Deputy Defense Minister Nguyen Chi Vinh and Permanent Secretary of the Thai Defense Ministry Theppong Tippayachan, following the first iteration that had finally been held in July last year.
Over the weekend, the defense ties between the two sides was in focus once again with the visit of the commander-in-chief of the Royal Thai Air Force Air Chief Marshal Chaiyapruk Didyasarin to Vietnam. Chaiyapruk was just the latest in a series of Thai defense officials to pay visits to Vietnam this year. His trip came shortly after he assumed his new position in October, following a large-scale annual military reshuffle as Thailand heads into what officials have set as the new deadline for elections in the first half of 2019.
During his visit, Chaiyapruk met with a range of Vietnamese officials, including Deputy Defense Minister Phan Van Giang. According to Vietnam's defense ministry, during Chaiyapruk's meeting with Giang, both sides discussed expanding aspects of collaboration between the two air forces beyond the existing scope, which includes elements such as visits and exchanges.
Beyond bilateral issues, both sides also discussed regional and global issues of common interest. In the mix was a conversation about ASEAN, given the fact that Thailand will be chairing ASEAN in 2019 and Vietnam will be chairing ASEAN subsequently in 2020, a role that includes leading some of the defense-related institutions as part of the ASEAN-led architecture as well.
Unsurprisingly, beyond that, few additional specifics were provided. But as visits and exchanges continue through the year and onto 2019 and 2020, when both countries will take turns to chair ASEAN and also continue to undergo evolutions in their domestic politics, the security component of the Thailand-Vietnam relationship will continue to be an interesting area to watch.