What Was Presented at South Korea's Latest Military Exhibition?
Drones, previously an underutilized resource for the South Korean military, stole the show.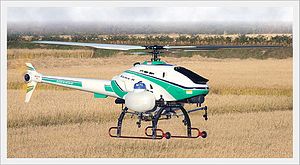 About 3,000 scientists, military officials, students, and businesspeople from across South Korea filled the latest Korea Smart Defense and Drone Industrial Exhibition, held on November 2 in the country's southern city of Gumi.
The exhibition was a stage for domestic defense companies and manufacturers to reveal new technologies and products designed for both military and industrial purposes. It was also a good opportunity for companies to get official recognition for their products, as there was a series of prizes awarded by different governmental organizations.  
About 50 firms such as Hanwha System, LIG NexOne, Pungsan, and Korea Aerospace Industries participated. The event was a big success — according to authorities at Gumi City Hall, 87 percent of participants said they were satisfied with the exhibition.
Who walked away with a prize this year? 
Fabless firm — meaning it designs and sells, but does not actually fabricate, computer hardware — eWMB netted the prize awarded by the governor of North Gyeongsang Province. The company presented a new security semiconductor, which is designed to prevent drones from being hacked or hijacked. 
The Defense Acquisition Program Administration picked Gitsn as a winner. The company presented a new wiretapping detection system, which can detect a wiretapping device by catching sound and video signals. Its new system allows users to monitor control multiple locations from one spot.
Meanwhile, security camera maker Hexhive presented a new type of black box for vehicles. It is designed to secure a view of all directions, leaving no blind spot. The company won the prize awarded by the mayor of Gumi city.
High-tech weapons were also introduced in the defense sector. One company presented a new shell for a 155-mm high-angle gun designed to photograph when other shells fall and transmit the images to a controller.
A portable air guided weapon, which is designed to shoot down flying objects, was introduced to audiences as well. In particular, the presenter prepared a video game allowing users to shoot objects down as if they were using the real weapon.
The most prestigious prize, awarded by the minister of defense, went to unmanned aerial vehicle maker Sungwoo Engineering, which presented a new unmanned helicopter.
Its new unmanned helicopter, which is mainly designed for overseeing crops but can be used for military purposes, received a good review from judges for extending its fight time to up to two and half hours from the current 30 minutes.
Sungwoo Engineering, which was established in 1993, currently exports unmanned aerial vehicles to the United States, Mexico, Australia, Singapore, and China.
Sungwoo Engineering's achievement is notable because it reflects the South Korean military's recent attitude change toward the use of drones for military purposes.
Drones have been considered an "unexplored area" for the South Korean military and their usage has been merely limited to monitoring activities. China heavily dominates the drone industry on the global stage.
However, signs of changes emerged at this year's exhibition. Apart from Sungwoo Engineering, many companies presented drones by applying new technologies.
They include drones with four to eight propellers, and drones that look like regular helicopters when they take off but fly like regular airplanes to extend the fight time.
Drones for various specialized purposes, including spraying pesticides, filming buildings, and  conducting safety surveillance were also on display.
In addition to that, the exhibition unveiled different drones that are designed to automatically check if there is anything wrong with high-pressure transmission lines and drones that neutralize enemy drones by shooting electronic waves.
After attending the exhibition, Chief of Staff of the Republic of Korea Army Kim Yong-woo noted that the army will review possibilities to utilize drones as a core part of its defense capabilites if it can further advance South Korea's overall defense industry.
Although it is premature to say Kim's remarks will bring an instant change in the usage of drones in the South Korean military, it was a positive message for the industry.