India Faces a New Reality in Afghanistan
It's past time for India to take stock of new realities in Afghanistan.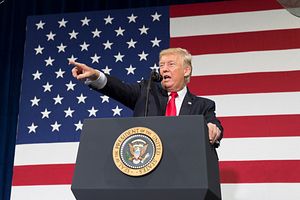 James Mattis finally submitted his resignation as U.S. Secretary of Defense last week as it had become untenable for him to continue to head the Pentagon due to differences with President Donald Trump on the withdrawal of American troops from Syria and Afghanistan, among other issues. These decisions have once again underscored Trump's unmatched tendency to shock his own administration.
A significant withdrawal of American troops from Afghanistan may be imminent, reflecting the strategic incoherence of the Trump administration, which is earning notoriety for pursuing an isolationist and anti-interventionist foreign policy to appease its core political base. Moreover, Mattis was not in agreement with Trump's callous treatment of America's traditional allies and forsaking security commitments in volatile regions. There is no doubt that any major reduction in American military presence before a peace deal with the Taliban is concluded would be a terrible mistake as it is only likely to bring more fighting to war-torn Afghanistan. Any spike in internal instability in Afghanistan could also have larger geopolitical ramifications as it is likely to lead to increased competition among Pakistan, Russia, India and Iran for influence in Kabul.
The decision to withdraw precipitously from Afghanistan is likely to have far-reaching consequences for India – an increase in Taliban's influence in Afghanistan could negatively impact the security situation in the restive Kashmir valley. With the Islamic State currently on the back foot, the Taliban may well emerge as the ideological inspiration of resurgent insurgency in Kashmir. There is additional concern regarding the security of India's consulates in Afghanistan. Can India afford to remain aloof in this unfolding scenario?
Trump's exit would be fully consistent with his campaign promises about ending costly troop deployments and wasteful wars abroad: The U.S. continues to spend around $45 billion each year in Afghanistan. After assuming the presidency, Trump's basic instinct was to end the U.S. war in Afghanistan, but he was persuaded to maintain the U.S. military presence there. Mattis publicly defended the decision to keep forces in Afghanistan, asserting it was necessary to prevent "another 9/11" being hatched.
In order to force Pakistan to change its Afghan policy calculus, Trump has been publicly critical of Pakistan's security establishment, making strong statements and tweeting against it for sheltering the Taliban. Announced in August 2017, the Trump administration's Afghan strategy has relied upon a "fight to win" approach aimed at killing terrorists. This new American policy also accorded India a prominent place in Afghanistan: Trump wanted India to do more in assisting Afghanistan, a stand that New Delhi has been advocating. The Trump administration publicly acknowledged that the problem of terrorism in Afghanistan emanated from Pakistan and that Rawalpindi should demonstrate its commitment to eliminate terrorist sanctuaries in Pakistan. The United States also increased its air strikes to record levels, with the aim of pushing the Taliban to accept peace talks. But Trump's impatience to leave Afghanistan has torn that approach to smithereens.
When Trump recently reached out to Pakistani Prime Minister Imran Khan, sending him a letter seeking cooperation in bringing the Taliban to the negotiating table, it underlined the painful truth for critics of America's continued relationship with Pakistan. For all the tough talk from Trump, the U.S. is not in a position to antagonize Pakistan as Trump is determined to withdraw U.S. forces as early as possible even if that comes at the cost of a compromise with the Taliban. India has long relied on U.S. support for the Afghan government for maintaining security and stability. With America's protective umbrella set to vanish sooner than later, India's Afghan policy is going to face severe challenges.
India's Afghanistan policy has two major objectives: first, to curtail Islamabad's influence in Kabul and deny Pakistan's state and non-state agents leverage to plot against Indian interests, and second, to gain access to vast energy markets in Central Asia. In order to achieve these objectives, India has been one of the staunchest supporters of a strong and "independent" government in Kabul since an Afghanistan that is indirectly controlled by Rawalpindi is detrimental to Indian strategic interests. New Delhi is working in close coordination with the government of Ashraf Ghani in almost all regional and international issues of concern. Echoing the Afghan stand, India has been opposed to any outside interference in talks with the Taliban, asserting that the peace process must be "Afghan-led, Afghan-owned and Afghan-controlled." But geographical distance and absence of military footprint dictate that India cannot convincingly push for a complete exclusion of Pakistan from the Afghan peace process.
Despite being critical of Pakistan, Washington has realized that it is virtually impossible to turn the situation around without a significant military commitment in Afghanistan, which is not favoured by Trump. The Taliban today hold more territory than at any other time since their ouster in 2001. The Taliban have substantially weakened the writ of the Kabul regime, mounting successful terror attacks on both the security personnel and the civilians. Emboldened by Trump's readiness to exit, the Taliban have not given any indication that they are ready to engage directly with the Afghan government and abide by the Afghan constitution.
Pakistan has been trying to take credit for bringing Taliban insurgents to the negotiating table and helping the U.S. exit Afghanistan "as friend of the region, not as a failure." But being mindful of the host of problems that bedevil any attempt at negotiations with the Taliban, Trump had expressed skepticism about the U.S. Special Envoy Zalmay Khalilzad's efforts: "I don't know that they are going to be successful, probably they're not. Who knows?" Trump's skepticism may have eventually prompted him to plan for a drawdown of American troops from Afghanistan.
As recently-held talks in the UAE demonstrate, the Taliban are completely opposed to engaging with the Ghani government, which they treat as fundamentally illegitimate, and are trying to secure maximum concessions from Khalilzad without necessarily offering much in return. No progress seems to have been achieved regarding the U.S. proposal for a six-month cease-fire and an agreement to name Taliban representatives to the caretaker government as well as the Taliban's demand to announce a roadmap for the withdrawal of foreign troops. Trump's decision to withdraw almost half of all U.S. troops there will be viewed as a sign of American weakness by the Taliban, who might feel less incentivized to accept the cease-fire proposal.
In the 1990s, India's Afghan policy was broadly aligned with that of Russia and Iran. In supporting the anti-Taliban "Northern Alliance," the three countries closely coordinated their responses, which were strategically viable to counter the resurgence of Islamist radicalization. Following the 9/11 attacks, Russia and Iran, despite having their own differences with the United States, supported America's war against the Taliban and the al-Qaeda. This had allowed India to avoid direct military involvement in the Afghan conflict. But 17 years since, the context has changed dramatically. Russia and Iran are no longer completely in sync with Indian interests. In fact, Russia's decisive Pakistan-Afghanistan policy shift constitutes a critical challenge for India. China's increasing economic and political involvement in Afghanistan has not been sufficient to motivate Beijing to put pressure on Pakistan to disengage its security establishment from its ties with various terrorist groups. In view of this, India is also being forced to reassess its policy choices.
Contrary to popular perception, New Delhi has always maintained discreet contacts with the Afghan Taliban. Recently, India sent two retired diplomats as observers at the Moscow round of peace talks, which triggered speculation that India was reversing its policy on Afghanistan. India argued that sending a "non-official" delegation to Moscow, in consultation with the Ghani government, could not be viewed as a shift in its Afghan policy. The Taliban panel at the talks was reported to have said that they would "not allow anyone to use the soil of Afghanistan against other countries," including neighbors. This could be interpreted an attempt by the Taliban to dispel India's misgivings.
Despite its extensive developmental role, India remains a peripheral player in Afghan political affairs. As Trump muddies the Afghan waters even further with his inchoate approach, New Delhi will find itself unable to influence the situation without incurring significant costs. India's recent critical stance at the United Nations for its failure to sanction new Taliban leaders and their helpers in the neighborhood may be ethically appropriate, but seems out of sync with emerging ground realities in Afghanistan. There are already growing voices in India who are now asking the government to engage with the Taliban more substantively. It remains to be seen how New Delhi will respond to Trump's latest policy shifts. What is clear is that India does not have the luxury of sitting aloof as the future of Afghanistan is being decided.