South Korea, Laos Move to Solidify Ties
From a popular television show to a tragic dam collapse, recent years have seen numerous links between the two countries.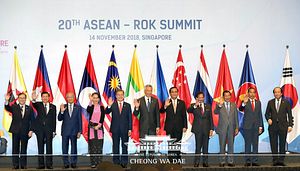 Korea Week Festival 2018 was held in the Lao capital Vientiane in October. The opening was attended by more than 200 Lao residents as well as entrepreneurs and government officials from both Laos and South Korea.
Local media outlets, including the government-run Lao News Agency, called South Korea's first-ever cultural festival in Laos a "success," describing it with a positive and encouraging voice.
In recent months, government-controlled media outlets in Laos have beefed up coverage of South Korea. Lao News Agency's English edition, for example, has reported on South Korea almost every week since September. November, in particular, had news on South Korea appearing on the agency's website on daily basis.
Since the coverage by media outlets in Laos tends to reflect the government's current stance and voice, it is fair to say that South Korea is on the Lao government's radar in a positive way.
That might be because South Korea has become one of the best customers for the Laos tourism industry over recent years.
Until recently, Laos was a little-known country for many people in South Korea. However, in 2014, the reality show "Youth Over Flowers" aired a season shot in Laos' Vang Vieng city. That brought about a huge boost in awareness. Starring attractive and famous celebrities, the show successfully promoted Laos in South Korea and made people want to visit the country to follow in the footsteps of their favorite celebrities.
Since then, the number of South Korean tourists traveling to Laos has ballooned. In 2017, the country welcomed more than 170,000 Koreans, making them the fourth largest group of foreign tourists in the Southeast Asian country, behind Thai, Vietnamese, and Chinese.
This is a boon for Laos, where the government is eagerly trying to promote its tourism industry and attract more people from across the world. The government's goal is to attract 5.2 million international visitors and bring in $910 million in tourist dollars.
To further boost South Korean tourist arrivals, Laos decided to waive the visa on entry requirement for South Koreans, allowing them to stay for up to 30 days without a visa. This came into effect on September 1. South Koreans now join travelers from most of the other ASEAN nations and Mongolia, who all benefit from 30-day visa-free access to Laos.
The reality show mentioned above was the first opportunity for many South Korean people to find out more about Laos. This year, people in the South had another opportunity to hear about the country — this time through a tragedy that captured global headlines.
An auxiliary dam, part of the Xepian-Xe Nam Noy hydropower plant and dam complex,  collapsed in July in Lao's San Sai district of Attapeu province, flooding six nearby villages overnight. The dam was built through a joint venture between the South Korean firm SK E&C along with Laos and Thai partners. The project began in February 2013 and was expected to go into full operation next year.
According to Lao New Agency's report at that time, hundreds went missing after the dam collapsed, and it affected 1,300 households and displaced around 6,600 people.
The incident came as a shock to South Koreans, with many flocking to seek ways to help the victims in Laos. Donations came from different groups across the country. The South Korean government and big corporations took the lead, but more impressive were the activities organized by citizens.
Some civic groups even went on to protest against the South Korean government and SK E&C, demanding a closer investigation into the cause of the dam collapse. Protesters also demanded that South Korea develop prevention measures to eliminate the possibility of such a disaster happening again.
South Korea's efforts to support victims of the dam collapse were recognized by Lao Prime Minister Thongloun Sisoulith during his meeting with South Korean President Moon Jae-in on the sidelines of the annual ASEAN summits in Singapore in early November.
Sisoulith expressed thanks for South Korea's support for the country, as quoted by Yonhap News Agency.
Moon also said that Laos is a key partner in his policy to strengthen relations with Southeast Asian nations in line with his "New Southern Policy."
As part of that, South Korea recently laid out an ambitious plan to increase annual bilateral trade with Laos to around $240 million by 2020. Last year the figure stood at $120 million. Signs are clear that the two countries are one step closer to each other compared to previous years.
And as Moon noted at the meeting, more is coming to further solidify the ties between the two countries.