The Rape Case That Shook Nepal
Five months on, the justice for Nirmala campaign is still going strong – but still unheard by the government.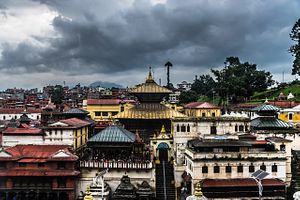 In the last week of November 2018, Nepal's government launched a social security scheme targeting formal private sector workers. To celebrate the new program, which aims to ensure the financial security of workers after their retirement, the government pasted posters of Prime Minister K.P. Sharma Oli in the streets of Kathmandu proclaiming "a dawn of a new era."
Overnight, new posters were pasted to counter Oli's posters. This came as a surprise for many people: It was not done by opposition parties.
Apparently, campaigners who are pressing the government to investigate a rape and murder case that happened on August 30 prepared these posters overnight and pasted them near the official government posters.
"Justice delayed is justice denied," the new posters say.
On the same day that the social security scheme was launched, Oli explained that the promotional posters were pasted to show the presence of the government. In an ironic reply, the new posters counter: "We found government, but not justice."
On the evening of August 30, Nirmala Panta, a 13-year-old student in far-western Nepal was raped and killed. As of this writing, no suspects have been identified, although several people were quickly arrested and then released after evidence exonerated them. Since the news of her case broke, there have been continuous protests across the country to press the government to find the people involved in the murder — but there has not been any progress. On December 1, hundreds of youths took to the street demanding justice for Nirmala.
The overnight poster campaign is just the latest form of protest. Irked by the move, the Ministry of Home Affairs instructed the police to remove the posters from the street. Some campaigners were also arrested for their alleged involvement in preparing and hanging the posters.
In the last five months, Nepal's government has formed multiple panels to investigate Nirmala's murder but none have found any clues about the murderer. Two police officials, Dilliraj Bista and Jagadish Bhatta, were expelled from their jobs for not taking serious measures to investigate the rape case. The police are now conducting DNA test of suspects.
Nirmala's parents came to Kathmandu, where they met Prime Minister Oli and demanded justice. But ultimately they returned home empty handed. Nirmala's father and mother began an indefinite sit-in in Kanchanpur in the first week of November. Last week Nirmala's father, Yagya Raj Pant, showed signs of mental illness; he is undergoing treatment in a Kathmandu hospital.
Media reports suggest that the government has instructed government-owned media houses to either entirely avoid news related to the Nirmala case or to present counter arguments. Despite those efforts, the campaign launched seeking justice for Nirmala has often made headlines in mainstream media; there is also an organized campaign on social media. It is the first time in Nepal's recent history that a rape case has shaken the whole country for more than five months. In August, when a crowd gathered in Kanchanpur demanding an investigation of the rape, one person was killed and dozens were injured.
Ruling party leaders have tried to dismiss the protests as exaggerated, and a pretext for anti-government forces. But at heart this is a spontaneous protest by people unaffiliated with any political parties (although some parties try to exploit this agenda to boost their strength).
The Nirmala case has become a prominent issue for both Parliament and human rights activist in Nepal. The international community is also pressing Nepal's government to investigate the rape and murder case. UN Special Rapporteur on Violence Against Women Dubravka Simonovic, who paid an official visit to Nepal at the end of November, expressed concerned over the delay in the investigation. In particular, she used the case to highlight the difficulty many Nepali women have in seeking justice for gender-based crimes.
"I am gravely concerned about the number of cases related to sexual violence against women and girls, such as the case of Nirmala Panta, among others, that have been referred to the police or the courts for redress, [but] have resulted in impunity for the perpetrators," Simonovic said. according to The Himalayan Times.
The rape and murder of Nirmala has also brought other cases of rape and violence into the limelight. The case has put pressure on the government to take cases of violence against women seriously and take measures to curb the tragic epidemic. According to a report presented by Ministry of Home Affairs before Parliament, in the last three months, 590 cases of rape were registered by the police – an average of 6.5 per day. Also according to the report, Nepali police have arrested 561 people on rape charges.
Police records show that the number of rape cases (or at least the number of reported cases) has sharply increased in the last decade. In fiscal year 1996-97, there were 112 reported rape cases; in 2008-2009, the number was 200. In fiscal year 2016-17, 1,139 rape cases were reported, while the number of attempted rapes reported was 536. In 2017-18, 1,480 rape cases were filed in various courts.
In view of the increasing cases of violence against women, some statutory steps have been taken but they are not sufficient. The newly implemented Civil and Criminal Code, which came into effect from the second week of August this year, states that the maximum jail term for anyone convicted of rape has been increased from 15 to 20 years.
Recently, Parliament's Women and Social Committee took up issues related to rape and violence and directed the government to take immediate steps but rape cases continue to increase. In part, that's simply because reporting rape is becoming more common. With growing awareness, more and more women who face rape and violence report these crimes to the police. In more remote places, however, cases relating to sexual violence still often go unreported due to the lack of access to police offices.
A recent study conducted by the Center for Investigative Journalism-Nepal (CIJ Nepal) has shown that women often face sexual violence from their own family members and most of these cases go unreported. The report further says that many girls who face sexual violence and rape do not dare to speak publicly for fear that they will have to break ties with their family. The report has collected a number of cases where girls were sexually harassed by their family members.
Rape and sexual violence is a deep-rooted issue in Nepal, as it is around the world. But the public outrage over Nirmala's rape and murder is helping to shine a light on the structural issues that so often prevent justice from being done.
Kamal Dev Bhattarai is Kathmandu-based journalist and writer.