Vietnam-Cuba Military Relations in Focus With Defense Trip
The visit of a recent high-ranking Vietnamese delegation highlighted the security aspect of ties.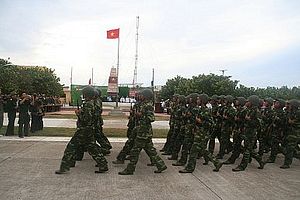 Last week, a high-ranking Vietnamese delegation paid a visit to Cuba. The trip highlighted the ongoing activity within the military aspect of the relationship amid a key year in the ties between the two countries.
As I have observed before in these pages, Vietnam and Cuba, two of the longest-surviving communist countries in the world, have long enjoyed a relationship that extends into the defense domain, with the official contemporary diplomatic relationship dating back in 1960.
The development of defense ties has continued on into 2018, which is a year both sides are commemorating a symbolic event in bilateral ties with the 45th anniversary of Cuban leader Fidel Castro's visit to Vietnam in 1973. In September, for instance, Vietnamese Deputy Defense Minister Tran Don led a delegation of defense officials and military enterprises to Cuba, where both sides addressed a range of subjects within their defense cooperation plans for the 2017-2019 period.
Last week, the defense aspect of the relationship was in the headlines again with the visit of a high-ranking Vietnamese military delegation. The delegation, led by Luong Coung, the director of the general department of politics of the Vietnam People's Army (VPA), was in Cuba from November 25 to November 28.
The delegation's visit included several interactions tied to the objective of expanding collaboration between the general department of politics of the VPA and the Ministry of the Revolutionary Armed Forces of Cuba and promote bilateral cooperation more generally, including between the two parties. That included more substantive events such as a meeting with Raul Castro, the first secretary of the Communist Party of Cuba Central Committee, and Lopez Miera, the first deputy defense minister and chief of general staff of the Cuba Revolutionary Armed Forces, as well as symbolic interactions like a visit to the President Ho Chi Minh Monument in Havana.
According to Vietnamese state media, during the meeting between Castro and Cuong, the two sides reviewed the development of ties, including between their armed forces, and also discussed potential areas for broadening bilateral defense collaboration and other issues of shared interest. While those issues remained unspecified, previous meetings including the one in September had addressed topics such as military enterprise collaboration, telecommunications, shipbuilding, and logistics.
Unsurprisingly, as is typical of meetings of this kind between the two sides, few additional specifics were disclosed about what exactly both sides planned to make advances on. And, to be sure, this interaction was just one of several within the bilateral defense relationship. Nonetheless, it did offer a window into the ongoing activity within the military aspect of ties between the two sides that will continue to be important to watch through the rest of 2018 and into 2019 as well.