How Kashmir Keeps Warm
Kangdis are more than a way to survive a bitter winter; they are part of Kashmir's cultural legacy.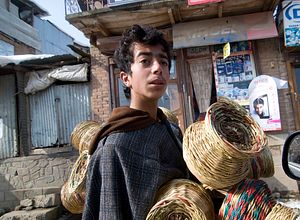 The advent of a long, bleak winter in the valley of Kashmir often leaves everything at a standstill in the region. But thanks to a brilliant indigenous system of heating, a small, semi-spherical earthen pot enclosed with willow rushes, the people of Kashmir continue their normal life. This is the kangdi, Kashmir's portable heating system. Priced at as low as $2, it ensures that even the poorest of the people can combat the sub-zero temperatures with this warming pot neatly tucked between the feran (the long woolen coat that is the ubiquitous dress of the average Kashmiri in winter months) and the body.
Kangdis were introduced during the Mughal rule in Kashmir and the technique of the meticulous mixture of coal and ash so as to keep it ignited throughout the day has been handed down the generations. Though modern heating appliances have been introduced in the valley, Kashmiris still prefer their local firepots. Kangdi making is one of the foremost cottage industries of Kashmir, giving employment to rural families in winter.
Apart from being a utility device, the kangdi has its rightful place in the cultural legacy of Kashmir and ornamental kangdis often form part of the bridal gift package. The Kashmiri proverb, "What Laila was to Majnun's bosom , so is the kangdi to a Kashmiri," sums up the relationship between a Kashmiri and the kangdi and its cultural importance.
Sugato Mukherjee is a photographer and writer based in Calcutta and his works have appeared in The Globe and Mail, Al Jazeera, National Geographic Traveler, Harper Collins and Yale University Journal. His coffee table book on Ladakh has been published from Delhi in 2013. Some of his visuals and stories can be found at sugatomukherjee.com