How Post-WWI France Helped Shape Revolutionary China
A Chinese work-study program in France turns 100 this year. Its impact is still felt today.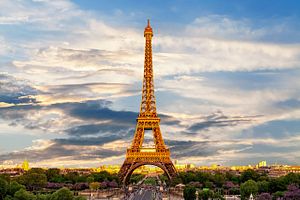 Here in Paris, it is impossible for any China observer not to reflect on Deng Xiaoping and his student years in France, a period which marked him, and thus China's history, with immeasurable impact.
In the wider context, however, there is much more to the story.
2019 marks the 100th year anniversary of the Chinese Diligent Work and Frugal Study Association's program, which sent over 1,500 Chinese students to France over a three-year period just after World War I. While one might be excused for not having a reminder of this seemingly obscure event on their calendar, it is nonetheless well worth remembering, and reviewing, the effect that this ambitious project had on Chinese, and by extension, world politics in the succeeding decades.
The program's participants included not just Deng, but hundreds of young and eager students who would play critical roles in shaping the decisions and direction that China has taken in the last century. Far from being just an interlude in the lives of these youthful academics, the French experience was responsible for molding the social and political views of these future revolutionaries into thoroughly committed Marxism.
It is a bedrock portion of Deng Xiaoping's apocryphal story that he studied in France, and was deeply impacted, both personally and ideologically, by the experience.
Lesser emphasized outside of China is that Zhou Enlai, Mao Zedong's enigmatic yet charismatic premier and minister of foreign affairs, who played the pivotal role in the negotiations that led to the rapprochement of relations between the People's Republic and the United States, was also a student in France.
The top echelon of China's revolutionary military was also represented in the work-study program in France. Chen Yi, one of ten of China's famed grand marshals, and later mayor of Shanghai, was a student. So was Nie Rongzhen, also a grand marshal. Nie led the State Science and Technology Commission, and as such was instrumental in developing China's atomic bomb.
Li Fuchun became vice premier of China. After his studies in France, like many of his classmates, he went on to further studies in the Soviet Union. He negotiated for Soviet assistance. During the Great Leap Forward, after taking peasants from their farms and putting in them in factories, he reversed the process as China went into famine as a result of declining agricultural production.
The Diligent Work and Frugal Study Program (it sounds better in Chinese) was not the first of China's efforts to expose its youth to European education and culture.
Li Shizeng, the program's founder, had himself studied in France in the early 1900s. He became an ardent Francophile, and he saw France as "the center of humanism." He contrasted the "freedom, creativity, and pacifism" of French culture with the "autocracy, utilitarianism, and militarism" of German culture, seeing the former as a model for China. Stressing a break with "bad habits" of the Chinese, his vision was to build a critical mass of Chinese students who simultaneously studied and worked under stringent conditions, to toughen them up, impose discipline, and return them to China as models and mentors for the country.
The program succeeded, but perhaps not in the way Li envisioned. The program's success was realized in the creation of Marxist revolutionaries who became a major springboard of modern China.
Li's mission was to broaden China, and open it to new ideas based on western liberalism. Li hoped that study abroad in a nation in which social, political, economic, religious, and cultural norms were completely at odds with – and, he felt, better than — those in China, would influence young minds to absorb the lessons of France and replant them at home. He did not count on young but ordinary citizens of China, with a natural but not overblown love of country, leaving France as zealous revolutionaries willing to risk all for the goal of overthrowing their government, indeed China's entire system, by any means necessary.
It can be argued that the majority of China's overseas students today are similarly disinterested in the lessons or principles of Western political thought and culture.
A Chinese female student in New Zealand related a comment common among her Chinese student friends. "There are two happy days in our lives," she said. "The first is our first day in our new school abroad. The second is the day we go back to China for good."
Chinese students in the United Kingdom and the United States anecdotally report similar feelings. They have not left China for Western universities in order to study political theory or the concepts or mechanisms of (relatively) free democratic systems.
On the contrary, they study STEM subjects which they hope to parlay into good jobs for either Western companies working in China, or for Chinese entities with the cash to make going back home attractive.
Indeed, it is a good guess that the majority of Chinese students abroad hope their studies will enable them to build upon and improve the status quo in China, unlike their predecessors of a hundred years ago, who went back to China to utterly overturn it.
Nonetheless, it's a good bet that Deng and company would be understandably proud.