Rohingyas in Limbo as Diplomacy Falters
Diplomatic failure leaves the Rohingya refugees trapped, stateless, and vulnerable.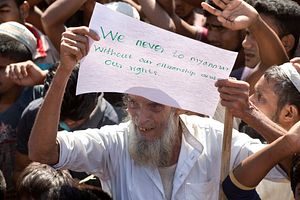 The struggle to resolve the Rohingya refugee crisis has been hampered by a fresh wave of violence in Myanmar.
In January, militant groups attacked police stations in Rakhine state, killing nine officers, according to state media. In response, the Burmese military launched operations against the rebels, increasing tension in an already troubled region.
This year, the conflict is between government troops and a mainly Buddhist group seeking more autonomy. In 2017, a military crackdown in Rakhine forced hundreds of thousands of Rohingyas – members of a Muslim ethnic minority group — to flee their homes.
Many members of the Rohingya community told UN investigators that their villages were burned by the army. They said that women were systematically raped and that children were murdered.
Most Rohingya fled across the border into Bangladesh, which now hosts as many as a million refugees. The government there is trying to meet their pressing needs for food and shelter, assisted by NGOs and the UN's refugee agency.
At present, the refugees are too afraid to return to Myanmar, leaving them trapped and in a stateless limbo. One desperate man told ABC News that he would rather drink poison and commit suicide with his family than return. "We've already bought the poison," he warned.
Christina Bennett, the Head of the Humanitarian Policy Group at the Overseas Development Institute, believes the displacement is likely to be protracted in the absence of any realistic prospect of safe and voluntary return.
"Experience shows that, once a refugee has been displaced for more than six months, that can establish their fate for years – or even for a generation – so this needs to be recognised as a long-term problem both for the Rohingyas and for the government of Bangladesh," she said.
For more than a year, the diplomatic focus has been on persuading Myanmar to create a safe environment for the refugees to return to their former homeland. Yet the process appears to have reached an impasse.
Myanmar's leader Aung San Suu Kyi appears unable or unwilling to confront the powerful military figures who control many seats in the national parliament. The military denies that it has been persecuting the Rohingyas and says its actions were a defense against militant groups. The United States rejects this claim. When U.S. Vice President Mike Pence met Suu Kyi last year, he said there was "no excuse" for her country's actions.
The U.S. House of Representatives increased the pressure in December 2018, when it overwhelmingly adopted a resolution describing Myanmar's actions as a "genocide" and accused the military of crimes against humanity. It also called for the immediate release of two Reuters journalists who have been detained for covering the crisis.
Soon after the vote in Congress, the United States backed a British suggestion to the United Nations that sanctions should be considered against Myanmar as a means of pressuring it into guaranteeing safety for Rohingya people who return. Despite widespread international support, that plan was blocked by Russia and China, two permanent members of the UN Security Council, which have the power to veto motions.
Russia routinely seeks to prevent the UN from using sanctions as a means of applying international pressure. China – which has close links with Myanmar – aims to limit the influence of Western counties in the affairs of East Asia. Instead, China is trying to broker a deal itself. Last year, soon after the visit of the Chinese Security Minister Zhao Kezhi to Dhaka, Myanmar and Bangladesh signed a memorandum of understanding on the return of refugees to Rakhine state.
Yet according to Major General Abdur Rashid (Ret.) from the Institute of Conflict Law Development Studies in Dhaka, Myanmar did not comply with the agreement. "They planned to put the refugees into a camp but of course the people wanted to return to their homes. They need reassurance about their safety or they won't go back," he said.
He denies that Bangladesh would force any refugees back across the border against their will and insists that the Rohingyas should be granted full citizenship in Myanmar.
Bangladesh has drawn up plans to move some of the Rohingyas into a newly developed island, Bhashan Char, where it aims to improve their living conditions. However, the island offers few opportunities for education, work or social development and only has space for a small proportion of the displaced people.
Christina Bennett of the Overseas Development Institute is skeptical about the idea. "Corralling them onto an island is not going to solve any problems and it could stoke unrest. If there is a natural disaster on the island it would create a further humanitarian emergency," she said.
In the absence of diplomatic progress at the United Nations, Bangladesh is seeking regional support. Rashid believes that India – which has provided shelter for some refugees – should be involved in formulating a solution.
Christina Bennett sees another option. "I believe that ASEAN is the obvious place for a regional conversation about this issue. It has responded well to natural disasters in the past and it provides a forum through which pressure could be applied on the Burmese army."
However, Bennett's view is that politicians, as well as the military, need to change their approach. "To win back trust, Myanmar needs to offer guarantees to the Rohingyas about their status and their right to work. Any proposed solutions which lack those elements are non-starters."
General Rashid shares the view that ultimately the solution rests with Myanmar.
"Myanmar remains our neighbor," he said. "There is no point in fighting them and we need to maintain a good relationship. We need dialogue."
Duncan Bartlett is the Editor of Asian Affairs Magazine and a former BBC Correspondent. He recently spoke at a forum on the Rohingya Crisis hosted by the Dhaka Tribune.