Stability and 'Struggle': China's High-Level Meeting on National Risk Control
The Chinese president urged hundreds of officials to ensure China's political security amid rising risks.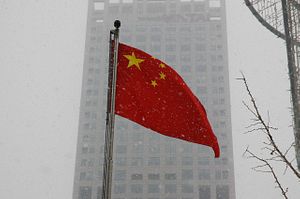 On January 21, hundreds of senior officials were summoned to the Party School of the Central Committee of the Chinese Communist Party (CCP) in Beijing for a special study session on national risk control. These officials came from all crucial organs of the state, the CCP, and the military across the country.
Chinese President Xi Jinping,  who also holds the positions of chairman of the Central Military Commission (CMC) — the highest body that controls China's military — and general secretary of the CCP Central Committee, presided over the opening ceremony of the study session and made a formal speech. In his speech, he repeated urged the officials to "strengthen their ability in preventing major risks" so as to "ensure social stability."
According to Xinhua's statement, Xi claimed that China now faces major risks in seven areas — politics, ideology, economy, science and technology, society, the external environment, and Party building.
"Faced with the turbulent international situation, the complicated and sensitive external environment, and our arduous task at hand is to maintain stability and continue our reform. We must be on high alert over 'black swan' events and 'gray rhino' risks," Xi said. "We must be able to not only prevent risks, but also solve all challenges."
In financial parlance, so-called "black swan" event refers to an occurrence that is unlikely and unexpected but has dire consequences, while a "gray rhino" risk is a threat that everyone sees coming but fails to address. Since last year, both terms have become popular in China. Multiple Chinese officials have mentioned these two problems on various occasions — not only in the financial sector but in a more general sense, too.
On political and ideological risks, Xi called on the officials to "ensure China's political security" by "strengthening the influence of the mainstream tone in public communication," "enhancing guidance on public opinion," "establishing a system for integrated internet management," and "promoting a law-based cyberspace." He particularly stressed that the ideological and political education among the young generation should be strengthened.
As The Diplomat noted earlier, this year marks a series of either significant or sensitive anniversaries — for example, the 30th anniversary of the crackdown on the 1989 Tiananmen Square protests. Beijing is extremely worried that a national crisis could take place at these critical moments this year. Early this month, China's top internet censor — the Cyberspace Administration of China (CAC) — had already launched a new round of internet crackdown, vowing to clean up all  "negative and harmful information" on the internet.
On economic risks, Xi called for "effective steps to stabilize employment, the financial market, foreign trade, foreign investment, domestic investment and people's expectations" in order to keep economic growth "within a reasonable range."
Xi repeatedly used the term "struggle" in his latest speech, calling to mind Cultural Revoultion-era rhetoric. He urged the officials to "be courageous enough to struggle," improve their "ability to struggle," and cultivate their "spirit of struggle." He even said that "young cadres should go to the front line of major struggles with real knives and guns."
Notably, it was not the first time that Xi has said such alarming remarks recently.
At the conference celebrating the 40th anniversary of China's reform and opening up, Xi told the 3,000 officials and foreign guests at the Great Hall of the People that "we will face all kinds of risks and challenges in the future and we may even encounter unimaginable terrifying tidal waves and horrifying storms."
At the "democratic life meeting" held in Beijing last December, Xi said that upholding socialism in the new era is "a great social revolution" and he spoke in various ways of struggling, too.