What's Next for the Indonesia-South Korea Fighter Jet Program?
New reports have again raised questions about the future prospects of the deal.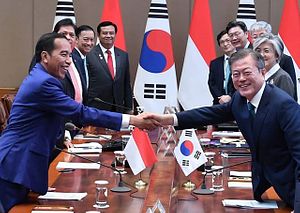 Over the past few weeks, reports have surfaced about Indonesia making delayed payments on a joint fighter jet program with South Korea. The reports have generated suggestions about Jakarta's renewed interest in the program following previous indications that it may actually withdraw from the earlier arrangement reached with Seoul.
As I have noted before in these pages, Indonesia and South Korea have been looking to develop their defense ties as part of their wider relationship, which was elevated to the status of a special strategic partnership in 2017. Indonesia is already among the biggest importers of South Korean defense equipment in the region, and collaboration has progressed to varying degrees on several fronts including submarines.
One key line of effort between the two countries has been the development of the new KF-X/IF-X fighter aircraft. While the project had continued to be a point of discussion within the defense relationship, the future prospects of the program had been unclear, with multiple reports emerging suggesting that Indonesia was running behind on its payments for the program due to budgetary constraints and South Korea being concerned that the program could be in peril.
But earlier this month, reports surfaced suggesting that KAI had received a delayed payment from Indonesia's defense ministry. The reports, which began emerging in early January, suggested that the receipt of the delayed payment could suggest renewed interest by Jakarta in the program despite previous indications to the contrary.
Specifically, the reports, first seen in Aju Business Daily, cited anonymous sources from KAI as saying that the company had received a payment of 132 billion Korean won from Indonesia ($118 million) in late 2018, which suggested a dispelling of concerns about Jakarta's potential withdrawal from the project. The reports were later confirmed by other sources as well, including IHS Jane's.
The exact reasons for what appears to be renewed Indonesian interest in the program are unclear. The reports suggest that the delayed payment followed diplomatic engagement by South Korean officials on the program as well as concessions made by KAI, including on increasing the number of Indonesian engineers involved in the design and production of fighter jets in South Korea.
Similarly, the extent to which this actually can be said to "dispel" concerns about Indonesia's involvement in the program and its future prospects remains to be seen. As I noted earlier as well as previously, Jakarta's calculations are informed by various considerations, including not just the arrangements in the program itself but also its overall financial standing and the future of its defense investments. There is an added element of general uncertainty as well given the fact that Indonesia is heading into presidential elections this year, with no guarantee that President Joko "Jokowi" Widodo will be reelected.