Why Vietnam Should Host the Second Trump-Kim Summit
Hanoi has been floated as a possible location for the second Trump-Kim summit.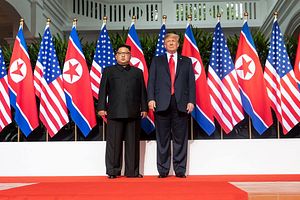 Last week, CNN reported that Hanoi, alongside with Bangkok and Hawaii l, has been shortlisted by the United States as possible venue for a second summit between Donald Trump and Kim Jong Un. At the same time, citing an anonymous South Korean diplomat, the Korean Herald put Hanoi, Hawaii, and Singapore instead of Bangkok as top candidates for the follow-up meeting between the leaders of the United States and North Korea after their historic talk in Singapore last year. According to another South Korean newspaper, the Munhwa Ilbo, it was also Hanoi where American and North Korean officials met recently to discuss the planning for this event.
There are other signs pointing to the possibility of Hanoi, or Vietnam in general, hosting the much-needed second meeting between Trump and Kim with the hope to achieve a breakthrough for the nuclear crisis on the Korean Peninsula. The Singapore summit occurred with much fanfare but resulted in little substance. Vietnam has recently received top diplomats from both North Korea and the United States. North Korean Foreign Minister Ri Yong Ho visited the Southeast Asian country from November 29 to December 2, 2018. Four months earlier, his American counterpart Mike Pompeo spent two days in Hanoi in July 2018. In particular, following Ri's visit to Vietnam, South Korean media reported that an informal apology was made by North Korea to Vietnam for the so-called recruitment of Vietnamese citizen Doan Thi Huong to carry out the assassination of Kim Jong Un's half-brother Kim Jong Nam in Malaysia in February 2017 – an unprecedented move that indicated North Korea's willingness to improve its relationship with Vietnam. Although this news has never been confirmed by Vietnamese officials, the Foreign Ministry of Vietnam did state lately that Vietnam "is ready to actively contribute to facilitate dialogues that help maintain the peace, security, and stability in the Korean peninsula."
Why Is Vietnam an Optimal Choice for a Second Summit?
U.S. and North Korean planners must have their own reasons for placing Hanoi and Vietnam at the top of the candidate list for hosting the second Trump-Kim summit. But one criterion makes Vietnam really stand out from other potential candidates: its warm relation with all three major players in the recent nuclear dialogue including North Korea, the United States, and South Korea. Although disagreements did occur in the relationship between Vietnam and North Korea, the two still consider each other "fraternal" state due to their ideological closeness, and North Korea's support for North Vietnam during the Vietnam War. Vietnam's successful economic reform during the 1980s has also been cited by North Korean officials as a possible model for the new economic policies carried out under Kim Jong Un's leadership.
On the other hand, even though the U.S. and Vietnamese political systems share almost no common values, the United States has quickly become one of the biggest trading partners of Vietnam since the end of its embargo of Vietnam in 1995, and more recently Vietnam has been considered a key partner of the United States in the latter's Asia-Pacific strategy under both the Obama and Trump administrations. Finally, the actual facilitator-in-chief of the Trump-Kim summit – South Korea — will probably be happy if the meeting that it has strongly advocated and pushed for is organized in a country where the Korean giant Samsung is currently the biggest firm.
Such political advantage, coupled with a manageable distance between Pyongyang and Hanoi for Kim Jong Un's personal jet Ilyushin-62M, and Vietnam's experiences in organizing safe and secured international meetings, make Vietnamese cities like Hanoi or Danang – the host city of the 2017 APEC Economic Leaders' Meeting an optimal choice for a complicated event with very demanding security requirements like the second summit between Trump and Kim. The last point is of particular concern for North Korea, as Kim must be very wary of the security factor after multiple defections of his trusted diplomats in Europe, the latest being the North Korean acting ambassador to Italy in November 2018. Given the tight grip of the public security ministry over every facet of the Vietnamese society, it would be very unlikely for such defection or any other security-related incident to occur in Hanoi or Danang during the time of the supposed second summit.
What Can Vietnam Gain From Hosting This Event?
If the second Trump-Kim summit indeed happens and is organized in Hanoi, Vietnam would reap significant benefits for its bilateral and multilateral relations. In terms of bilateral relations, its willingness in hosting such an important event and thus directly supporting a peaceful solution for the nuclear crisis in the Korean Peninsula will further improve its strategic partnerships with the United States and South Korea, as well as its traditional "fraternal" relation with North Korea. In an era when Vietnam increasingly needs resourceful and committed partners for its foreign policies in heated issues like the territorial disputes over the South China Sea, the better relations it has with the United States and South Korea, the more confident the Vietnamese leadership would feel in planning economic and security policies.
In terms of multilateral relations, since the late 1980s, Vietnam has maintained the principle that the country "is a friend and reliable partner of all countries in the international community, actively taking part in international and regional cooperation processes." Consequently, Vietnam has tried to elevate its role in regional and international affairs through organizing international summits, or campaigning for a non-permanent chair at the United Nations Security Council. Not only important if Vietnam wants to one day become a middle power, its active presence in international affairs would also make it easier for Vietnam to call for the attention from other regional and international partners to matters of great concern to the country like the territorial disputes over the South China Sea. Hosting the second summit between Trump and Kim is an unmissable opportunity for Vietnam to confirm such proactive position.
Finally, lest we forget that for Singapore, the first Trump-Kim meeting was a highly successful event as images of its prosperous and beautiful city-state were broadcasted by all major media channels, and widely shared throughout social networks like Facebook or Twitter before, during, and after the event. Thus, instead of paying millions of dollars for a minute-long TV spot on CNN, Vietnam would get free advertisement on CNN, BBC, and others if the country is able to secure the organization of the follow-up meeting between Trump and Kim. This is especially meaningful for Vietnam in 2019 as this year the country commemorates the 30th anniversary of the removal of the Khmer Rouge regime by Vietnamese armed forces during the Cambodian-Vietnamese War, which helped Vietnam to secure its Southwestern border but also drove the country into a period of intense isolation by the international community that was not too different from North Korea's current position. Being able to break out of isolation, and reaping economic and diplomatic successes thanks to an open-door policy are a cause for celebration for Vietnam, and also a lesson learned that Vietnamese leaders could share with North Korea.
It Is Time
Of course, one cannot exclude a potential situation where either Trump or Kim want to postpone or cancel the second summit altogether. During his latest meeting with Kim last week, Chinese President Xi Jinping may have also express his worry over the organization of such an important meeting in one of China's main neighbors without his approval. Even if Hanoi or Danang is indeed selected as the meeting place, Vietnam still has a monumental task of ensuring that the summit would go smoothly without any mishaps.
Nevertheless, it is time for Vietnam to actively seek the approval from the two parties of the second summit to host this event. Because even if the meeting ends without any significant breakthrough – a very likely scenario given the monumental differences between the United States and North Korea over the denuclearization process and the chaotic situation of the Trump administration – Vietnam would still gain many unique benefits that are only available in such a rare event in the international scene. Those aforementioned bilateral and multilateral gains are more than enough for Vietnam to set aside the country's sometimes too prudent attitude in avoiding sensitive subjects and assume a truly proactive role in international affairs, starting with hosting the second United States-North Korea summit, if it ever happens.
Viet Phuong Nguyen is a post-doctoral fellow with the Managing the Atom Project and International Security Program of the Belfer Center for Science and International Affairs, Harvard Kennedy School.