India and Saudi Arabia Move Beyond Energy
Mohammed bin Salman's upcoming visit to India could be a watershed moment in boosting defense and security cooperation.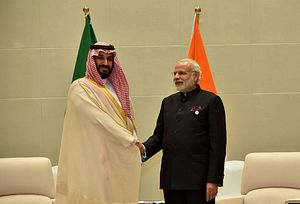 Saudi Arabia's crown prince, Mohammed bin Salman (MBS), is expected to visit India toward the end of the month, and his visit is likely to take the India-Saudi security and strategic partnership to a new level. Saudi Arabia has long been an important Indian trade partner; the Kingdom remains a vital source of energy for India, which imports almost a fifth of its crude oil requirement from Saudi Arabia. Enhanced security cooperation has added a new dimension in the bilateral ties between New Delhi and Riyadh.
The rise of jihadist extremism, the gradual decline of American power, and the rise of China have brought about transformational changes in India's engagements with the Gulf region. India's Prime Minister Narendra Modi has demonstrated an increased willingness to cooperate with Saudi Arabia on a variety of security issues such as joint military exercises, intelligence sharing, counterterrorism, anti-money laundering, and terror financing. Modi has visited all the prominent Gulf countries in a bold attempt to engage them economically and strategically.
The historic visit of King Abdullah to India in 2006 had laid solid ground for the India-Saudi relationship. The "Delhi Declaration," signed between the two countries during his visit, stressed that terrorism was a scourge that "the governments would closely and actively cooperate" to fight against. The "Riyadh Declaration" signed in 2010 during then-Prime Minister Manmohan Singh's visit to Saudi Arabia emphasized cooperation on information exchange on terrorism. The first meeting of the India-Saudi Arabia joint committee on defense cooperation in New Delhi was a clear indication that the two were serious about expanding military cooperation.
Modi's visit to Saudi Arabia in April 2016 further cemented the Indo-Saudi partnership. During his meeting with King Salman bin Abdulaziz al Saud, agreements on economic and security cooperation were signed. Modi was also conferred with Saudi Arabia's highest civilian honor, the King Abdulaziz Sash.
Without any doubt, counterterrorism has emerged as a key area of cooperation between the two countries. The rise of terrorism and extremism has been a matter of particular concern for both India and Saudi Arabia. One cannot forget the fact that the Gulf region was used as a safe haven by India's many homegrown extremist and terrorists groups, such as the Student Islamic Movement of India (SIMI) and the Indian Mujahideen (IM). Due to the large migrant population in the Gulf, frequent visits of South Asian Muslims for economic purposes did not arouse much suspicion among the security agencies. But jihadist and terrorist outfits leveraged such opportunities to mobilize funds for terror activities. Saudi Arabian intelligence agencies did not take long to notice this disturbing trend and began acting against these individuals and groups. Now, Saudi Arabia claims to have "put in place one of the world's strictest financial control systems to prevent funds going to support terrorism." Another dynamic has been the emergence of the Islamic State, which has spread turmoil and uncertainty in the region. Being a dominant power in the region, Saudi Arabia has been trying to tackle these security challenges.
Determined to stamp out jihadist ideologies, the Saudi government has been regularly helping India apprehend key terror suspects. It needs to be mentioned that in 2012 Saudi Arabia helped India arrest two key terror suspects; one of them was Zabiuddin Ansari alias Abu Jundal. Jundal had travelled to Saudi Arabia on a Pakistani passport, and is alleged to have been involved in the Mumbai terror attacks in 2008. In December 2016, Saudi Arabia deported a ring leader of a fake Indian currency note racket, Abdul Salam. In August 2018, a suspected terrorist belonging to the Lashkar-e-Taiba (LeT) was arrested by the Indian National Investigation Agency after Saudi Arabia deported him.
Modi's 2016 visit saw both the countries condemning terrorism and vowing to enhance their counterterrorism cooperation. It was decided to further cement bilateral strategic engagement, including in the areas of security and defense cooperation, with the joint statement emphasizing the need to increase "exchange of visits of ships and aircraft and supply of arms and ammunition and their joint development." Not surprisingly, then, two batches of Saudi military cadets have been trained in India's premier military academy, the National Defense Academy.
Another milestone happened in 2017, when direct flights between India and Israel became possible following Saudi Arabia giving consent to allow Air India use of its airspace. Since Riyadh and Tel Aviv have no official diplomatic ties, the overflight permission clearly signals Saudi willingness to treat India as a special friend.
Mohammed bin Salman has been promoting a forward-looking and non-obscurantist version of Islam. He has expressed his views publicly against terrorism and religious fanaticism, asserting that the Saudi-funded spread of Wahhabism was not the Kingdom's brainchild and began only due to requests from Western countries to help them counter the Soviet Union's ideological encroachment amongst Muslims countries during the Cold War.
Energy trade has traditionally been the foundation of the India-Saudi relationship. But during the past one decade, there has been a remarkable shift in India's approach to the Saudi Kingdom. The increased focus on security and counterterrorism cooperation points to a maturing relationship that has moved away from a mere energy partnership. As the threat from terrorism is not going to diminish in the near future, India and Saudi Arabia must augment their capabilities to disrupt terrorist networks by working close together.
Vinay Kaura is an Assistant Professor in the Department of International Affairs and Security Studies, Sardar Patel University of Police, Security and Criminal Justice, Rajasthan.