Making Democracy Work in Malaysia
How are civil society organizations faring under the new Malaysian government?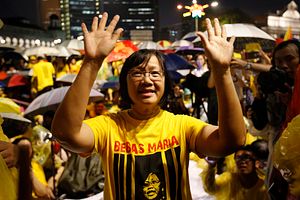 Malaysia's political landscape took on a new hue after the 14th General Election (GE14) on May 9, 2018. The Alliance of Hope or Pakatan Harapan (PH) won the 2018 election, the first victory by a opposition coalition after 61 years of rule by the long-dominant National Front or Barisan Nasional (BN) led by the United Malays National Organization (UMNO). The power shift not only ended one of the world's longest runs of one-party rule, it also offered a stark contrast to the global trend of democracies being tested by populist politics.
For decades, democracy in Malaysia has been contested, marked by authoritarianism and rigged elections. Political competition is extensively manipulated with, among other issues, rampant gerrymandering and lack of press freedom during the pre-election phase, which helped provide the incumbent government substantial advantages in elections.
In the decades of struggle against the BN's hegemony, the relationship between civil society organizations (CSOs) and the opposition was often complementary, as both shared similar causes. Many CSOs were labeled and perceived as pro-opposition entities, and it is not surprising that some of the civil society leaders joined opposition parties and some ran for office. The trend has been apparent especially since the 2008 election, popularly known as a "political tsunami," where the opposition coalition at that time denied the BN its two-thirds majority. The 2008 and 2013 elections, characterized by a rising up of the people, were two important events in the history of Malaysia's elections prior to the historic win by the PH in the 2018 election.
It is worth noting that the changes evident in the election results did not happen in a vacuum. GE14 reflected an accumulation of grievances and opportunities built up over decades, starting from the Reformasi movement in 1998, followed by the emergence of the electoral reform movement, Bersih, that has organized five street protests since 2007. The "gentle" administration approach adopted by former Prime Minister Abdullah Badawi was arguably an important turning point that enabled the activation of democratic space for the growth of CSOs. However, as time went by, reforms began to slow and promises were not met. The weak political environment resulting from public dissatisfaction with a wide range of issues, especially in 2007, gave an advantage to the opposition parties and CSOs as they sought to advance their demands.