Pakistan's Governance Changes Won't Be Enough to Offer It Economic Salvation
Pakistan is patching strategic problems with tactical solutions.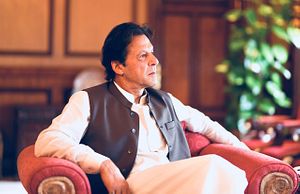 Saudi Arabia's Crown Prince Mohammed Bin Salman's recent visit to Pakistan has taken place at a time when Islamabad is looking to shore up its political and diplomatic clout internationally. However, the goal of attracting investments and gaining diplomatic influence internationally is not going to be easy for Pakistan. Currently, the country is battling to leave behind its enduring image as a state that supports extremist ideas internally and externally and whose governance structures are rooted in corruption malpractice.
It's a fact that Pakistan's poorly performing economy is in dire needs of international investment. Pakistan's economic challenge is not of a sort that can be expected to go away with the addition of just $20 or $30 billion. Pakistan's domestic economic base is in ruins and the debt payments that the country is supposed to pay are amassing every day. On top of this, Pakistan's national security budget continues to grow in numbers that have further added a burden on the country's economy.
In this context, the civil-military leadership in Pakistan is trying to introduce some tactical changes to the way governance is managed in the country. Apparently, the objective is to present a new and improved image of the country internationally while keeping the old power structures intact domestically. There has been a focus on improving security in the country but at the same time, voices and campaigns that call for an inclusive governance system and across the board accountability have been censored and demonized. A number of radical groups continue to operate freely in Pakistan while the country's current leadership maintains that it has moved beyond the old policy of relying on extremist voices for political and military gains.
The recent attack in Pulwama, in the Indian state of Jammu and Kashmir, was claimed by a group whose bases remain in Pakistan. While Pakistan has asked for evidence from India to act against the group, the fact that the Jaish-e-Mohammed (JeM) leadership is based in Pakistan doesn't play in Islamabad's favor.
Moreover, another attack that took place in Iran recently was also claimed by a group that in the past has used Pakistan's soil to mount instability in the neighborhood. Pakistan has long struggled to balance its relationship between Saudi Arabia and Iran, the two major Sunni and Shia sectarian power centers of the Middle Eastern region. Currently, Islamabad appears to be losing the balance again as it clearly sides with Riyadh to sustain the latter's economic support for the country.
Saudi Arabia's foreign minister, Adel al-Jubeir, while speaking in Pakistan last week, said that "Iran has been harboring virtually the board of directors of al-Qaeda, including Osama bin Laden's son since the events of 9/11." The statement, which was given in Islamabad, supports a long-held view that Pakistan in time of economic crisis has relied on Riyadh and in return has helped Saudi Arabia in its military objectives.
On the other hand, Pakistan's relationship with China is also experiencing some strain. A few days ago, a minister of the current government accused a Chinese company that is part of the China-Pakistan Economic Corridor (CPEC) of corruption in a mega construction project. China denied the allegations by calling them "shocking" and "groundless." It's been reported too that the current government wanted to change the terms and scale of the CPEC investments in Pakistan, but China didn't budge. The tension only went away when the military leadership of Pakistan intervened to offer assurances to China concerning the permanence of its investments in Pakistan. Clearly, the government in Pakistan not only remains dependent on the security establishment for its own survival, but is also helpless when it comes to the elected government's ability to take decisions on major issues concerning Pakistan's security and economy.
All of this is happening now when the United States is planning to withdraw its forces from Afghanistan. With Washington's troop withdrawal from Afghanistan, Pakistan is going to lose its key military utility for the United States. In such a scenario, the isolation of Pakistan that is likely to follow in Washington's policy circles is not something Islamabad is going to find helpful for its economic revival. Unless Pakistan adds some economic utility to its relationship with Washington, Islamabad's security utility is expected to go away soon. Moreover, Pakistan's usual reliance on China to ward off international pressures at various financial and security institutions is not going to remain forever unless the leadership in Pakistan genuinely changes the way the country is governed. Merely focusing on changing Pakistan's negative perceptions is not going to impress the international community into making investments in Pakistan unless the country transforms the way its governed.