Pulwama Attack: Pakistan Has Miscalculated India's Resolve Yet Again
India has a range of options available to it.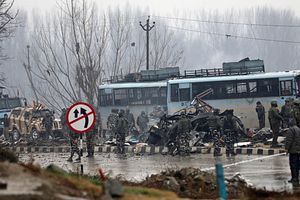 Yesterday's terrorist attack on India's Central Reserve Police Force (CRPF) personnel in the state of Jammu and Kashmir was one of the deadliest in recent years.  While a definitive account of the number of casualties is as yet unavailable, multiple Indian news sources place the death toll in excess of 30. As of this writing, the Associated Press was reporting 41 deaths. The militant group Jaish-e-Mohammed (JeM), which is patronized by Pakistan's army and acts as its proxy, has claimed responsibility for the attack.
The JeM is an anti-India, anti-Shia Deobandi group founded in 2000 by Masood Azhar as an offshoot of the militant group Harakat ul-Mujahideen. It operates – openly – out of Bahawalpur, in Pakistan's Punjab province, from its Markaz Usman-o-Ali headquarters. The group has a love-hate relationship with the Pakistani Army, but has a confluence of views with the army on India.
The attack appears to have been timed to test the resolve of India's leadership and of Prime Minister Narendra Modi at a time when he and his Bharatiya Janata Party (BJP) are in the midst of a contentious election season.
It is also possible that Pakistan, now in the belief of its own indispensability in the Afghanistan "peace" process, is willing to test just what it can get away with without the risk of being put in the doghouse as it was after the 2008 Mumbai attacks. Pakistan has been disposed to miscalculating its importance and position on previous occasions and it is possible that it is has done so again.
Modi is known for what some describe as a hardline position on Pakistan. Since taking office in 2014, his government has sought to isolate Pakistan diplomatically for its continued use of terrorism as an instrument of state policy. When militants, also from JeM, carried out an attack on Indian Army personnel in 2016, Modi's government responded with a special forces operation across the Line of Control against terrorist launch pads that caused significant casualties, according to Indian media accounts.
Indeed, Modi's government has shown the willingness and ability to pursue militant targets across India's territorial borders. In June 2015, it authorized a cross-border assault against militant camps in Myanmar in response to an attack on an Indian Army convoy earlier that month.
Modi and his party today are in the middle of a gruelling campaign season, with the country's general elections scheduled for later this year. Any cross-border military operation, particularly one where the targets are based in and receive support from a nuclear-armed neighbor, carries with it the risk of failure, or worse, of uncontrollable escalation. Does Modi's government have the appetite for such risk? The Pakistani Army, through its proxies, appears to be putting Modi to test.
But Indian public opinion since the 2008 Mumbai attacks has turned decisively toward demanding action from its elected representatives against Pakistan's use of terrorism against India.  Between not doing anything and launching a general war against Pakistan, Modi has tactical options available that can both assuage public calls for justice and persuade Pakistan of India's resolve and retaliatory capabilities, election or no election. An Indian military response to this incident is therefore almost assured. What isn't known is how it will do so and when.
However, regardless of what form India's immediate response to Pakistan takes, New Delhi's short- to mid-term objective should be to impose significant costs on Pakistan for its continued support of terrorist groups in general and this attack in particular.
Pakistan's economy has been teetering on the precipice for some time. The majority of Pakistan's foreign currency reserves today are in the form of deposits made by Saudi Arabia and the UAE in recent months and loans provided by China. Neither of these artificial attempts to inflate Pakistan's foreign currency reserves should comfort Islamabad. The country's exports are decreasing while imports increase, resulting in the depletion of its foreign currency reserves. Adding to these woes, Pakistan's economy is managed by leaders patently unqualified to salvage the country from an impending monumental economic crisis.
India must therefore use its diplomatic leverage to ensure that it hits Pakistan's ability to shore up its depleted foreign currency reserves and its attempts to attract the foreign investment it desperately needs.
To this end, New Delhi should move with haste and in coordination with friends and partners to seal Pakistan's fate at the Financial Action Task Force, whose meeting is scheduled for next week in Paris.  India should also impress upon its friends that sanctioning an IMF loan to this rogue actor at this time would be to reward its unacceptable behavior.
Further, India should visibly seek clarity from China on its continued diplomatic cover to a terrorist group that just massacred 30 Indian security personnel. Finally, New Delhi should use Mohammed bin Salman's impending visit to India to employ the Kingdom's leverage to lean on Pakistan, given the reported Saudi investments being considered in Pakistan.