Time for US-North Korea Family Reunions
At their next meeting, Trump and Kim should discuss reuniting Korean Americans with their families in North Korea.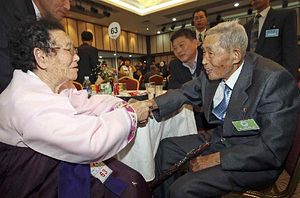 Imagine that war forces you out of your home. You run, clasping your baby sister's hand tightly. For a second, in the chaos, your hand slips and your sister is gone. And you don't see her for the next 70 years.
This sad story is all too common for Koreans. In the 1950s, during the Korean War, more than ten million Korean families were divided. These people are now in their 70s and 80s, and many are passing away.
While North and South Korea have arranged over 20 family reunions since the 1980s, almost no attention has been paid to reuniting Korean Americans with their families in North Korea. And there are as many as 100,000 divided Korean American families living in the United States.
The divided family issue is tragic, but it has been less of a priority for South and North Korea in the midst of North Korea's nuclear development and international sanctions. Although there was a small reunion program organized after the first meeting between South Korean President Moon Jae-in and North Korean Leader Kim Jong Un last year, it was only for the citizens of South and North Korea.
In 2015, the U.S. Congress passed a resolution that "encourages North Korea to allow Korean Americans to meet with their family members from North Korea, and calls on North Korea to take concrete steps to build goodwill that is conducive to peace on the Korean Peninsula." However, there has not been any progress for Korean American divided families whatsoever.
Kyung Joo Lee, who fled North Korea during the Korean War, is now 91 and living in Annandale, Virginia. He has spent every day praying that his four siblings are safe and surviving the hardships of North Korea. "In a way, it's more comforting for me to not know and long for them, rather than receiving bad news and being in pain for them," he said.
Time is running out for these elderly Korean Americans, like Mr. Lee. Many of them have almost given up hope that they might see their families before they die, but they still wish to know if their families are alive, and pray to see them one last time.
The second summit between the United States and North Korea is scheduled to happen in Hanoi at the end of February. Denuclearization of the Korean Peninsula will, rightly, be the focus of the meeting. However, it should not be the only topic on the agenda.
The road to denuclearization is an iterative one. For any denuclearization effort to be successful, the United States and North Korea need to develop trust in one another. Cooperation in non-nuclear areas can assist in that development.
For instance, after the first Trump-Kim summit, the return of the remains of 55 U.S. service members clearly increased trust and confidence between the two countries. Reuniting Korean Americans with their families in North Korea will provide another opportunity to improve trust between our countries.
Denuclearization of the Korean Peninsula is critical, but it is not the only issue, or even the most time-sensitive. Allowing these families to unite not only fulfills the lifetime wishes of divided Korean American families, but it will also support the denuclearization process by building trust. For the upcoming Trump-Kim summit, the Korean American divided family issue isn't an issue that can be left out.
Jina Kang is a Senior Program Associate at Korean Americans in Action.