US-China 5G War: Southeast Asia Battleground in Focus with Huawei's First Test Bed Launch
A recent development has spotlighted the subregion's role within the broader conversation about the perceived security risks in working with Chinese firms in this realm.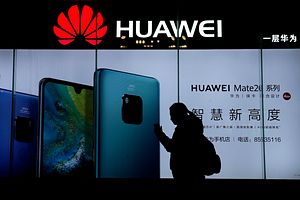 On February 8, the Thai government marked the launch a pre-planned test bed for 5G technology in the country. Though the initiative was unveiled with the collaboration of a range of companies, the inclusion of Huawei Technologies has put the spotlight on Thailand and Southeast Asia more generally as a battleground in the wider U.S.-China spat over the security risks inherent in working with Chinese firms in building next-generation mobile networks.
Amid the Trump administration's declaration of growing strategic competition between the United States and China, among the areas that have emerged within that competition is 5G. Although the United States and some of its allies and partners share concerns with respect to China on this front, there are still differences among them on the extent of the threat and how to respond to it, whether it be those such as Australia and New Zealand who have imposed restrictions on working with it or the UK which is still weighting its options.
Among the subregional battlegrounds within Asia where the 5G war will be waged is Southeast Asia. As is often the case, the region has seen a range of responses among different countries. For instance, in the Philippines, Globe Telecom, the country's leading wireless provider, has said that it will continue to work with Huawei in its 5G plans despite growing security concerns. Meanwhile, the new Malaysian government under Prime Minister Mahathir Mohamad has previously said that it will look into existing issues before deciding on a response, which has yet to be publicly disclosed.
Another prominent case within that mix has been Thailand, Southeast Asia's second largest economy and a treaty ally of the United States. The Thai government has long been looking at ways to promote 5G infrastructure investment within its Eastern Economic Corridor (EEC), with a goal to adopt technology as early as 2020 in line with wider goals on digitization. As part of that wider objective, the Thai government's Digital Economy and Society (DE) Ministry had set up a working committee on the 5G test bed last year with 29 members that included several companies like Huawei, Qualcomm, Nokia, and Huawei and other local telecom operators.
One of the initiatives mulled had been the setting up of an alliance on a 5G Testbed that would expect to be kicked off in 2019. While there have been various aspects to this, the focus has been on the 5G test bed at Kasetsart University's Sriracha Province in Chonburi because of its relation to the EEC. The Thai government had initially framed this from a wider perspective of another entry point to attract various players into the EEC – a signature initiative of the junta government – as well as the potential cost reductions that could result through infrastructure sharing among multiple organizations.
On February 8, Southeast Asia's role in this ongoing 5G issue was in the spotlight again as the Thai government's 5G test bed idea got off the ground. Though the initiative involves several companies as noted earlier, particular scrutiny was placed on Huawei's continued inclusion given both the security concerns that have been raised in other parts of the world as well as the fact that this constitutes the company's first such initiative in Southeast Asia.
The concern around the test bed is far from surprising due to the broader context around which it is occurring. This includes an environment of U.S.-China tensions, Washington's ongoing efforts to urge allies and partners to take a cautious approach towards Huawei, and Thailand's own warming of ties with Beijing which has been increasingly extending into the defense realm as well which I have explored in these pages and elsewhere. And while Huawei has yet to publicly announce a signed 5G commercial contract in Thailand, it has been actively eyeing the Thai market and has upped its investment in the country in the hopes of strengthening its position.
That said, despite the scrutiny on Huawei's involvement in Thailand's ongoing exploration of 5G, specifics remain unclear about the degree of the company's role and how things could move forward. DE Minister Pichet Durongkaveroj had previously stressed that Huawei's interest to date thus far has largely been in investing in parts of the test bed lab and training programs that would help 5G adoption in Thailand, and had also stressed that Huawei was only one of several players that Thailand was looking at. At the launch, Pichet also indicated to Reuters that this was only a test bed which would give Huawei an opportunity to showcase its capabilities to industries and consumers and for Thailand to evaluate the veracity of allegations made against the firm rather than a final decision of any kind.
How exactly things play out with respect to Huawei's role in Thailand is still unclear at this stage. As noted earlier, though the company is actively involved along with other players in the country in initiatives such as the test bed, at this stage, it has yet to secure an actual commercial contract there or secure a major win relative to its competitors in this respect. More broadly, it is also worth keeping in mind that with so many broader questions remaining on Thailand's political and economic future ahead of elections expected next month, the prospects for specific projects or initiatives including the EEC are rather uncertain despite the certainty at times suggested in the headlines. Nonetheless, given the focus on the 5G issue and Huawei's role, Southeast Asia's significance within the broader U.S.-China competition, and Thailand's importance as a market, this story will continue to be one to watch.