What Does Thailand's Royal Shockwave Mean for its Future Politics?
A closer look at what an unprecedented development might mean for upcoming elections and the country's political future.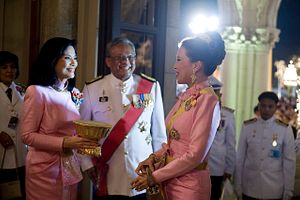 Just about a month and a half before Thailand was set to hold its first election since a coup in May 2014, the Southeast Asian state was rocked on Friday by an unprecedented development when the sister of Thailand's king entered the political race at the expected deadline for candidate registration. While much still remains unclear, the royal shockwave has defied traditional thinking about modern Thai politics in some ways while also compounding uncertainties around Thailand's upcoming elections and the country's political future.
As I have observed before in these pages, common references to Thailand as a democracy and a focus on contemporary developments including the May 2014 coup that brought the junta-led government under Prayut Chan-o-cha to power and the March 2019 expected election date can obscure more complex realities in the country's politics. The country only transitioned away from centuries of absolute monarchy in 1932, and since then, it has had 19 attempted coups (12 of then successful) and 20 constitutions, attesting to the democratic disruption and political instability often seen. Indeed, May 2014 coup and repeated election postponements up to this year are a symptoms of a longer-term struggle that dates back to 2001, when the populist forces that brought then-prime minister Thaksin Shinawatra to power were at odds with the older elite establishment comprising the military, monarchy, and bureaucracy.
On February 8, just weeks before the expected election date, another shocking development occurred when Princess Ubolratana, the older sister of the current King Maha Vajiralongkorn who took over following his father's death in 2016, was nominated by a party loyal to Thaksin, the Thai Raksa Chart Party, to become its election candidate. Provided that nomination still holds and continues on to the election date, Ubolratana's chief opponent will be Prayut, who also confirmed his expected candidacy for the Palang Pracharat Party set up by loyalists.
The move has upended traditional thinking about Thai politics in some ways and compounds uncertainties around Thailand's upcoming elections and the country's political future. While the monarchy has continued to retain significance influence in Thailand, the country has never seen a royal enter the political fray like this since the country moved away from absolute monarchy in 1932. And while allegiances in Thai politics are never quite as rigid as they are portrayed – Ubolratana's links with Thaksin have been the subject of speculation before – the fact that we now have an unlikely alliance of sorts between a royal and a party linked to Thaksin, who had previously been criticized as anti-establishment, set up against Prayut who deposed the previous Thaksin government in the 2014 coup, is a series of realignments few would have expected to date.
As for the uncertainties, there are several questions that arise about the short-term and additional longer-term ones as well. The immediate questions relate to how the election campaign itself will be waged as well as the outcome, considering the unprecedented nature of the royal entry into the elections so late in the game. Ubolratana's candidacy is still not completely secure just yet – the Thai Election Commission needs to endorse her candidacy, and we have yet to get a sense of how this move fits in with other dynamics within the royal family including her relationship with her brother, including indications of a potential roadblock by Vajiralongkorn on constitutional grounds.
[Update: After this article was published, the king indeed issued a royal order nixing Ubolratana's candidacy, calling it "highly inappropriate" and against the constitution.]
If she does remain as a candidate, there are other question that remain, chief among them being how the competitive dynamics of the election would be affected. Though Ubolratana does not have any royal titles and is not covered under lese majeste laws as of now – she relinquished her royal status back in 1972 – it is difficult to imagine that her status would not affect how polls would be conducted. In terms of the outcome, while Prayut was seen as being the likely winner by far in upcoming polls, the most likely scenario now is a unity, royal-led government with Ubolratana at the helm, with Thaksin's influence at play and some role for Prayut-linked forces as well.
The longer-term questions surround how all this impacts various power centers in Thailand. Ubolratana's win would certainly indicate a rising role for the monarchy in the country's politics as she would be the first royal to win the premiership since Thailand moved away from absolute monarchy. Following from Vajiralongkorn's own efforts to consolidate his position since his father's death, which will continue on with his expected coronation set for May, these trends seemingly run contrary to a diminished role for the institution that some had foreseen. The extent of coordination within the monarchy with respect to Ubolratana's move is not yet clear, and we will need much more clarity on this front before concluding anything about the institution.
There is a related but separate question about how the monarchy's role in moderating divisions in the country – with varying degrees of potential unity with military and populist forces – affects Thai politics. Though the monarchy has technically remained above the fray of Thai politics, its significant, at times shadowy influence has been viewed as at times helpful in helping ease political differences but also potentially harmful in terms of inserting more anti-democratic factors into the country. A rising role for it will likely intensify the debate about the positive and negative effects of the institution and how it impacts politics and democracy, with fears about the co-option of populist forces into the older establishment and potential curbs on dissent being extended more firmly in line with increasing royal power.
As for the military, while some have suggested that Ubolratana's entry into the political fray means Prayut's position is diminished and is suggestive of the military's declining role in Thai politics, this would seem rather premature and oversimplistic at this stage. Despite references to the Thai military as a unified entity, as with other militaries which play an outsized political role in their countries, there are factions within it that make equating one individual with the entire institution a risky assumption. Prayut's future position is unclear as of now, and even if he loses, he could preserve some clout as a royal adviser. With respect to the military in general, if Thai history is any suggestion, the greater probability is that it will likely continue to have some role in moderating political outcomes irrespective of the costs to the country when it actively intervenes and governs.
Despite those uncertainties, one thing is clear: this royal shockwave has made Thailand's expected March 2019 elections even more interesting to watch, and potentially even more consequential for the future direction of the country's domestic politics and foreign policy as well.