Why China Could Support Regime Change in Venezuela
China has adopted a more flexible attitude toward regime transition and intervention than is often realized.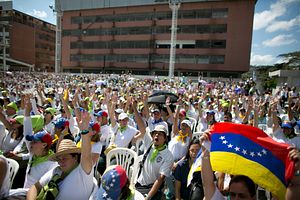 The ongoing deadlock amid the Venezuelan crisis manifests the complex reality of contemporary global geopolitics. As each side – de facto President Nicolás Maduro and National Assembly head Juan Guaidó, who has claimed the title of interim president — is now backed by respective foreign powers, the scenario evokes a worrying similarity to previous cases in Ukraine and Syria. What is different in the Venezuelan case, however, is that there is a clear rationale and possibility for Maduro's key ally, the Chinese government, to adopt a change in its foreign policy toward Caracas.
The long-standing assumption on China's role in Venezuela is that Beijing has a tradition of supporting left-wing or authoritarian regimes around the world out of ideological and political motivations. But this is simply not the case. Since 2009, China has adopted a more flexible attitude on regime transitions and humanitarian intervention around the world. For example, it applied the principle of Responsibility to Protect in Mali, Somalia, and South Sudan, and abstained from intervention in Libya. In 2017, China withdrew its decade-long support for Zimbabwe's President Robert Mugabe, and acquiesced to the coup and leadership transition.
This leads us to believe that China changes its foreign policy when it realizes that a government is failing to govern. In this sense, China's preferences do not follow a consistent pattern based on whether a government is authoritarian or socialist, but, rather, is focused on the principle of pragmatism. The Chinese government, in other words, is interested in working with an effective and responsive government to continue its trade and investments.
Returning to Venezuela, thus far, China's support for Maduro has relied on economic reasons, including the prospects of energy supply and nearly $60 billion worth of Chinese investments in Venezuela through oil-for-loan agreements. It is more than obvious that these agreements have been threatened by the escalating political and economic crisis in recent years. This is why it will be in China's own interests to welcome a political change to reboot Venezuela's economy and society.
Yet, even though this sounds rational, China still faces a few dilemmas. While the regime it continues to support is undeniably a government that has lost its capacity to recover the country's productivity, Beijing still mistrusts what may come after Maduro's fall. Will a future government backed by the United States and Europe respect previous economic deals?
Juan Guaidó, Venezuela's interim president, has already addressed these fears by reassuring Beijing that all deals that were signed following the rule of law will be honored. In his interview with the South China Morning Post on February 2, Guaidó called for China to think about its own economic interests: "China has witnessed at first hand the plundering of our state resources by Maduro's government. Its development projects in Venezuela have been equally affected and falling due to governmental corruption and debt default." Guaidó is clearly appealing to Beijing's pragmatic stance and inviting the country to consider supporting a transition out of self-interest. Furthermore, the young opposition leader has invited China to join his efforts of re-launching their bilateral relationship. "China's support will be very important in boosting our country's economy and future development," Guaidó said in the same interview.
Guaidó's promises sound tempting. But Beijing might still have doubts about how feasible they are given that a new government will most likely be strongly supported by the United States. Again, these fears can be mitigated when looking at similar cases in the region. What we have witnessed in Latin America is that China has emerged as an established and resilient investor and trading partner, regardless of regime type and/or incumbents' ideology.
Argentina is an example. Under the Kirchners, China became an indispensable trading partner, buying the majority of Argentina's soybean exports, and served as financial backer of the southern nation when the country could not borrow from international markets due to its massive debt default in 2011. When Mauricio Macri, a conservative businessman, won the presidency in 2015, he promised to end populist policies and the prevailing anti-American discourse, proposing a center-right economic plan to liberalize the economy and prioritizing trade with the United States and Europe. After vowing to cancel previous deals signed with China due to a lack of transparency, however, Macri did not overturn these agreements. A pro-U.S. and right-wing government simply could not neglect China's capacity to invest and boost the Argentine economy through so called "mega- deals," including two dams in the Patagonia.
Based on this recent regional example, we maintain that a potential "liberal turn to the West" in Venezuela will not lead China to lose power. A new opposition government will inherit not only a debt needing to be repaid but also deals that, like in the Argentine case, ensure the new leadership's economic survival through political turmoil. A post-crisis government is unlikely to reject Chinese capital and expertise capable of rebuilding the country's oil production in the short term. China, under its expansionary "Belt and Road Initiative," will be more accessible as a future creditor to Venezuela than the United States under its revived isolationist banner "America First." Like Argentina's Macri, the future president of Venezuela will have to acknowledge domestic constraints and the necessity of China in our global economy and be far more conciliatory than s/he may have liked to be.
Guaidó's offer of a new relationship has already stirred the air in Beijing. The same day that the interim president's statement was published, China adopted a slight change in its otherwise quite strong opinions about the Venezuelan crisis. In a press conference, the spokesman from the Ministry of Foreign Affairs stressed that "the Chinese side has been in close communication with all parties in various ways on the situation in Venezuela." The ministry further pointed out that "upholding the principle of equality, mutual benefit, win-win cooperation and common development, China will continue to boost its exchanges and cooperation with Venezuela in various fields." This second claim is interesting as China is no longer having "win-win cooperation" with Maduro's de facto government. China's influence in Venezuela has declined and its business has fallen given that Venezuela is now a failed state.
A failed state is a state that does not control its national territory and cannot make its citizens do what they would otherwise not want to do. Under Maduro, Venezuela has moved down this path. By looking at the presence of irregular groups, such as the Colombian ELN (the National Liberation Army), the rampant corruption scandals within the military, or the loss of Maduro's popular support, China should realize sooner than later that shifting its support toward a transitional government is a rational move. Beijing is no longer winning in Venezuela, even though Maduro's reliance on China dramatically increased over the past years. China has reluctantly allowed delayed repayment for the about $20 billion in loans that remain outstanding, and stopped investments for the last three years. It has acknowledged and prepared for a loss in Venezuela, so even a discounted deal with the new government is better than a bottomless pit. In terms of its global strategy, an early change of attitude in Venezuela's seemingly nascent transition gives China potential leverage in the intensified trade negotiations with the United States, and an opportunity to reform its image as an irresponsible and morally dubious lender.
China might have to think even further. It needs to envision its role in the reconstruction of a failed country's economy. The opportunities for investment are countless. Guaidó encouraged the Chinese government and companies to help with rebuilding not only the oil and gas sector, but also light industry. Furthermore, China's expertise in infrastructure, housing, and communication represents yet another possibility for investment. Beijing needs to follow the same pragmatic strategy toward the Caribbean nation as elsewhere, for its own economic sake. Even though talks appear to be happening between the two parties, China's Xi Jinping and Guaidó should consider meeting in person to discuss China's potential and role in a post-conflict Venezuela. Both countries will soon realize that, unlike what Maduro has tried to make both sides believe, a pragmatic and mutually beneficial relationship, but mostly a nonideological one, is in fact possible.
Xiaoyu Lu is a researcher at the Department of Politics and International Relations at the University of Oxford.
Maryhen Jiménez Morales is a researcher at the Department of Politics and International Relations at the University of Oxford. Follow her on Twitter @maryhenjimenez.