Why China's Younger Generation (Sort of) Loves Jiang Zemin
Meet China's "toad worshipers."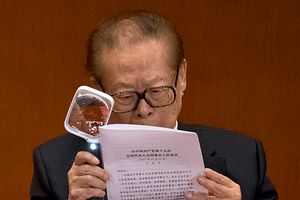 Who is the most popular political figure among China's younger generation? Not legendary warlord Cao Cao, not democratic revolutionary Sun Yat-sen, not Chairman Mao Zedong, and absolutely not Xi Jinping. It is former President Jiang Zemin, "the elder" (长者).
Jiang earned this nickname during an interview with the Hong Kong press, who questioned him on the credibility of the appointment of Tung Chee-hwa, then The Chief Executive of Hong Kong. Jiang's age – he turns 93 this year — proves that he deserves such a nickname. Despite occasional rumors to the contrary, he is still very much alive, though he rarely appears in public these days because of health concerns. And now a considerable number Chinese young people are collecting Jiang Zemin memes and displaying them in WeChat.
Though not without criticism in his own time, Jiang has been reborn as a "meme beacon," while the social media tide has simultaneously turned in favor of him. This gave birth to a new subculture on the Chinese internet — "toad worship"(moha, 膜蛤). "Toad" originates from people's gentle, if inappropriate, banter, in which Jiang is called a toad based on his "purportedly amphibious features." "Worship," or in Chinese pinyin, "mo," is the synonym for contemporary Chinese young people's "personality cult."
A host of Jiang's quotes have been adopted by "toad fans" (蛤丝) — netizens who worship the toad (i.e. Jiang's fans) — for the sake of imitation, parody, and insult. Such quotes are largely sourced from the so-called "Three Pieces About Toad," (蛤三篇), namely Jiang's denouncement of Hong Kong journalist Sharon Cheung, the famous interview by American journalist Mike Wallace, and Jiang's revisit to China United Engineering Corporation. What is more, a rich collection of Jiang photos have been remodeled for mockery, given new "moha-themed" interpretations such as "Jiang cracks a smile," "Jiang's empathy," and "Jiang's loud shouts of applause."
To analyze "moha" in an academic stance, the New York Times invoked a Chinese film critic, who argues that "toad worship culture" has gone viral, "[reflecting] people's nostalgia for the past and dissatisfaction with the current situation." But what does it mean?
A couple of factors help analyze the "moha" epidemic. First of all, Chinese young people are tired of hard propaganda characterized by intense indoctrination and a compulsory personality cult, both of which are unambiguously common in the Xi Jinping era. Since former leader Hu Jintao finished his consistent, if unremarkable, 10-year-term and handed power to Xi, the personality cult that once locked Chinese people in a nightmare has reappeared. In more colorful language, China today is echoing the Mao-era "Three Prominences Principle": Stress positive characters among all characters; stress heroic characters among all positive ones; and stress the central heroic characters among all heroic ones. As a real-life example, in 2017, after being re-elected as the General Secretary of the Chinese Communist Party (CCP), Xi's large portrait appeared in the front page of People's Daily. Despite Xi's casual visit to Qingfeng Steamed Bun and his acceptance of the nickname "Xi Dada," he is widely criticized for political grandstanding.
This kind of propaganda is cheap yet inefficient. According to one study, crude and hard propaganda can backfire and worsen citizens' opinions of the regime. In contrast, soft propaganda, marked by a political leader's natural and attractive personality, might be well-received. Politics in general is somewhat joyless to people at large, let alone CCP politics with its mountains of documents and seas of meetings. Jiang's animated and genuine demeanor, however, is undoubtedly a welcome breath of fresh air; he is the exemplar of soft propaganda. In videos now available online, Jiang plays the ukulele, shares a dance with the wife of French president, and sings Elvis Presley's "Love Me Tender." Even though the Chinese younger generation is too young to remember Jiang's 14 years in power and is not able to tally his legacies on one hand, they love to watch videos of his visits and speeches to appreciate his openness, an invaluable trait other cold CCP pragmatists lack.
Second, China's toad fans want to cast off the obsolescent impression the whole society has of the Chinese younger generation. Generally, Chinese young people are categorized into two groups, the one marked by "rootlessness" and another known as the "little pink" (小粉红). They are positioned at two endpoints of an ideological spectrum. Specifically, a large proportion of Chinese citizens – the "rootless" – are aloof from politics because they lack channels to participate in political affairs and are afraid of backlash. On the other hand, there is a group of people – "little pinks" — who are online patriots seen to "guard China against even the remotest hint of criticism." Toad fans, however, are reluctant to be put into either of these two groups. Their perspective is that rootless people are passive, ignorant, and unambitious, whereas the "little pinks" are too conservative or leftist; neither can represent toad fans.
So what are the characteristics of toad fans? Generally, compared to their counterparts, toad fans are more familiar with the CCP's 1980s and 1990s history and some sensitive events such as the Tiananmen Square Incident, Jiang Zemin's persecution of the Falun Gong, and his contest with the American government after the United States bombed the Chinese embassy in Belgrade. They are proud that they know so much about Chinese politics and are politically minded. In a setting where most people are strangers to politics and widespread public indifference is routine, toad fans stand out. From a psychological standpoint, they want to signal that they are unique among their peers.
Last but not the least, these young people are implicitly expressing their political will through "toad worship." Toad fans are not necessarily anti-socialism and pro-Western democracy. They uphold the CCP's rule in China. Meanwhile, they long for many democratic elements like freedom of speech and rule of law, to name a few. In this light, Jiang Zemin is an ideal spokesperson for them. He is a colorful CCP figure who has a strong belief in one party rule but at the same time admires issues like human rights protection in the Western world (Jiang recited Abraham Lincoln's Gettysburg Address during his interview with Mike Wallace, and said he was attracted to the declaration "all men are created equal"). In China, toad fans are usually not able to participate in domestic politics and make some real changes in the political sphere. The only remaining avenue for them to put forward demands, therefore, is through "toad worship."
In essence, these three factors might explain why "moha" is popular among China's young people, and why they prefer Jiang Zemin to his stiff successors Hu Jintao and Xi Jinping.
Chutian Zhou has a multidisciplinary background in journalism, finance, political science and data analysis. He is a graduate of the School of Global Policy and Strategy, University of California, San Diego, and recently finished his second Master's program at Columbia University with a focus on quantitative social science.