Bangladesh's Media Under Siege
The Digital Security Act 2018 was just the latest blow.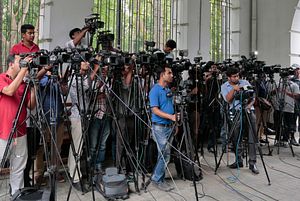 Today, the media industry is among the largest in the world. The media's vast importance raises questions about their proper role in public life and importance for society.
Media in contemporary society have a remarkable and growing influence. The political role of media, among other things, consists of interpreting political and economic relations; linking social subsystems of authorities, politicians, and citizens; representing the interests of various social groups; initiating and conducting public hearings; influencing public opinion; and so on.
Media, of various forms, are the most important matrix for building public opinion, creating social awareness, and hosting hard criticism on different political and social issues. For the same reasons, media are always victims of political tyranny from political groups or ruling clusters implementing undemocratic actions.
On October 8, 2018, Bangladesh's current Awami League government passed the Digital Security Act (DSA), which has already raised criticisms for controlling democratic rights and freedom of speech.
In an interview with Deutsche Welle on February 14, 2019, Bangladesh's Prime Minister Sheikh Hasina expressed that she respects public opinion and actively supports the freedom of expression, including the people's ability to criticize the government. "If you work more you will hear more criticism," she told DW.
Unfortunately, her government's actions don't bear out that sentiment. National and international human rights organizations say that the Digital Security Act has already constructed an unwelcoming atmosphere for freedom of expression and other democratic freedoms. Amnesty International and Human Rights Watch have both claimed that the current Bangladeshi government is working against the freedom of expression.
It's not the Digital Security Act in isolation causing the problems. There are different kinds of oppression over other political parties, different types of controlling practices over the media by ruling groups, and too much control on social media by law enforcement agencies. Taken together, these measures have created an inhospitable era for democratic thinkers and freedom lovers in Bangladesh.
This is not a new problem, though. Since independence, Bangladeshi media have never tasted total freedom.
In 1975, after the founding of the Bangladesh Krishak Sramik Awami League, only four newspapers were printed frequently in the country. The circulation of other newspapers had been completely shut down.
Later, military dictators Ziaur Rahman and Hussain Muhammad Ershad tightly controlled the media industry.
Even after the decline of Ershad's regime, the democratic governments of both the Bangladesh Nationalist Party and Bangladesh Awami League also made life difficult for media. Even before the Digital Security Act's passage Bangladesh had been marked as a risk zone by the Committee to Protect Journalists (CPJ) due to controls over media freedom, different types of harassment of media professionals, and control over social media. As of 2018, Bangladesh had spent eight years on CPJ's Global Impunity Index, which "spotlights countries where journalists are slain and their killers go free."
According to Reporters Without Borders, Bangladesh ranked 146th out of 180 on the 2018 World Press Freedom Index. The country has consistently ranked between 144th and 146th since 2013.
According to the statistics of Ain o Salish Kendra (ASK), a legal aid and human rights organization, in 2017 about 122 journalists faced different types of professional harassment. In 2018 that number jumped to 207 journalists.
The Digital Security Act of 2018, then, was a continuation of a much longer trend toward media control.
In a report published in Jurist, just after the government passed the act, Transparency International Bangladesh Executive Director Iftekharuzzaman called for the government to review the DSA, warning that the law "will create greater risk of insecurity not only in expressing opinion freely but also in practicing basic human rights." He predicted that the new law would impact not only journalists but also civil society.
The DSA replaced – and expanded – the previous Information and Communications Technology Act. Advocates had long called for the ICT Act to be overhauled, but the government's replacement introduced more restrictions and penalties rather than removing them. Olof Blomqvist, research and advocacy director with ASEAN parliamentarians for human rights and previously an expert on Bangladesh for Amnesty International, said it was "disturbing" that the government "introduced a new law that again flouts international human rights standards" in a conversation with Al Jazeera.
The law, which came into effect on October 8, 2018 despite widespread criticism from journalists and human rights activists, has already cast a Machiavellian shadow over not only media, but also social activists, bloggers, writers, and commenters on social media groups.
In December 2018, Reuters published a report on the grim environment for Bangladesh's media industry, revealing the compression of media freedom and constricted roles and responsibilities of journalists by after the Digital Security Act took effect.
Reuters interviewed 32 Bangladeshi journalists and editors across a variety of media types. According to the report, "the vast majority said the recent strengthening of defamation laws with a new Digital Security Act (DSA) has spread a climate of fear in the industry." The intimidation has already transformed Bangladeshi print, digital, and broadcast media.
The DSA granted near totalitarian power to law enforcement agencies. They can conduct a search or arrest a suspect without any warrant issued by a court, as long as police assume that an offense or crime has occurred under the act.
The government claims that the new digital law will be used as a shield to protect the innocent and a sword to target bad elements. But many journalists and right activists fear that the government may utilize some of the act's controversial provisions to control their voices and activities.
The act had an immediate impact on democratic thinkers and social media activists, who previously had commented frequently on social media pages and blogs about different government issues, policies, and strategies. People are now afraid to criticize government policies and activities on social media.
Already, social media-based criticism of the government has declined since the passage of the DSA.
Many individuals have been already arrested and faced harassment after posting hard comments and criticism against government rules and regulations.
Shahidul Alam, a photographer, was arrested by police under that law for "spreading misinformation and propaganda" against the government during last year's student protests. He was released on bail 100 days later, but the case generated a panic among civil society.
Today, even TV talk shows strictly maintain a code of conduct, pressuring their reporters not to undertake hard criticism of sensitive national and international events or government policies and strategies.
Khadija Farhana Choudhury is an independent journalist and development communication professional.