Ex-Nissan CEO Ghosn Granted Bail Under Strict Conditions
After 108 days of detention, ousted Nissan CEO Carlos Ghosn's dramatic, disguised exit has taken the media spotlight.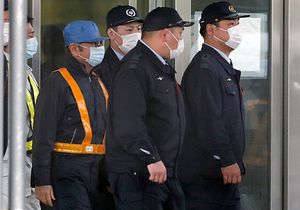 On Wednesday, former global auto industry royalty Carlos Ghosn's indefinite lock up on allegations of financial underreporting ended dramatically when a court refused prosecutors' appeal against Ghosn's release on a 1 billion yen ($8.9 million) bond. Ghosn had been held since November; at this stage, authorities are not seeking to extend his detention by arresting him on new charges.
Ghosn's controversial detention and highly anticipated release on bail took a comical turn as he tried to exit the Tokyo detention facility in disguise. Ghosn was photographed leaving in a white hospital mask, a blue cap worn by electricians, a mismatching uniform jacket, and trousers with orange reflective stripes typically worn by construction workers.
The eclectic outfit was suggested by Ghosn's defense team as a way of throwing the media off from following his van to his Tokyo hideout. Affiliated personnel first arrived carrying a suit, which was made to look like Ghosn's change of clothes. With two cars waiting outside, the media camping outside were expecting Ghosn to leave in a suit and climb into a large black van with tinted windows. But the getaway car was a small unassuming silver wagon made to look like a maintenance vehicle with a ladder on top and untinted windows. Ghosn slipped into this car and changed into a suit.
The public face of Ghosn's legal team, Junichiro Hironaka, said he was surprised to see Ghosn's disguise on TV and didn't play a part in coming up with the elaborate strategy designed to confuse the media.
After two unsuccessful bail attempts in January, Ghosn revamped his legal team in mid-February, hiring criminal attorney Hironaka, who is known for winning high profile cases and nicknamed "The Razor." At a press conference Hironaka said their team took an aggressive strategy to secure bail by advocating strict terms to quell concerns about Ghosn fleeing the country or tampering with evidence and witnesses.
Court-approved conditions include the confiscation of his passport, front entrance surveillance at his residence, no internet access, limited computer use without internet on weekdays at his lawyers' office, and cell phone monitoring. The strict terms were the deciding factors in Ghosn's release. Footage collected on camera will also be reviewed periodically in court. While Ghosn was said to be relieved to be released, he initially called the bail terms "somewhat disgusting" and had to be convinced by lawyers to accept the strict terms of near house arrest.
The 64-year old has not spoken in public since his arrest on November 19, 2018 at Tokyo's Haneda Airport beside making a brief court appearance in January and an exclusive interview with Japan's Nikkei Shimbun newspaper while imprisoned. After the Tokyo District Court accepted his bail request, Ghosn emphasized his innocence in a statement made through a U.S. representative, saying, "I am innocent. I will do my best to vigorously defend myself against these unfounded false accusations in a fair trial."
Ghosn is expected to hold a press conference next week or the week after.