Japan-Vietnam Defense Relations in Focus With Military Chief Visit
The recent trip by a high-level Vietnamese defense delegation spotlighted ongoing activity in the bilateral relationship.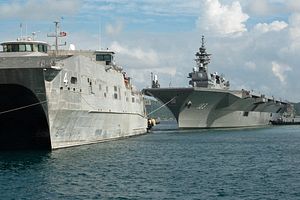 Last week, Vietnam's deputy defense minister and military chief of staff paid a visit to Japan as part of a two-country trip that also included Singapore. The visit spotlighted some of the ongoing activity in the Japan-Vietnam defense relationship, which both sides look to continue to develop into 2019 as well.
As I have noted before in these pages, while Japan and Vietnam have long maintained a defense component in their wider bilateral relationship, the two countries have been boosting their security ties as part of their so-called extensive strategic partnership over the past few years. Gains have included not just headline items such as periodic maritime security assistance, but significant moves including new naval drills, Japanese port calls, an agreement on coast guard cooperation, and discussions on more defense equipment and defense industrial collaboration.
Last year saw a series of significant developments in the defense realm as the two sides commemorated the 45th anniversary of the establishment of their diplomatic ties, including the first-ever visit by a Japanese submarine to Vietnam in September. 2019 has seen further developments as well, with some occurring in a quieter fashion than others — such as the arrival of Japanese aircraft and vessels to Vietnam, testament to the increasing regularization of such activities in bilateral security ties.
Last week, the bilateral defense relationship was in the headlines again with the visit of deputy defense minister and chief of staff of the Vietnam People's Army Phan Van Giang. The visit by Giang, along with a high-level Vietnamese defense delegation, was part of a wider two-country trip that also included a stopover in Singapore as well from February 28 to March 5, which Vietnamese officials had characterized as an ongoing attempt to review the state of security ties as well as lay out the direction for future trajectory of these relationships.
Giang's trip to Japan, which was characterized as an official visit to Japan at the invitation of the chief of staff of the Joint Staff of the Japanese Self-Defense Forces (JSDF), Admiral Katsutoshi Kawano, included a series of interactions. Per Vietnam's defense ministry, in terms of meetings, Giang met with Japanese officials including Kawano and Defense Minister Takeshi Iwaya. They discussed several issues including the implementation of the latest joint vision statement on Vietnam-Japan defense relations adopted last year, future undertakings for the defense relationship, and regional and global issues of mutual interest, including the state of ASEAN and the North Korea issue. Vietnam recently played host to the Hanoi summit between U.S. President Donald Trump and North Korean leader Kim Jong Un.
Giang's trip to Japan also included other activities apart from those meetings. Per Vietnam's defense ministry, among other things, he and the Vietnamese delegation visited the Japanese Ground Self-Defense Force's Kisarazu Camp and also held talks with Vietnamese embassy staff in Japan. Unsurprisingly, no further details were publicly disclosed about the content of these private deliberations.