Mapping China's Investments in Europe
The last eight years have seen a paradigm shift in Chinese investments in Europe.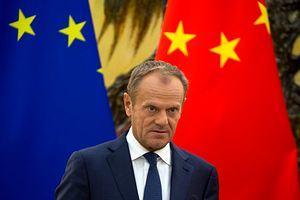 China and Europe have long been steady trading partners. What has changed in the last decade is China's increased footprint in European investment. Chinese foreign direct investment (FDI) in the European Union (EU) has increased by almost 50 times in only eight years, from less than $840 million in 2008 to a record high of $42 billion (35 billion euro) in 2016, according to Rhodium Group statistics. The current situation is reflective of a paradigm shift in Sino-European relations, which needs to be carefully assessed for its economic and geopolitical impact on Europe.
China's interests in Europe are manifold — from access to new technologies, high-tech assets, and knowledge, to broader commercial access into the European market and entrance to third markets (such as the United States) via European corporate networks. Chinese investors are looking for brand names to improve marketability of their products — both at home and abroad — assuming a key role in integrated regional and global value chains. Combined, China realizes that by taking strategic steps to become a critical player across the region economically, Beijing will enhance its political and diplomatic influence in Europe.
Investment Paradigm Shift 
While European investment flows into China historically outpaced Chinese outbound flows, the tide has turned rapidly since 2014, driven by Chinese FDI in the EU. In 2016, new Chinese investment in the EU was more than four times higher (reaching a record high of 35 billion euros) than the European FDI in China (8 billion euros).
Total Chinese investment in Europe, including mergers and acquisitions (M&A) and green-field investments, now amounts to $348 billion , and China has acquired more than 350 European companies over the past 10 years.
Of course, the share of Chinese FDI in Europe, at 2.2 percent, remains low relative to the United States' market-leading 38 percent. Similarly, the EU countries held only 4 percent of the total FDI in China in 2016, versus 36 percent of the total FDI in the United States. Although Chinese investments in the EU are still comparatively low, they are evolving rapidly and increasing at unprecedented growth rates.
Diversified Chinese Strategy in Europe
In the eyes of Chinese investors, Europe is portioned into three distinct zones consisting of the west, the south, and the east, based on variances in economic wealth, technological advancement, geographic location and institutional framework. This view drives a diversified strategy of Chinese investments in Europe, with a focus on capital investments in the core EU countries, complemented by large infrastructure development projects on its periphery.
In Western Europe, Chinese investors target Europe's strategic assets and research and development networks, with the largest and wealthiest European countries attracting the greatest investment. The United Kingdom ($70 billion in Chinese FDI), Italy ($31 billion), Germany ($20 billion), and France ($13 billion) accounted for 75 percent of Chinese total investment in the EU market in 2017.
In Southern Europe, Chinese companies have leveraged the economic crisis and its consequences to focus on large-scale privatization process and post-crisis restructuring. In Italy, Chinese FDI has soared since 2014, approaching 5 billion euros ($5.7 billion), which corresponds to around 10 percent of total Chinese investment in the European stock market. In 2015, China's acquisition of Pirelli made Italy the top destination of Chinese FDI in Europe, giving China access to one of the most important car tire manufacturers globally and an entry into the replacement market — a segment, until recently, dominated by the major European and Japanese brands.
In Greece, the Chinese state-owned enterprise giant COSCO Holdings Company has acquired a 67 percent stake in the port of Piraeus, Europe's largest passenger port. With Piraeus now considered China's "gateway into Europe," shipping times for Chinese goods have been shortened by one week.
When it comes to the per capita inflows of investment in Europe, Portugal has become the key recipient of Chinese investments, with inflows of nearly 9 billion euros. China engaged Portugal in the aftermath of the financial crisis in 2010, investing in a broad range of strategic assets such as electricity, transportation, oil, financial services, insurance, health and real estate.
In Central, Eastern, and Southeastern Europe, China is operating the "16+1" platform, which brings together a very diverse group of both EU and non-EU members. Across this region, acquisition prices are lower, demand for preferential lending is high, human capital is cost-effective, and concessions for Chinese investors are simplified. Above all, the strategic location is perfect. Central and Eastern Europe map ideally to China's main objectives: transportation networks for the Belt and Road Initiative and investment goals for further capital expansion across the EU. However, Chinese investments in the region represents a small percentage compared to the core EU countries.
EU Perceptions of Chinese Investment
China is not exactly an easy partner for the EU. Controversial issues include concerns over intellectual property rights, price distortions due to subsidized dumping, unequal conditions for market access, as well as discrimination against EU companies in Chinese government tenders. There is also the issue of reciprocity, where sectors such as finance, telecoms, logistics, and public procurement are restricted to foreign investors in China but open to Chinese investors in the EU. This amplifies the political aspect of asymmetrical market access. The sheer amount of investment — with more than 70 percent stemming from Chinese government-backed, state owned enterprises — overwhelms and confuses the ability of policymakers to appreciate the impact on European sovereignty and security.
Many European economies, still not fully recovered from the Eurozone crisis, have looked positively at the Chinese investments as a source of financial capital, and subsequent means of growth, tax revenue, employment, infrastructure development, and market opportunities. Only in the last few years have some concerns emerged, as European capitals are struggling to find the right balance between the core principles of economic openness versus security concerns related to the growing Chinese footprint in Europe. Concerns include the perceived role of the Chinese state in the economy, the lack of reciprocity and fair competition, risk of losing national competitiveness and technological leadership, as well as more traditional security concerns related to critical infrastructure, strategic assets, and defense technologies.
In September 2018, at the request of three countries (Germany, France, and Italy), the European Commission proposed new legislation to establish a Common European Framework for Screening FDI. The legislation focuses on strategic assets that are critical to European security and public order, including foreign acquisitions of critical technologies, infrastructure, or sensitive information.
Given the overall pivot in Europe to more populist sentiments, national sovereignty over investment policies are proving a core theme for many European countries. This is especially the case for smaller states concerned that the EU-level investment screening mechanism could be unfairly leveraged by larger EU member states as an instrument of influence, adding to the existing advantages that the most developed countries in the EU have in economic and trade relations with China.
In one respect, diverging views inside the EU regarding an increased Chinese presence in their economies are representative of diverging interests relative to the strengths and needs of their national economies. Innovation and development-driven economies will tend to seek greater protection combined with careful exposure to the Chinese market. Economies more reliant on consumption, tourism, and foreign capital will see bigger benefits from Chinese investment and therefore, assess the investment risks differently.
In the absence of a well-coordinated European approach, China's approach to the "16+1" — underscoring regional or bilateral relations with countries, while fostering competition and division among them — could prove challenging to the future of EU decision-making. At the end of the day, the story of China's increasing influence in Europe could be as much about China's unquestionable economic rise as Europe's potential fragmentation.
Dr. Valbona Zeneli is the Chair of the Strategic Initiatives Department at the George C. Marshall European Center for Security Studies. The views presented are those of the author and do not necessarily represent views and opinions of the Department of Defense or the George C. Marshall European Center for Security Studies.