The Modi Factor in Indian Foreign Policy
How influence has the Indian prime minister been in steering Indian foreign policy toward change?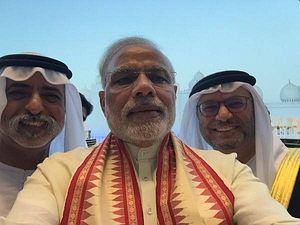 Ever since the Narendra Modi government came to power in India in May 2014, there has been a debate in the policy and academic community about its foreign policy. While some argued that Modi is fundamentally altering the trajectory of Indian foreign policy, most disagreed. They talked of how the Modi government's shift is only about the style and not substance. Yes, Narendra Modi may be a more energetic and visible prime minister on the foreign policy front, but he has only tinkered with the long-held foreign and national security assumptions of India. The Modi government may not have uttered the world non-alignment, but in practice it is balancing between the United States and China. It may have ignored Pakistan, but in practice it has tried to find a modus vivendi with Islamabad. It may have changed the nomenclature from "Look East" to "Act East," but in practice India's engagement with East and Southeast Asia remains a continuation of the past. It may want to be a big player on the global stage, but it doesn't have the ability to project its aspirations adequately. And most significantly, the Modi government may have had a stronger rhetoric against Pakistan and terrorism, in practice, there are limits to what it can do on the ground.
Modi's strong response to the terror strikes in Pulwama at the very end of his first term in office has made it clear that despite his critics, he has managed to change the fundamentals of Indian foreign and security policy in his five years in office. The use of air power to target terror camps deep inside Pakistani territory last week was the first such act after the 1971 war. It shattered the myth of Pakistan's nuclear capability and has thrown open the possibility of India fighting a limited conventional war if need be. It has put the onus back on Pakistan for escalation. Modi's message to Pakistan has been heard around the world and will have serious ramifications for India's global engagement. India has not only defined these air strikes as "non-military pre-emptive" action, but has also taken Pakistan to the ICJ and worked with the Financial Action Task Force to turn the screws on Pakistan, thereby underlining the central difference between a "responsible" India and a "rogue" Pakistan. India's Pakistan policy has been altered, perhaps unequivocally.
But this is not only about Pakistan. Modi has deftly handled major power relations at a time when major powers are increasingly in contestation. When he had come to office, Modi had challenged his senior diplomats "to help India position itself in a leading role, rather than [as] just a balancing force, globally." It has been reflected in the Indian foreign policy bureaucracy's evolving discourse. Indian Foreign Secretary Vijay Gokhale asserted during the 2019 Raisina Dialogue organised by Observer Research Foundation earlier this year in Delhi that "India has moved on from its non-aligned past. India is today an aligned state — but based on issues." Underscoring that it's time India becomes part of the rule-making process, Gokhale argued: "In the rules-based order, India would have a stronger position in multilateral institutions." This is as much an assertion of India's desire to play a larger global role as it is about India changing its approach to global engagement.
While sections of the Indian political intellectual establishment still retain a somewhat reflexive anti-Americanism, Modi has used his decisive mandate to carve a new partnership with the United States to harness its capital and technology for his domestic development agenda. He is not ambivalent about positioning India as a challenger to China's growing regional might and assertiveness.
He got the bilateral Logistics Exchange Memorandum of Agreement signed with the United States in 2016 for facilitating logistical support, supplies and services between the United States and Indian militaries on a reimbursable basis and providing a framework to govern such exchanges. And followed it up with the signing of Communications Compatibility and Security Agreement (COMCASA) in 2018 to facilitate access to advanced defense systems and enable India to optimally utilize its existing U.S.-origin platforms.
Modi has pursued strong partnerships with U.S. allies in the region including Japan, Australia and Vietnam even as he stood up to China's intransigence on Doklam. It is under Modi that India agreed to be part of the resurrected quadrilateral involving the United States, Japan, and Australia. Discarding the ideological baggage of the past, Modi has anchored Indian foreign policy in the nation's civilizational ethos and values. India's "Act East" is as much as imbued with a distinct soft power push as it is with a realistic appraisal of the need to expand an Indian footprint in East and Southeast Asia. In the Middle East, India has asserted itself like never before, even garnering an invite to the inaugural address the Organisation of Islamic Cooperation (OIC) for the first time in its 50 years of existence.
The Modi government has redefined strategic autonomy as an objective that is attainable through strengthened partnerships rather than the avoidance of partnerships. By doing so, it seems to be underlining that in today's complicated global scene, strategic autonomy and non-alignment are not necessarily a package deal. When India engages in the so-called "Quad," it enhances its strategic autonomy vis-à-vis China. When it sits together with Russia and China for a trilateral, it enhances its strategic autonomy vis-à-vis a Trump administration intent on challenging the fundamentals of the global economic order.
Foreign policies of nations don't alter radically with changes in governments but Modi has ensured that some of the assumption which had governed India's foreign policy engagements have been fundamentally challenged. He has imbued Indian foreign policy with a certain amount of risk-taking, unlike the risk aversion of the past. India, from perpetually being a cautious power, is seemingly ready to take on a larger global role by being more nimble than ever in playing the great power game.