US Asia Strategy: Beyond the Quad
The Quad makes a better reserve force than an actual capability, at least for the time being.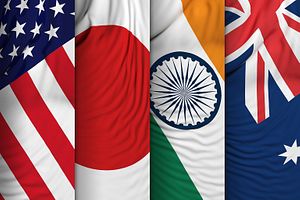 Last year, some five months after the revival of the "Quad" — the loose grouping of maritime democracies comprising the United States, Japan, Australia, and India — Chinese Foreign Minister Wang Yi compared the process to "seafoam in the Pacific or the Indian Ocean: they may get some attention, but soon will dissipate."
Wang may get his wish. On Thursday, the admiral in charge of the United States Indo-Pacific Command suggested shelving the Quad.
Some will scour Admiral Phil Davidson's remarks on Thursday for hidden meaning, such as signs of U.S. retrenchment, growing discord with Delhi, or a pre-emptive move before a possible new Australian Labor government moves once again to put the quadrilateral community on ice (as it did in 2008). More advisable, however, would be to take Davidson at face-value when he noted that there is limited appetite for operationalizing the Quad.
The idea for a Quad grew out of demonstrated capability in response to the 2004 Boxing Day earthquake and tsunami, which took nearly 230,000 lives and caused an estimated $15 billion in damage in 14 countries. When a life-and-death emergency demanded an urgent response, freedom-loving Indo-Pacific sea powers stepped up their humanitarian assistance.
Three years later, in November 2007, faced with a darkening security landscape, Prime Minister Shinzo Abe rallied the quartet of leaders while gathered in Manila for the East Asia Summit (EAS). Abe had already introduced his concept of an Asian Arc of Freedom and Prosperity, and he wanted to solidify America's commitment to regional security while simultaneously expanding the web of strategic partners.
In 2008, Canberra scrapped the Quad to curry favor with Beijing, and the quadrilateral mechanism was summarily retired. It was unexpectedly revived a decade after its first and only top-level meeting, following a tense 10-week standoff between Chinese and Indian forces in Doklam, near the triborder area of Bhutan, China, and India. The largest mobilization of Chinese land forces against a neighbor on its border since 1979 required more than a business-as-usual demonstration of resolve, and so senior officials from the four countries carved out a bit of time to meet at the annual EAS leaders' meetings in Manila in 2017 and again in Singapore in 2018. But apparently, there will be no three-peat this fall in Bangkok.
Foregoing the Quad hardly represents a devastating retreat in capability. The Quad is a modest forum with grand long-term pretensions. It has no secretariat and has consisted of mostly ad hoc, fairly free-wheeling brief discussions. Indeed, for a few hours of meetings over 12 years, one could argue the Quad has provided great value.
But by taking the Quad out of the repertoire of annual high-level security meetings, the United States will invite questions about the Trump administration's 2017 National Security Strategy. After all, it was that document that called the Quadrilateral Security Dialogue with Japan, Australia, and India a priority initiative to bolster a free and open Indo-Pacific from "repressive visions of world order." As the subsequent National Defense Strategy elaborated, "We will strengthen our alliances and partnerships in the Indo-Pacific to a networked security architecture capable of deterring aggression, maintaining stability, and ensuring free access to common domains. With key countries in the region, we will bring together bilateral and multilateral security relationships to preserve the free and open international system."
But the Quad itself was never seen as a short-term operational instrument of policy. Concern about the Quad's possible re-retirement, therefore, should be minimal. The fact is that the Quad's strength resides not in the four countries acting together but in the bilateral and trilateral building blocks on which it rests. Japan's growing ties with Australia and India are impressive and still ascending. And the United States retains not only strong, operational alliances with Japan and Australia, but also a burgeoning strategic relationship with India. These are the relationships that matter and suspending Quad meetings will not change that fact.
Southeast Asia also matters, and the Quad only reminded U.S. allies and partners at the heart of a free and open Indo-Pacific that their voices were diminished relative to larger powers. That is also why references to "the Quad" were MIA during last year's Shangri-La Dialogue among defense ministers in Singapore.
It's not that the Quad is destined to work better in theory than in practice. Instead, it's that the Quad makes a better reserve force than an actual capability, at least for the time being.
Alliances are latent military communities, and for now, the Quad can be most useful as a latent maritime security community. Admiral Davidson hinted at what many regional security experts know: that the complications of coordinating among four major democracies should not be allowed to disrupt the natural trend toward deepening effective operational cooperation among bilateral and trilateral combinations among the four.
Dr. Patrick M. Cronin the Chair for Asia-Pacific Security and Senior Fellow at the Hudson Institute in Washington, D.C.