Kyrgyzstan: Omurbek Babanov's Canceled Return
Former presidential candidate Omurbek Babanov canceled plans to return to Kyrgyzstan, a year and a half after he fled the country.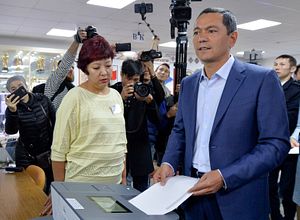 Kyrgyz politician and former presidential candidate Omurbek Babanov canceled plans to return to Kyrgyzstan after several days of intense commotion following his announcement that he would come home. Babanov has been abroad since fleeing Kyrgyzstan in November 2017 in the wake of his failed presidential campaign against Sooronbay Jeenbekov.
Whispers that Babanov was planning a return began in late March, after he met with several Kyrgyz politicians in Moscow on March 21. On April 10, Babanov posted flight details and a short message on Facebook to announce his upcoming arrival in Bishkek on April 13.
Almost immediately, representatives from Respublika — the political party Babanov founded in 2010 — began planning demonstrations to welcome Babanov back to Kyrgyzstan. However, Kyrgyz authorities were quick to turn down permit requests in Bishkek. Bishkek City Hall cited other events planned in honor of World Health Day as an excuse not to grant permission for 10,000 Babanov supporters to gather in central Bishkek. Frustrated with the decision, politician Kanat Midin uulu said, "We are acting within the law, and in any case will hold our meeting."
Several expressed concern about the potentially destabilizing effect that Babanov's return — and the planned demonstrations — could have for Kyrgyzstan's political environment. Others merely criticized Babanov for making such a splash with his announcement. "He could have done this without such a show," former Prime Minister Temir Sariyev told Kommersant. Altynbek Sulaimanov, head of the Bir-Bol opposition faction (and who himself was involved in a scandal for trading punches with another MP back in 2011) knocked Babanov for thinking he still enjoys widespread support in Kyrgyzstan, saying, "He left in silence, and so should come back the same way, without making a fuss."
Surprisingly, the Social Democratic Party (SDPK) expressed warm congratulations to Babanov regarding his decision to come back to Bishkek. "No matter the relationship between our leaders or our parties in the future, we are happy to see Omurbek Babanov return to Kyrgyzstan," said SDPK spokeswoman Kunduz Joldubaeva. "Welcome back to your homeland, Omurbek Toktogulovich!"
Perhaps reflecting the growing fissure in the ruling party, President Sooronbay Jeenbekov did not extend such a warm welcome to Babanov's announcement. "Anyone who thinks they can solve their problems by bringing people to the main square and putting pressure on the authorities that way are making a mistake," Jeenbekov said on April 11.
Analyst Azim Azimov, who produces the YouTube series "Context," offered some perspective on the domestic political reaction to Babanov's announcement. "The pressure on Babanov … was to be expected," he said. "But ultimately Babanov does not present any immediate threat to the government."
"Pressure" is a euphemistic way of describing the treatment Babanov, his associates, and his businesses have received since the presidential election. In November 2017, Kyrgyz authorities opened a criminal case against Babanov on two counts: for "stoking ethnic, racial, and religious hatred" and "publicly calling for violent change of the constitutional order." Not long after, in March 2018, Babanov and other major opposition figures were charged with plotting riots and a coup, though these charges were eventually suspended.
On April 9, before he publicly announced his return, Babanov affirmed his readiness to accept the criminal charges against him and said he would respond within the appropriate legal channels.
In the end, the commotion surrounding Babanov's return was unfounded. Late on April 12, the night before his scheduled flight from Moscow to Bishkek, Babanov posted a video in which he explained his decision to stay in Russia. He cited the possibility that "third forces" would take advantage of the protests planned, and he did not want his supporters to be used as "someone's weapon."
Many responded with disappointment on social media, and in the face of Babanov's sudden decision not to get on the plane to Bishkek, some are re-evaluating the authenticity of his claims.
"If he really is not guilty of anything and is clean before the law, then he could have come to Kyrgyzstan like Omurbek Tekebayev," said Almambet Shykmamatov, head of the Ata Meken faction in parliament. "Even if he were imprisoned, with the help of lawyers and the support of 600,000 people who support him, he could prove his innocence. But Omurbek Babanov missed this chance … Babanov is politically bankrupt."
Omurbek Tekebayev, a former parliament speaker, presidential hopeful, and previously head of Ata Meken, was arrested in February 2017 immediately upon arrival in Kyrgyzstan. In August of that year, Tekebayev was sentenced to eight years in prison on corruption charges.
Time will tell whether his decision to stay in Russia has actually bankrupted Babanov's political capital. Babanov has held on through more than a decade of personal scandals and tumultuous political events, remaining an ever-present figure on the political scene. It seems impossible that this is the last we see from Babanov the politician.