Malaysia's Evolving Approach to China's Belt and Road Initiative
The new government's evolving approach to the initiative continues to be much more flexible than some of the headlines may suggest.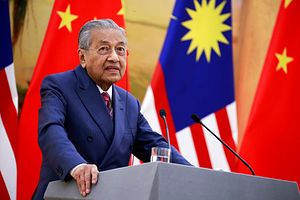 On April 15, Malaysia's Pakatan Harapan (PH) government announced that a major rail project within China's Belt and Road Initiative (BRI) that had previously been on hold would now go ahead after some renegotiation. The anticipated move, which came just days before the convening of a second BRI summit in China, reinforces the reality that despite some suggestions that the new Malaysian government had soured on the BRI, it continues to adopt a more flexible approach where it remains quite open to participating in the initiative if it is able to renegotiate more favorable terms on a project-specific basis.
As I have noted before in these pages, despite some suggestions of a pushback against China's Belt and Road Initiative (BRI), some of the emerging regional responses to the BRI have in fact been much more complex than they are often presented. Among other things, an overly narrow focus on the BRI "pushback" narrative can distort the wide range of responses we have seen thus far from regional states and misread the motivations at play inherent in readjustments or reconsiderations.
Among the states where this has been the case is Malaysia, where, following a shock election victory last May, the new government led by returning Prime Minister Mahathir Mohamad has decided to review a range of Sino-Malaysian projects under the BRI reached under former premier Najib Razak. While some observers were quick to attribute this to a strategic, geopolitical adjustment on Malaysia's part with respect to its approach to China, suggestions from Malaysian officials, including Mahathir himself, were that Malaysia's approach was less about the China and BRI itself and more about about domestic concerns, in particular managing the country's rising debt levels and correcting some of the perceived excesses under Najib and addressing project-specific concerns, including inflated price tags and overly favorable terms given to Chinese companies. That in turn suggested that Malaysia would still be open to participating in the BRI if those terms could be renegotiated, which the Chinese side had proven open to given the importance of Kuala Lumpur as a partner country in the region.
Last week we saw a manifestation of Malaysia's approach to the BRI with the announcement that a major rail project that had been put on hold since July last year would now go ahead following negotiations between the two sides. On April 12, the government announced that the East Coast Rail Link (ECRL) – a 688-kilometer railway line designed to link the east and west coasts of Peninsular Malaysia that initially cost 81 billion ringgit ($19.9 billion) – was now back on following some adjustments that had been made. Per the Malaysian government's account of this, those adjustments included a reduction in the price tag by about a third, a restructuring of the role played by Chinese and Malaysian entities, the length and direction of the rail project, and the completion deadline.
The announcement should come as no surprise given the calculations of both China and Malaysia. On the Malaysian side, as I mentioned before, despite suggestions of an overt cancellation or a permanent holding of the ECRL in some media accounts and among some observers, the Malaysian government had in fact never refused to categorically rule out a potential renegotiation of the deal should the terms be adjusted to be more favorable to Malaysia. This was rooted as much in the general flexibility of the Malaysian government on renegotiated terms – in recognition of the fact that China remains a top trade and investment partner and a major player in the Malaysian economy despite some concerns about aspects of Beijing's behavior – as it was in the more specific tradeoffs inherent in the deal itself. Most notably, Malaysia has had to contend with the fact that nixing the project would mean that it would be liable to pay the associated cancellation costs.
On the Chinese side, while there had been some initial concern about the Malaysian government's readjustment in its approach to the BRI, Beijing had shown a willingness to renegotiate terms on some projects to a certain degree. In addition to Malaysia's importance as a regional partner that was mentioned earlier, there had been a growing recognition by Beijing as well that a new government in power would mean some recalibration in the relationship would be necessary, and that some of the terms within the projects had indeed been quite lopsided. It is also no coincidence that this official announcement on the ECRL renegotiation comes just ahead of the upcoming second BRI summit in China: It is an illustration of a message Beijing is looking to send that it is open to adjusting the BRI to accommodate the concerns heard among regional states.
What the successful ECRL project renegotiation means for Malaysia's wider BRI approach remains to be seen, and this will play out in future developments including Mahathir's attendance at the upcoming BRI summit. Despite suggestions that this could portend some sort of wider "shift" from Malaysia's initial skepticism about BRI, most of all this represents the most concrete manifestation yet of the new Malaysian government's expressed willingness to renegotiate aspects of BRI projects while continuing to participate in it where possible. One should also be wary of extrapolating about Malaysia's approach based on a single project, when the general tendency so far has been for the government to proceed on a project-specific basis. If anything, the ECRL project renegotiation ought to reinforce the complexity and flexibility in Malaysia's approach to China's BRI, which leaves room for collaboration where it is possible and makes sense for the country's interests and the government's priorities. While that characterization may be less headline-worthy than one that emphasizes wider geopolitical calculations, it is one that more accurately reflects the position that the PH government has adopted to date.