New Helicopter Deal Puts Indonesia's Domestic Defense Industry into Focus
The inking of a new contract has spotlighted Jakarta's ongoing efforts to boost its military capabilities and the role of its domestic defense industry in addressing its needs.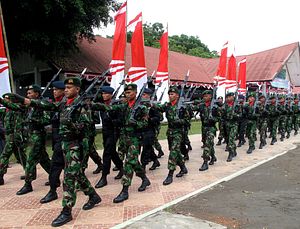 Earlier this month, Indonesia's defense ministry inked a contract with a domestic defense firm for a new helicopter. While the contract was just one among several that were signed between the two sides, it nonetheless emphasized Jakarta's ongoing efforts to boost its defense capabilities as well as to strengthen the role of its domestic defense industry in addressing its defense needs.
As I have noted before in these pages, Indonesia has been looking to continue to boost its capabilities as part of a wider effort to strengthen its military. This has included a role for the domestic defense industry, which Jakarta has continued to strengthen under the leadership of President Joko "Jokowi" Widodo despite the significant challenges that remain.
On April 12, this aspect of Indonesia's ongoing defense modernization was in the headlines again with the news that the defense ministry had moved forward with ongoing attempts to procure another helicopter. The defense ministry signed a contract with state-owned aerospace company PT Dirgantara Indonesia (PTDI) for one NAS-332 C1+ Super Puma helicopter in a ceremony that was overseen by Indonesian Defense Minister Ryamizard Ryacudu.
The contract, worth IDR237 trillion ($16.8 million), was signed on April 12 in Bandung, and it came amid a series of other procurement contracts that Indonesia has decided to move forward with. The contract includes not just the helicopter itself, but also a training package for pilots, technical publications, and maintenance equipment. Among other things, PTDI will supply the airframe with a flight management system, flight planning software, unspecified optical sensors, and a search-and-rescue (SAR) Direction Finder that can locate emergency locator transmissions (ELTs) from distressed aircraft or boats.
Officials have framed the addition of the helicopter as a boost for Indonesia's capabilities as well as a reinforcement of the importance of the defense industry in providing for the country's defenses. On the former count, as a multipurpose heavy transport helicopter, the Super Puma helicopter can be used for a range of purposes including military transport, cargo, troop transport, medical evacuation, and the transport of VIPs. It has the ability to fly for four hours, with a maximum speed of over 300 kilometers per hour and the ability to carry 18 troops and 3 crew members.
With respect to the latter, PTDI chief Elfien Goentoro said that the contract inked between PTDI and the defense ministry reinforced the fact that PTDI was committed to be able to find ways to meet the key requirements of the country's defense, and that the capabilities of the defense industry were growing with time. PTDI has thus far produced several forms of equipment for Indonesia's defense needs, including aircraft, helicopters, and other forms of aerospace technology.