What Does Jokowi's Win Mean for Indonesia's Economy?
The Indonesian president has made progress, but has unfinished business to complete in his probable second term.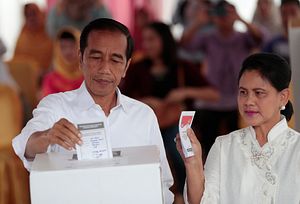 Joko Widodo, popularly known as "Jokowi," was just re-elected for a second five-year term as president of Indonesia, according to a quick count conducted by the Center for Strategic and International Studies, defeating Prabowo Subianto, his presidential challenger, for a second time. The election, although not without scandal, was a relatively peaceful affair, further solidifying Indonesia's young democracy, but did show a swing toward Islamic conservatism in Indonesia. Fake news also spread on social media, with some hoaxes, but was rife on both sides of the political divide. Although Subianto is contesting the result, all reliable polling shows that Jokowi has won around 55 percent of the vote. Official results are not expected for some weeks, however.
The election was a battle over the economy, with millennials and the middle class having the decisive vote in the election. Jokowi's man-of-the-people image propelled him to the presidency once again on a platform agenda of economic and social welfare success stories, with a vision to continue his reformist and infrastructure building agenda. Jokowi's successes in running the economy in his first term were notable where he tackled fiscal deficits and ballooning energy subsidies and returned Indonesia to a full investment grade rating for the first time in two decades. Indonesia also became Southeast Asia's only trillion-dollar economy during Jokowi's first term.
His success in capping the price of staple goods, generating jobs and building new infrastructure paid off and the Indonesian electorate rewarded him for it. His shrewd choice of an Islamic clergyman, Ma'ruf Amin, as his vice president also helped Jokowi address any questions around his Islamic credentials.
The Economic Implications
To a large extent, the re-election of President Jokowi is validation of his policies. Indonesians have been impressed with his focus on infrastructure development and heavy spending on social programs like health and education cards, which grant access to these basic services to Indonesia's poor. Education will be another key factor, where the government will likely focus on more effective and targeted spending.
To keep his popularity high, spending on infrastructure across the nation as well as government-funded social programs is set to continue. For the economy, this will mean a continued over-reliance on state-owned enterprises, which may soon see the establishment of a super holding company to oversee the operations of all state-owned enterprises  – which are currently crowding out private investment – coupled with aggressive tax collection efforts to fund infrastructure and social spending from the government.
The renationalizing of most of Indonesia's natural resources will also likely continue, as well as the government taking short-term protectionist moves to regulate energy prices.
In terms of economic focus, the "hard" and "soft" approach is still very much part of Jokowi's economic strategy. The hard approach will focus on building infrastructure and the soft approach will focus on further streamlining regulations and improving education and skills. There is also a breakdown in infrastructure spending beyond the obvious – as well as big infrastructure projects such as new roads, airports, and railways, smaller infrastructure projects such as sanitation, clean water, irrigation, and waste management are also in focus.
On the financial level, the government will work to keep inflation steady, keep fiscal health strong by increasing state revenue through aggressive tax collection, and reduce unproductive state expenditure. The Central Bank has been focused on keeping the economy stable, increasing interest rates six times last year in response to U.S. Federal Reserve rate hikes, which was something admirable before an election year. Economic stability is likely to continue under the Bank's current leadership.
Unfinished Business: The Policy Gaps
Jokowi came to office with an ambitious economic and social agenda five years ago. He famously wanted to push Indonesia's economy forward, aiming for a 7 percent growth target. That growth target was not realized during his first term, with the economy growing at around 5 percent. This was in some part due to global economic circumstances such as global economic uncertainty, a slowdown in Europe and China, and a trade war between the United States and much of Asia, plus a commodities slump.
While Indonesia is on track to become a $2 trillion economy in the next five years and a top 10 economy by 2030 or earlier, Jokowi still has his work cut out to move Indonesia from emerging market to developed country status. Millions of Indonesians still live on less than a dollar a day. Growth has been rapid but not rapid enough in a country of 260 million people, with many young people finding it hard to get work, in part because they lack the basic vocational and practical skills to secure employment. Jokowi has pledged during the presidential campaign to create 100 million jobs in the next five years, boost spending on education, and refocus from infrastructure to human capital development.
Furthermore, Jokowi has made progress in bureaucratic reform in some areas – such as tax collection and business permits – but Indonesia still suffers from stiflingly complicated regulations and red tape over areas such as land permits and suffers from endemic corruption. Indonesia's "negative investment list" also means that not all sectors of the economy are accessible to foreign investors. This will be part of Jokowi's bureaucratic reform agenda in his second term, where he will continue to aim to increase the ease of doing business in Indonesia – Indonesia currently ranks 73rd globally according to the World Bank annual ratings.
Moreover, local and national regulations often overlap, making it difficult for companies to maneuver through a quagmire of bureaucracy. The erratic regulatory environment and a failure to tackle bureaucratic and legal reform during this his first term, plus poor legal certainty and ideological economic nationalism, has also meant a continuation of Indonesia's weak competitiveness in its investment climate and limited growth.
Jokowi has made significant progress with infrastructure development – the Jakarta Mass Rapid Transit (MRT) system is now up and running as of April this year, which is a huge symbol of success – but Indonesia's perennial problem with poor infrastructure across the largest archipelagic nation in the world, with 17,000 islands, remains. A lot more still needs to be done. The World Bank estimates that Indonesia still has an infrastructure deficit of $1.5 trillion. Despite a $327 billion program to construct new airports, highways, and ports, much more needs to be done to improve and build the infrastructure that Indonesia needs to connect the archipelago and improve woeful logistics. Improvements in infrastructure also correlate directly with higher economic growth.
On a macroeconomic level, Jokowi has also so far failed to develop Indonesia as a manufacturing hub, despite its huge labor force. He pledged during the latest presidential campaign to transform Indonesia into a manufacturing powerhouse as part of the fourth industrial revolution. This was also one of Jokowi's policy goals five years ago. Indonesia's labor laws have not seen much change over that time, which is one reason for the stagnation in manufacturing and the failure to attract foreign direct investment into the sector. It is expensive to hire and fire workers in Indonesia due to clauses that ensure generous severance payments and permanent contracts. It is still therefore cheaper to set up manufacturing operations in other Southeast Asian countries, such as Vietnam. The failure to attract investment and boost manufacturing has been another reason why growth targets have not been realized.
What the Government Expects From Business
Jokowi has been welcoming and supportive of business throughout his first term – within the context and constraints of Indonesia's transactional politics and nationalist sentiment. The president is particularly keen on companies that can innovate and invest in Indonesia to develop more skilled jobs. He also is very supportive of companies who want to support and help Indonesia develop its infrastructure – from toll roads to ports, airports, and energy. With manufacturing now in focus, businesses that can contribute to this sector will also be welcomed with open arms by the government.
More generally, companies will continue to be encouraged and legally mandated to give back to the local communities where they work through corporate social responsibility programs. Companies that can link in to the president's policy goals will likely be looked on favorably by the government and therefore have more leverage when they face business challenges.
The Overall Outlook
In summary, Indonesia can expect much of the same in terms of economic policy under Jokowi. He won popularity for his handling of the economy during this first term and therefore the basic strategy is set to continue – heavy spending on infrastructure and social programs, especially education, and a continued push to reform Indonesia's sclerotic bureaucracy and regulations. It remains to be seen how ambitious Jokowi will be in the desperate need to reform Indonesia's labor laws if he is to realize his plans to transform Indonesia into a manufacturing hub – there will be serious push back from unions on this. Overall though, the future for Indonesia's economy looks bright. The question is not if Indonesia will realize its economic potential but when.
Edward Parker is a contributor to The Diplomat, based in Jakarta, Indonesia. He can be followed on Twitter @EdinIndo