What's in the Brunei Navy Vessel's New China Voyage?
A closer look at the context for a recent development.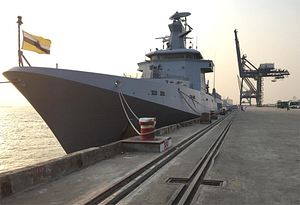 On Friday, a Brunei vessel kicked off a pre-arranged voyage to China. The trip, which was part of a broader planned deployment tied to various bilateral and multilateral activities, spotlighted both Brunei's growing relations with China as well as ongoing efforts by Brunei's navy to boost its presence in the region.
While China and Brunei have contemporary diplomatic ties that date back to 1991, the defense aspect of the relationship has developed much slower relative to the other realms, which is not surprising given Brunei's historical development and traditional mix of alignments as well as lingering challenges, including the country's management of the South China Sea issue as a claimant. Though both sides have a memorandum of understanding for strengthening defense cooperation, the actual scope of security collaboration has mostly involved usual aspects such as exchanges, visits, and some small exercises, including in the naval realm.
That said, both sides have attempted to make further inroads in aspects of defense collaboration as well. For instance, when Chinese President Xi Jinping made a state visit to Brunei last November, even though much of the focus was on the economic aspect of ties, such as Brunei's role in China's Belt and Road Initiative (BRI), and the upgrading of the overall relationship to a strategic cooperative relationship, security matters were also discussed and both sides agreed to explore areas for further strengthening including in areas like law enforcement.
This week, the defense aspect of ties has been in the headlines again as a Brunei naval vessel prepared to make a voyage to China. According to official Brunei accounts, the offshore patrol vessel, the KDB Daruttaqwa, set sail on the morning of April 12 for deployment to Qingdao, China.
Per Brunei's defense ministry (MINDEF), the voyage is part of a pre-arranged visit tied to the attendance of Brunei and KDB Daruttaqwa's participation in the Multinational Naval Activities of the 70th Anniversary of the Founding of the PLA Navy. While MINDEF did not state if there would also be bilateral consultations during the engagement, previous such interactions between Brunei and China suggest that this can be expected.
The vessel's voyage to Brunei is also part of a wider deployment that it is making that also includes official stops to not only China, but also South Korea and Singapore as well tied to various activities, with including ASEAN Defense Ministers Meeting Plus Expert Working Group on Maritime Security Field Training Exercise 1 & 2 (ADMM-Plus EWG on MS FTX 1 & 2) and International Maritime Defense Exhibition (IMDEX) Asia 2019. The kickoff of the deployment on Friday morning was led by Commander Haji Edy Jofren bin Pehin Datu Penglima Colonel Dato Paduka Haji Abdul Jalil, RBN, Commanding Officer of KDB Daruttaqwa, with others present as guests of honor including the commander of the Royal Brunei Navy and other senior officers and personnel of the RBN.
MINDEF highlighted the deployment, which is expected to last until May 20, as a "significant milestone" in establishing the Royal Brunei Navy (RBN) as a reliable maritime partner in the region both bilaterally and multilaterally. This is in line with broader objectives that it has sought to accomplish, including boosting its presence in the region and participation in such activities, which is itself no doubt notable. But given the continued focus on Brunei's relationship with China and Beijing's inroads in the region more generally, it will be no surprise if the China leg of the trip gets much more emphasis than the ones in South Korea and Singapore.